As an Amazon Associate, I earn from qualifying purchases. This is without any additional costs for the buyer but does support me in maintaining my website.
Kayak Overview
Sea Eagle is back yet again with another highly innovative inflatable kayak. The first of its kind even, the Sea Eagle Razorlite features an all drop stitched hull. Meaning it can be inflated to a much higher PSI than any other inflatable kayak on the market right now. There are two versions of it, a solo and a tandem version, both are drop stitched and will deliver a truly unique paddling experience.
The most notable feature of the Razorlite is the drop stitching material. While Sea Eagle has made inflatable kayaks in the past with drop stitch technology, it's only been the floors that have received this special treatment. This time around, they decided to go all in and make the whole kayak drop stitched. This allows you to inflate the whole kayak to a much higher air pressure than regular inflatables, meaning you'll get a rock-solid boat, you won't get any closer to a hard shell kayak than this.
Another unique feature is the design. Unlike the majority of inflatable kayaks, the Sea Eagle Razorlite does not have large pontoon like tubes on each side but rather very thin sidewalls. This makes it look and act more like a traditional hard shell than any other inflatable. The narrow width gives you the advantage of a sleek and streamlined design, letting you paddle at the speed you never thought were possible. The major downside to the narrow design is reduced stability when compared to other inflatables.
The Razorlite has stern and bow molds, as well as a rear skeg, giving it excellent tracking capabilities. It will slice through the wind and choppy waters just like a touring hard shell kayak does. The molds are also the world's first-speed entry system. With a double concave at the stern and bow, you'll be riding on small pockets of air, which both reduce friction and drag, allowing you to go faster than ever before.
Features
Made entirely of drop stitch material
Double concave stern and bow molds reduce friction and drag
Designed to look and function like a hard shell kayak
Specifications
Dimensions: 155 inches in length (13 ft) , 28 inches (2.3 ft)
Capacity: 610 pounds
Weight: 28 pounds
Material: 1,100 Decitex Reinforced
Our Review
The Sea Eagle Razorlite 393RL
Portability -

10/10

Storage -

9/10

Toughness -

8/10

Comfort -

9/10

Tracking -

10/10

Versatility -

7/10
Summary
Tired of inflatable kayaks that are just too wide? Want to become the local speed demon? Want the performance of a hard shell but the portability of a inflatable kayak? Well guess what? You've found it. The Razorlite is a portable mean speed machine, it will reach up to 6 MPH and can be transported on your back. It's not the most versatile or stable inflatable, but that was never the intention. This is meant to go fast, really fast.
It's a no brainer that this kayak looks like no other inflatable, but is it just as unique when it comes to performance? When we first saw the Sea Eagle Razorlite, we had no idea it was an inflatable kayak. We actually had no idea what it was made of, it looked like it was made from some kind of foam material. We were pleasantly surprised to find out that it was an inflatable.
Inflating it to 10 PSI is surprisingly easy
We thought it would be hard to inflate it to 10 PSI, but it's actually not much harder than inflating a regular inflatable. There are three air chambers, the two side walls, and the floor. It's easier to inflate the floor first and then the side chambers. Since both the walls and floor are so thin, it's only a matter of minutes (5 minutes if you want to be precise) before they are fully inflated and ready to go.
The included hand pump makes everything so much easier as there's a pressure gauge installed, no more guesswork! Pumping it up to 7 PSI is a breeze and goes fairly quickly, after that you'll have to put a little more effort in. Luckily the three last bars get filled with air really fast, so fast it's easy to over-inflate. Be careful and keep a close watch on the pressure gauge!
The narrow width makes it unstable and wobbly, however…
When we first sat down we quickly realized that it didn't feel like anything we were used to. Just trying to get seated proved to be a wobbly experience, luckily we managed to get inside without falling into the water. The stability is pretty much the same as a regular sit-inside hard shell, meaning if you rock side to side you'll tip it over. We quickly figured that we would need to be focused unless we wanted to get wet. It takes a while to get used to instability, especially if you've only paddled wider kayaks before, but once you get the hang of it you'll be paddling faster than everyone else.
With that out of the way, we want to stress that the narrow and rather unstable design is not a drawback, but a feature. The Sea EagleRazorlite is not meant to be the kayak you take for a relaxing day at the lake but is best used where having a lot of speed is essential. We were impressed at just how fast we could paddle, we must've hit a steady 6 MPH. It's all about performance when talking about the Razorlite.
Included footrest is a nice feature which helps you paddle better
A nice included feature is the footrest, it's very simple but oh so functional. It's basically a PVC pipe that you attach with straps to two D-rings. It doesn't sound like much but we can assure you it will help you a lot when paddling, especially if you're still getting used to the narrow design. With the footrest installed, you immediately feel more in control. Having something to brace your feet against really helps. If you still have problems finding the balance, try bracing your knees against the sides.
Very portable thanks to its backpack carry bag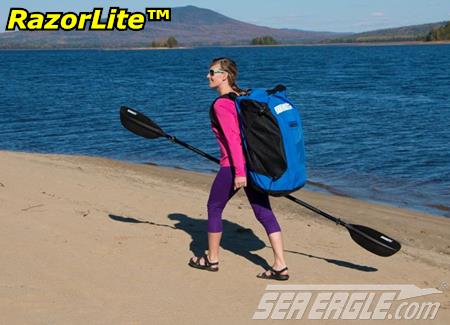 It comes with a nice (although a bit large) backpack. It will fit the hand pump, footrest, and the actual kayak itself. The backpack is a nice addition since it makes transportation a whole lot easier, especially if you do not own a car and have to use public transport. When fully packed it does get a little heavy though, if you've hiked with a heavy backpack before, it's comparable to that.
Padded high back seat, what else could you want?
The high back seat is another nice addition, it's padded and feels extra comfortable compared to older Sea Eagle seats. You can adjust the backrest to your desired angle with the included straps, you cannot however change the seat position. It's not possible to move more to the front or the back, you're stuck with the seat being in the middle. The backside of the seat has a nice large pocket to store smaller gear, cell phones, medicine, snacks, and the like.
Remember to choose the correct package
As with all Sea Eagle products, the Razorlite can be purchased in three different packages. The more money you spend on a package, the more and better accessories you'll get. The following packages are available for the Razorlite:
Pro Package: The most basic package comes with the kayak, skeg, high back seat, 4-part paddle, footrest, backpack, and the hand pump.
Pro Carbon Package: When you purchase the Pro Carbon Package you'll get the same features as the Pro Package, the only difference is the paddle. Instead of the 4-part paddle, you'll get a 2-part carbon fiber paddle. It's about half a pound lighter but that's about it, it's OK but in our opinion, it's not worth the extra money.
Adventure Package: Same with this one, same features, different paddle. This paddle is worth the extra money, however. It's made out of a carbon blend and has been ergonomically designed to provide you with the most power-efficient strokes. The paddle helps you keep your wrists, forearms, and elbows aligned properly to avoid injury.
Pros
Drop stitch material allows for a rock-solid inflatable kayak
The narrow design lets you go faster than ever before
Tracks straight as an arrow thanks to the molded bow and stern
Cons
Less stable compared to other inflatables
Conclusion
If you want an inflatable kayak that is both portable and lightweight but doesn't want to sacrifice performance over portability, you should definitely go with the Razorlite. You just don't get any closer to a hard shell than this. If you're into kayaking because you like to exercise, race with your friends or just like to go fast, Razorlite will make you one happy camper. If you've said "NO!" to any of the above, we suggest taking a look at the FastTrack. It's wide, more stable, and best suited for people wanting it to take it slow.