As an Amazon Associate, I earn from qualifying purchases. This is without any additional costs for the buyer but does support me in maintaining my website.
Classic Accessories is one of the main manufacturers of inflatable pontoon boats and fishing float tubes. Their reliability and experience makes Classic Accessories stand on top of the lead.
One of the main focus of Classic Accessories is providing protection for you through the use and manufacture of durable fabric. Classic Accessories designs strong fabric covers for a variety of products such as car seat covers to back-up generator covers; and they know how to manufacture high quality inflatable products, such as inflatable pontoon boats and float tubes.
With their tough inflatable bladders made of PVC material, they clearly demonstrate how reliable and professional the company is when it comes to the fabric that it produces.
A Brief Overview of the Classic Accessories Brand
It's been well over three decades, the year 1983 to be exact, that Classic Accessories became the company that it is today. The company has its roots in Seattle's Roosevelt, and the company's founder is Jacob Engelstein.
In his small basement, Engelstein sought out to create automotive accessories that involved the use of padded fabric such as seat belt pads and steering wheel covers. The market was in place and with that Engelstein consistently addressed the growing demands.
It came to a point when Classic Accessories realized that why limit yourself to using padded fabric and covers to the small portions of a car. Why not include making a cover for the entire car? If a car can be covered, then surely the company could also do the same for a boat. Or something equal in size, maybe even bigger.
Today, Classic Accessories makes covers for all sorts of vehicles like cars, RVs, motorcycles, boats, and even power equipment like generators. In its fabric used for boat covers, Classic Accessories eventually ventured into inflatable pontoon boats. The same level of competence of providing durable and reliable protection for vehicle and equipment covers applies to its inflatable pontoon boats and fishing float tubes.
Classic Accessories is all about providing protection for you whenever you are outdoors, in the most convenient and practical means. With them, you get to enjoy your outdoor activities much better. You feel safe and secure whenever you use Classic Accessories.
Classic Accessories Pontoon Boats and Float Tubes Reviews
Classic Accessories Colorado XT Pontoon Boat
The Classic Accessories Colorado XT is one of the companies high quality pontoon boats and is categorized by many as one which belongs in the "top of the line" pontoon boats.
Made from premium materials which are the signature trademark of Classic Accessories and loaded with some of the best features one could ever want in a pontoon boat, the Colorado XT is the perfect inflatable ride for the solo fisherman, and will surely help him master al the fishing areas that he frequents.
The Classic Accessories Colorado XT measures 9 feet in length, measured from tip to tip of its pontoons. It measures almost 5 feet in width and has a height of a little over 2 feet. The Colorado XT weighs 77 lbs. on its own. It can have a maximum weight of up to 400 pounds, a number which should be more than enough for all the gear and equipment you are planning to bring.
The materials seen and observed on the pontoons of the Colorado XT feature some of the best that the company offers. Featured in either bright and vivid orange color or in sage and grey color, they make use of a vinyl material resistant to both heat and cold, thereby allowing the inflatable boat to thrive in different climates or weather.
The bottom of the pontoons are where it is toughest, utilizing heavy duty PVC material that is scratch and abrasion resistant. This type of material will not be easily penetrated should one were to accidentally go through rocks or other sharp objects in the water.
The Classic Accessories Colorado XT inflatable pontoon boat offers the following accessories: 2-position weatherproof motor mount, wire rear storage with a battery platform, removable stripping basket, and multi-position fishing rod holder. The single-person seat is cushioned and is fully adjustable.
In assembling the Colorado XT, it will take you some time to put it together. Part of the reason is you would really have to assemble the steel frame for this inflatable boat, which is made up of rigid steel tubes. You also have to allocate some time inflating the pontoons.
But while assembly requires some time, the entire process is pretty straightforward. When disassembled, this inflatable pontoon boat can fit into the trunk of a medium-sized car.
Classic Accessories Roanoke Pontoon Boat
If you want an inflatable pontoon boat that keeps everything simple and straightforward, then the Classic Accessories Roanoake is the perfect choice for you. Most would probably be attracted by the very affordable price that this pontoon boat is quoted at.
In fact, the Roanoke is listed as one of the cheapest inflatable pontoon boats in today's market. However, there is much more to this boat that just a low price tag.
The Classic Accessories Roanoke measures 8 feet in length, about 4 and a half feet in width, and a height of a little over 2 feet. Because of the simplicity of its construction, this inflatable pontoon boat has a very light overall weight of only 43 lbs. It can carry up to 350 lbs. and has a capacity for only one person.
Even with its small size, the Roanoke is a very functional inflatable pontoon boat. One thing most people liked with it is the presence of a lot of storage compartments. Below the oar locks, there are two oversized armrest pockets conveniently equipped with zipper locks, which should prove useful for storing fishing equipment.
Behind the pilot seat, there is a mesh platform that is capable of containing your cooler. You can use this to store and contain freshly caught fish, along with other items that you are bringing along for fishing.
Similar with other inflatable boats made by Classic Accessories, the Roanoke takes pride in the material used for its inflatable pontoons. The top portion makes use of tough nylon. While this type of material might be vulnerable to water hazards like sharp rocks and pointed tree branches, it should be more than enough for small pointed things like fishing hooks and fish fins.
The bottom portion of the Roanoke pontoon boat contrastingly is much tougher, making use of durable PVC that has been proven to be resistant against scratching abrasion.
Even the tubular frames that make up the skeletal assembly of the Roanoke are quite durable. They are powder-coated in order to make them resistant to rusting and corrosion. The air bladders that make up the pontoons are weather-resistant, able to withstand changes in climate and temperature like going from hot weather to cold.
Accessories that are included with every unit of the Classic Accessories Roanoke include oar locks, quick inflation/deflation valves, adjustable foot rests, non-slip footrests and an adjustable plastic seat.
Classic Accessories Cumberland Float Tube
One of the most proven and reliable fishing float tube models from Classic Accessories, the Cumberland is another of the company's affordable inflatable watercraft. The Cumberland is given a high recommendation as you get a float tube that is rich with features, tested durability and worthiness in the water, without costing too much. This is the perfect companion for fishing aficionados who love to do it on their own.
The Classic Accessories Cumberland float tube measures 4 and a half feet in length, 4 feet in width and a height of about a foot and a half. It is very light in weight, weighing only at most 17 lbs. However, it can carry as much 350 lbs., which is quite good for a single-man inflatable watercraft.
The Cumberland of Classic Accessories has plenty of storage compartments, one of its best qualities that its critics like so much. It has two oversized cargo pockets, equipped with double heavy duty zipper locks. This is where you can put in your fishing equipment, like lures and tackles.
The mesh platform behind the pilot seat is great for putting more of your fishing gear and equipment. It also has enough room for your plastic cooler that will contain your freshly caught fish.
The Cumberland has two rod holders where you can attach your fishing rods while you transport this inflatable tube. It also has two cup holders, perfect for containing your favourite drink or beverage while waiting for the fish to bite.
Another thing that people love with the Classic Accessories Cumberland is the features that are found on the pilot seat. For one, the seat is padded thickly, thus giving you a lot of comfort and also back support for long days of being in the water.
The additional padding also serves the purpose of giving you additional height and visibility in the water, letting other people see you clearly to prevent accidents. This float tube also has a bright orange panel at the rear, which gives it even more visibility.
You can adjust the backrest of the seat to change the sitting position, whether to sit normally or lie down a bit. It is equipped with two straps that are attached which you can pull and adjust to the desired length. Lock and tie them so as to affix the backrest in the desired sitting position.
Classic Accessories Teton Float Tube
Another one the fishing float tubes made by Classic Accessories that is offered at a very affordable price level, the Teton is a float tube that will suit both novice and experienced fishermen. Most people will appreciate the alternative design of this float tube as it puts you at a very comfortable seating position.
For solo fisherman who want to just chill and relax all day in the water and lift up their rods now and then to check for caught fish, the Teton is ideal at that. It is also a good float tube for more serious solo-fishing ventures.
The Classic Accessories Teton float tube measures 3 feet six inches in length, 3 feet and 4 inches in width, with a height of almost 4 feet. It is very lightweight, grossing only at about 8 and half lbs. Its load capacity however, is also smaller compared to other float tubes as it can carry only up to 250 lbs.
The Classic Accessories Teton however features a durable construction design. The inflatable tubes are quite heavy-duty, making use of a nylon fabric coating that has a rating of 420 Denier. This material is resistant to scratching and abrasion and also against heat and cold, which is quite beneficial in case you are fishing in areas that have unpredictable weather and climate.
The hydrodynamic hull and shape of the Classic Accessories Teton gives it better tracking and maneuvering in the water. Should you decide to get fins for powering this float tube, the task of propelling it in the water becomes almost effortless.
A lot of storage features are present in the Teton, such as 3 zippered pockets and 2 mesh pockets, a back pocket, 2 reel pockets and armrests which are also zippered. Finally, this Classic Accessories float tube comes with two safety features: a quick release front apron and a safety flag holder.
Classic Accessories Marshland Float Tube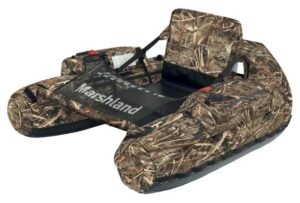 Can you imagine a float tube that allows you to hunt and fish at the same time? That is exactly what the Classic Accessories Marshland offers to you, an inflatable float tube that can convert from a fishing float tube to a hunting float tube and back.
This is probably one of the most versatile solo watercraft products that were made by Classic Accessories. Excellent for use in low-lying areas where land and water meet like swamps, the Marshland float tube is the perfect watercraft for the hardcore outdoorsman.
The Classic Accessories Marshland measures 4 feet 8 inches in length, 3 feet 8 inches in width and about 19 inches in height. It weighs about 18 lbs. and can carry a maximum load capacity of 350 lbs. Being a floating tube that is aimed at being used for the outdoors, the Marshland makes use of quite heavy-duty and highly durable materials.
A lot of critics as well as prospective buyers were attracted by the Marshland's RealTree Max 5 Camo print, which gives this hunting and fishing float tube a very intimidating and menacing look.
Storage features are a must when fishing and hunting and these are well provided with the Classic Accessories Marshland float tube. Both pontoons have cargo pockets on their armrests with double zipper locks, two interior pockets and drink holder.
Like most inflatable watercraft, a mesh platform at the back of the seat provides a place for you to place gear and equipment such as coolers as well as fishing tackle boxes. The mesh platform also has a draw-cord closure which you can use to secure your gear and equipment.
Switching to hunting mode for the Classic Accessories Marshland is quite simple. The stripping apron can be easily replaced with the front stabilizer bar. Add in the shotgun tether and the provided decoy bag.
With that, you are ready to start shooting game fowl which are also inhabitants of your favourite fishing holes. The provided decoy bag of the Marshland has enough space for up to 24 duck decoys and 6 geese decoys.
What makes the Classic Accessories Pontoon Boats and Float Tubes so great?
All inflatable watercraft made by Classic Accessories prioritize durability. As mentioned in the materials of its inflatable pontoon boats and float tubes, Classic Accessories watercraft make use of tough materials that cannot be scratched easily nor easy to puncture.
It is also very resistant against the elements of Nature. When you go for inflatable watercraft that bear the brand Classic Accessories, you are assured of its durability and strength hence it will last for a long time.

Practicality and convenience
All inflatable watercraft made by Classic Accessories are very easy to assemble and put together. While assembly time may vary from model to model, Classic Accessories watercraft are always easy to build and assemble.
The process is very much easy and straightforward. The learning curve of putting together a pontoon boat or a floating tube has never been this easier. Also, Classic Accessories inflatable watercraft are easy to transport and carry. They will very much fit into the trunk or storage compartment of any vehicle.
When you decide to acquire inflatable watercraft from Classic Accessories, almost all of them are affordable and priced competitively. Nearly always it's possible to find a model that is within the price range of any outdoor enthusiast and will not drain one's budget or savings.
Furthermore, Classic Accessories watercraft offer a lot of extra features, which makes them a great bargain.