As an Amazon Associate, I earn from qualifying purchases. This is without any additional costs for the buyer but does support me in maintaining my website.
Looking to buy a new roof rack for your kayak? Got what you want in mind but would like to compare a few styles? We've got you covered here with our list of the 7 best kayak roof racks of 2021.
We discuss a brief overview of each rack system as well as pointing the pros and cons. If you are short on time, we've rounded up some necessary information into a table below and our conclusion gives our recommendations.
Though we encourage you to give this a quick read through to make sure you are purchasing exactly what you need.
Here are our picks for the best committed and casual kayak roof rack systems for 2021:
If you are completely bewildered by the choice and different types, read this little section below that outlines the major difference between a casual or committed rack.
Knowing your rack
The first thing you must ask yourself when considering a relationship with any rack is what your needs are and just as importantly what are the needs of my rack.
To do this you must be honest with yourself, are you looking for a casual low maintenance rack perfect for the occasional cheeky weekend away, or are you after the seriously committed kind of rack, one that will grow with you and your needs.
You can easily see what kind of rack you're getting into by looking at its attachment points. Committed racks will have a permanent or semi-permanent attachment to your car or truck whereas casual racks will come on and off your vehicle without leaving any evidence of your dalliance.
TMS J-Bar Rack HD Kayak Carrier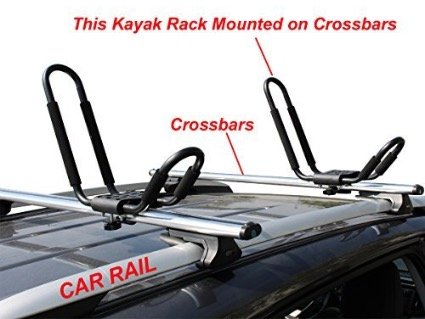 First up is a committed style kayak roof rack the TMS J Bar, though this kayak carrier requires you to have crossbars pre-fitted to your car it has a clever install system that makes it easy and fun to use. Simply fit them over your crossbars and tighten the bolts by hand. The TMS J Bars are made from steel with adjustable padding, it's a simple solid build that won't damage adventure craft.
Pros
Steel design with adjustable padding for carrying strength and kayak protection
Wide mouth J bar offers easier loading and unloading
Quick on/off hardware ensures fast installation and removal
Optimally sized J style carrier leaves roof space
Accommodates kayaks up to 36inch wide and 75lbs
Cons
Instructions of the TMS J Bar on assemblage are poor. The tools provided are also not the best and you may have to substitute with your own.
Suggest replacing the included straps as they might not be strong enough.
Sportrack SR5527 24 in. Adjustable Kayak Carrier

All this rack wants is you, it does not need permanent fixture points or other rack rails for you both to have fun. The Sportrack SR5527 casual rack can be used solo and is also open to experimenting with committed fixed rail rack systems. Easily expanded or contracted to fit whatever size kayak, paddle board or canoe you are using. A low budget you say, no problem, the sport racks are cheap helping to have your adventure without remortgaging the house.
Pros
Fully adjustable foam blocks can be positioned to accommodate a full range of kayak widths (16″ to 24″ spacing)
2 non-skid underside protects the vehicle finish
Includes bow and stern tie-downs to ensure kayak is secured to the vehicle
Fits SportRack Roof Rack Systems, square, round, and most factory racks
Cons
Straps are a little short for larger kayaks
Malone HandiRack Inflatable Universal Roof Top Rack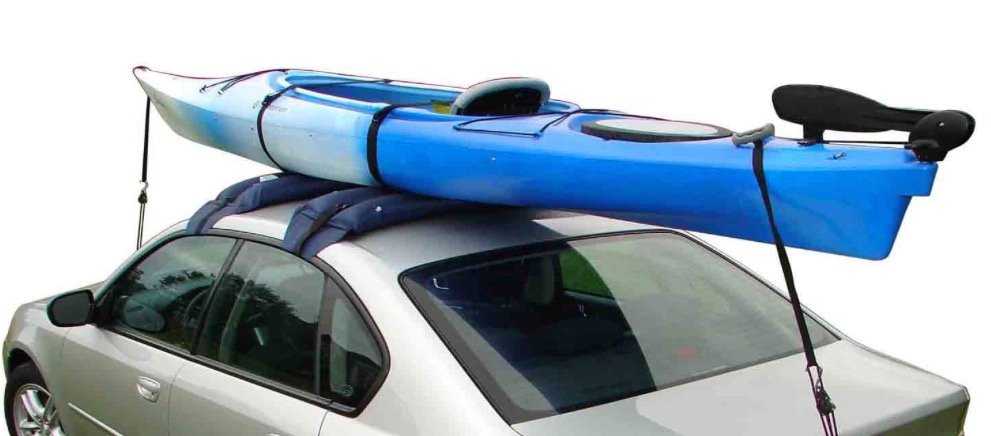 It is easy to imagine that all casual roof racks are easy going and are happy to share your rack life with you and other racks. This not the case with most inflatable racks, if you already have any kind of fixed or committed rack relationship these will not work for you, "they're just not into sharing".
These are the sort of rack you can keep in the trunk of your car or under your bed to use if and when you need them.
The Malone Handirack is a great option for the occasional kayaker or wants the ability to carry other things like a surfboard or paddleboard (SUP).
Pros
Inflatable roof rack for transporting sports gear, furniture, and more
Double-action Handi Pump inflates roof rack in minutes
Made of tough 420-denier nylon with 5 D-ring anchor points
Installs on nearly all vehicles; 180-pound weight capacity
Comes with a travel bag and load straps; 1-year manufacturer's warranty
Cons
The Malone Handirack are known to cause a bit of leaking into your vehicle via the straps that run inside
Air bladders are susceptible to high temperatures.
Malone Downloader Folding J-Style Kayak Carrier

Our favorite kayak roof rack! Another committed J style kayak roof carrier, this one comes with a built-in fold-down option. I love this feature and you will too, this option allows for you to have your J carrier fitted to your crossbars but folded neatly flat out of sight. Apart from reducing noise on the highway, it keeps your vehicle profile low so you can get in and out of tight situations.
This particular J bar has an additional well designed lower lip "rack pout" which makes it easier to load and unload your craft with less chance of paint damage.
Compatible with most factory rails, oval, round, square with 60mm and 70mm mounting bolts to fit various thicknesses.
If your rack is too thick, just go to the local hardware store and pick up a longer bolt with the same threads.
Pros
J-style kayak carrier with built-in boarding ramp for easy loading
Fold-down technology increases overhead clearance
Oversized padding protects the boat during transport
Includes both 60mm and 70mm pre-coated mounting bolts; Cam style load straps with buckle protectors
Cons
Customer support could improve
With some crossbars, it's a bit difficult to fit
Yakima JayHook Kayak Carrier

These Yakima J style kayak roof racks are an example of very modern sophisticated design work. If you want to be with a rack that carries your adventure craft and also has enough features to take home to your mum this is the Yakima JayHook rack for you.
Sheek slide rail "rack pout" for easy loading and access as well as stylish quick release handles so you can "drop it like it hot" to get into low ceiling spaces.
The Yakima JayHook also brings front and stern tie-downs to the party to make sure you are equipped with fun and safety. The only drawback is the build quality doesn't quite match its look as far as sturdiness is concerned.
Pros
Supports one boat up to 80 lb or two boats with a combined weight of 110 lbs or less
Minimum crossbar spreads of 24" or more
Lockable
Cons
Noisy on the highway
Some components appear not to be sturdy enough for the price point
Malone SeaWing Saddle Style Kayak Carrier

This committed style kayak carrier lays your adventure craft flat in two V-shaped beds. Due to its adjustable tie-down fixture point, it is capable of carrying a wide range of adventure craft. Depending on the width of your fixed rack it is possible to place this kayak carrying system side by side to carry multiple watercraft.
Comes with front and rear tie-down straps to increase stability, be sure to find out if and where you can attach them to your vehicle.
Pros
Low-profile kayak/cargo carrier with single saddle design
Easy-to-set-up mid-point mounting takes up minimal roof space
Flexes gently to cradle the boat and improve gas mileage
Jawz mounting hardware fits round, square, and most factory oval cross rails
Cons
Large kayaks and flat bottom water vessel don't sit flush
Noisy on the freeway
Malone Auto Racks AirFlow Universal Cross Rail System

Introducing the Malone cross rail system, these guys are the answer for any kayak carrier that needs a sturdy reliable anchor point. They do not rust, they do not yield, they will be with you until the end.
No need to be a pro with rack systems to use these either, you'll have them installed and ready for loading quicker than someone else can grab the paddles!
Using suction cups that are backed up with screws, you can lay your worst fear of losing a kayak to rest. Another key feature is the generous weight capacity these bars will handle, handling up to 165 lbs of weight, these racks ensure the safety of you, your car, and kayaks.
Pros
Non-corrosive aluminum double-wall construction stands up to years of rugged use
AirFlow Universal cross rail system fits nearly all factory-installed vehicle side rails
Aerodynamic profile reduces wind noise and provides a secure, tight fit for rack accessories with the integrated T-slots
Transports up to 165 lb. load capacity for kayaks, canoes, SUPs, paddle boards, snowboards, surfboards, roof boxes, and more
Simple and quick installation, with no tools required
Lockable
Cons
Time To Go Grab The Kayaks!
Well, there you have it, after reading through our kayak roof rack life guide you now have the knowledge and confidence to select the rack that is right for you and your lifestyle.
If you're still struggling to make a choice please feel free to reach out via comments below or directly contacting us. We are here to make your life easier and want your kayaking adventures to be the most memorable one of your life – in a good way.
For those of you with committed rack preferences, the Malone Downloader Folding J-Style Kayak Carrier is your best option. Excellent build quality and accessories with the ability to neatly fold away for style and low garages.
When you want to keep your adventure lifestyle on the down low the Sportrack Adjustable Kayak Carrier is our pick. Simple design, low cost, and ability to integrate with fixed systems.
We hope our list has you inspired, ready, and excited to confidently purchase a new set of racks and that your kayak adventures here on out will be plentiful.
So long as the start of the journey goes well by having the right kayak roof racks the rest will be quite the oar-deal. (See what we did there…)