As an Amazon Associate, I earn from qualifying purchases. This is without any additional costs for the buyer but does support me in maintaining my website.
Advanced Elements is a well-known brand of inflatables. It is a supplier that is sought after mostly for their groundbreaking inflatable kayaks, but items like inflatable SUP (stand up paddleboard) and other outdoor accessories are also offered.
There are probably over a dozen manufacturers of inflatable kayaks, but only a handful truly stands out. From kayaks, to dinghies, and rafts, among others, each brand name often specializes in a specific type of inflatable, although there are several that have a wider catalogue than most.
In this article, we will be going over five of some of the company's best products under their kayak lineups.
Brief Overview of the Advanced Elements Brand
Before we discuss any model, going over how Advanced Elements started and what it aspires to be, is a good way to get a sense of its innovativeness and realize how they value their every creation.
To start with, the brand was founded back in 2007. With around a decade of experience in the inflatable boat industry, it is safe to say that Advanced Elements now has a good grasp over its manufacturing technique.
However, the group shows no signs of settling with only what works. Instead, it continues to reinvent and discover new ways to make their products stay in the lead, or be among with other notable names in the market.
The business was established in Benicia, California, but it has long since expanded its reach to other states in North America, and eventually around the world. From Canada, Japan, to China, New Zealand, and Israel, just to name a few, all these places can now enjoy almost everything Advanced Elements has to offer.
When it comes to the kayak models, there are several classifications you can choose from, namely: recreational, day touring, expedition touring, crossover, angling, and whitewater. As you can see, the company has almost every kayaking activity covered.
Aside from having an extensive array of quality inflatable kayaks, the unique technologies and features that are used in each unit are possibly what keep the customers coming back. The sturdy Aluminum Rib Frame design and reliable Drop-Stitch Floor are just two of Advanced Elements' revolutionary inventions.
Advanced Elements Kayak Reviews
Now that you know a little more about the brand's history and why it is highly esteemed, let us now go over 5 of its standout products. Note that the entries are not listed in any particular order. It is just a matter of choosing the one that fits your kayaking needs the closest.
Advanced Elements AE1007-R AdvancedFrame Convertible
The AE1007-R AdvancedFrame Convertible is one of the more unique products in Advanced Element's arsenal. The kayak can be interchanged between close and open deck setups. Moreover, it can also accommodate either solo or tandem seating arrangement, thanks to the available conversion decks (sold separately).
If you are paddling alone, the single deck will come with multiple D-rings and a bungee deck lacing, a rear cargo hatch, and deck riser aluminum stays. The double deck on the other hand, replaces the hatch area with a second seat, but a mesh pocket and added stowing utility are employed in order to compensate for your storage needs.
The bow and stern of the device are more defined, thanks to the firmness that the built-in aluminum ribs provide. It also features a 3-layer material construction, resulting to high resistance against punctures.
An integrated pressure relief valve is installed in the floor, which is useful for preventing over-inflations, or worse, blowouts. Two folding seats are bundled with the kayak, which are complemented with two adjustable padded back supports for long lasting comfort.
Aside from its molded low-profile handles, paddle holders are also present. Plus, with the affixed tracking fin, the AE1007-R AdvancedFrame Convertible is able to slice through water with ease. Other accessories include a carry duffel bag and a repair kit.
For the physical dimensions of the kayak, it measures 15 ft. x 32 in. (length x width). Moreover, it holds a total bulk of 52 lbs., and contains up to 6 air chambers. Max weight capacity rates at 550-lbs., which is enough for 2 users with some gears, or for cruising solo with plenty of equipment.
Lastly, the AdvancedFrame Convertible is one of the select few that is compatible with the brand's very own BackBone® or Drop-stitch floor upgrade. If you wish to ramp up the performance of this vessel, any of the two flooring systems will satisfy. Whether you upgrade or not, this craft is perfect for both day touring and expedition kayaking.
Advanced Elements StraitEdge Angler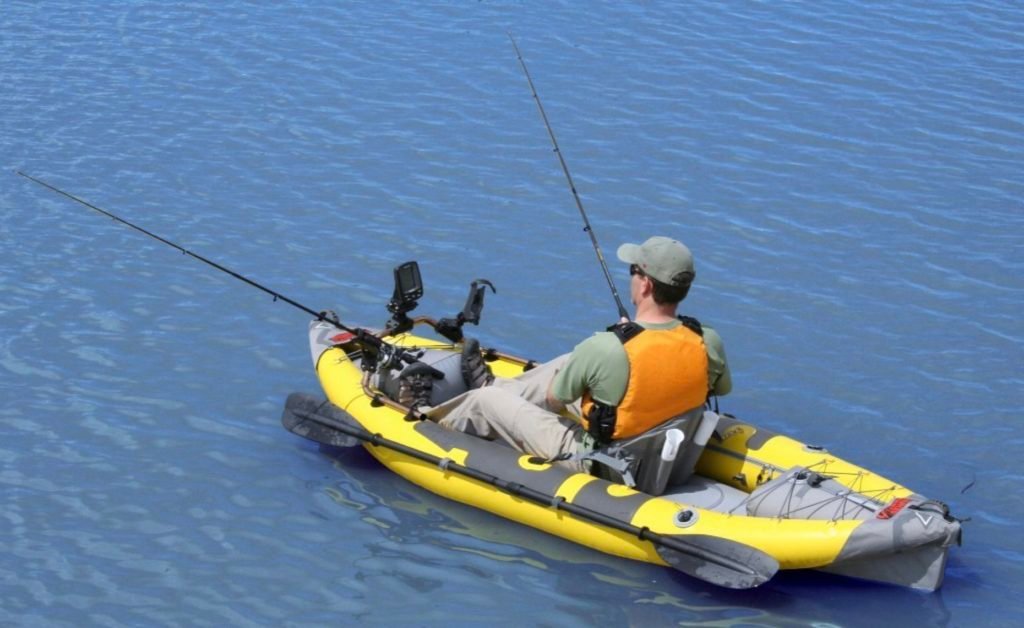 Categorizing the StraitEdge Angler is a bit tricky because it falls under two classes of kayaking, but that is what also makes it great. In general, this model is a crossover, which means it is a hybrid of a whitewater kayak and a sea kayak. However, it is also specifically designed as a fishing/ anglers kayak, hence the name.
If you are an avid angler yourself, you know how important stability is, regardless of what type of watercraft you are using. Luckily, this unit not only has built-in aluminum ribs, but it also sports an accessory mounting bar that contributes to optimal bracing.
Apart from making the kayak more stable, such mounting frame can also accommodate rod holders, a fish finder, and other fishing utility tools. To help size up your catch, the floor is imprinted with a calibrated ruler, so you no longer have to bring in a separate measuring tool, except for an angling scale for getting weight.
The inflatable kayak has a length and width of 9 ft. 8 in. and 35 in., respectively, which is more than enough room for a solo kayaker, particularly for one that is meant for angling. The same generosity is also evident in its 300-lbs. (136 kg.) max weight capacity, allowing you to reel in those big ones without worry.
Fishing usually takes a lot of time and patience, and the longer you stay on your kayak the harder it will be on your lower back. Fortunately, the bundled seat for this model is supplemented with a high backrest and an adjustable lumbar support. Thus, you can comfortably position however you want for long hours.
Like with most Advanced Elements creations, the StraitEdge Angler is also pre-assembled at the factory. This means all you need to do is unfold it evenly, inflate, and then install the seat. However, you may have to set in and assemble the mounting frame before you start pumping air in order to ease up the process.
Advanced Elements AdvancedFrame Expedition Elite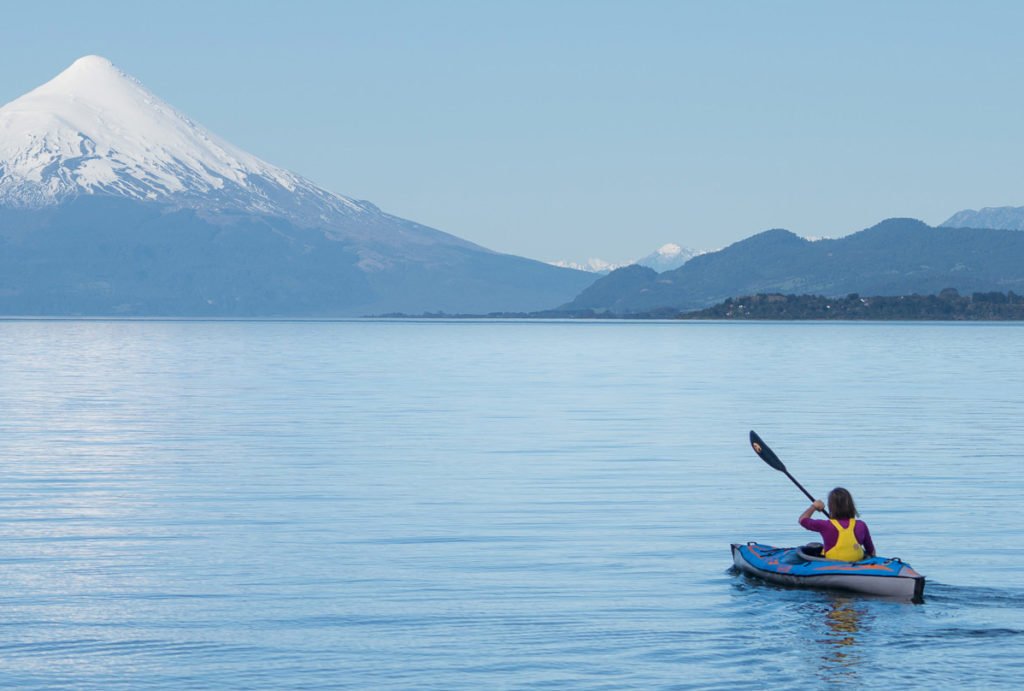 The AdvancedFrame Expedition Elite model is one of the sturdiest among the entire Advanced Elements product line. It doubles as a folding frame kayak and a regular inflatable kayak. This is all thanks to the aluminum rib-frame technology in its bow and stern, as well as the drop-stitch floor.
Unlike some of the other units, which need to be upgraded to obtain such flooring, this one actually has it by default. Compared to a generic air-filled floorboard, the drop-stitch variety offers considerably better rigidity to the base of the boat, essentially acting like a backbone.
When it comes to the largeness of the item, the AdvancedFrame Expedition Elite kayak measures approximately 13 ft. in length and 32 in. in width. More importantly, even though the kayak is meant for only one person, it can actually withstand up to 450 lbs. (204 kg.) of weight. There is also a huge compartment at back, so you can take full advantage of such weight limit.
It may seem excessive, but seeing as this craft is made for both day touring and expedition touring, having such capacity will actually benefit you. One principal reason as to why the AdvacedFrame Expedition Elite can bear so much heft is because of its 9 air chambers.
The adjustable high-back seat with inflatable lumbar support also pairs quite well with the close deck setup of the device. With it, not only will your lower back be optimally buttressed for long periods, but you will also get to stay warmer and drier all throughout, especially if you attach a spray skirt via the inflatable coaming.
With the boat's neoprene knuckle guard, your rowing becomes more seamless and less likely to result in abrasions. There is also an adjustable foot brace, which aims to reduce strain on your lower extremities. Plus, the rubber-molded handles encourage easy transport of the item in and out of the water.
Packaged with the main module are the following accessories: rudder mount, duffel bag with detachable shoulder straps, and repair kit.
Advanced Elements AirFusion Elite
Out of all the various inflatable kayaks under this specific brand name, the AirFusion Elite has the narrowest profile. Its build is so thin compared to the others that you can easily distinguish it just by looking. With that said, this design approach enhances the model's main asset, which is all about speed.
If you are looking for an inflatable vessel that can get you from point A to B, with speed that is almost, if not on par with skin-on-frame kayaks, then this one is for you. Such feat is made possible with the combined help of the hybrid aluminum alloy frame poles and high-pressure air tubes.
In terms of build size, the AirFusion elite sports a 28-in. wide and 13-ft. long body. Additionally, it only weighs 32 lbs. (14.5 kg.), and can carry up to 235 lbs. (106 kg.) of total weight.
Passenger capacity is limited to one. As for the number of air chambers, it has seven. For your storage demands, you can access the roll-top rear hatch to load in your important gears.
Other notable features of the unit include a bungee deck lacing, multiple D-ring tie downs, and an inflatable coaming for affixing a spray cover. Moreover, the device can be outfitted with an optional fixed skeg, which further improves tracking.
Much like the previous entries, this model is also built using PVC-based material. As for the accessories, you will receive a carrying bag, folding seat, and a repair kit.
Advanced Elements FireFly Kayak
The Advanced Elements FireFly kayak belongs under the recreational inflatable kayak category. It's a great budget friendly kayak and can be used on calm lakes and bays, inland waters, and even slow rivers (Class I and II whitewater), making it quite versatile.
The FireFly can seat only one person, and with up to 250-lbs. (113 kg) of maximum weight capacity. As for the size of the boat, it measures 7 ft. 10 in. long, and 35 in. wide, when fully assembled. For the weight, it has a total heft of 16 lbs. (7 kg), which is light enough for you to carry alone.
If folded, the kayak will measure around 23 x 18 x 5 inches, which is effortless to pack. There are 3 air chambers in this unit, which adds to its level of safety in case one accidentally tears.
Some of the best features of the Advanced Elements FireFly include a rubber molded handle, a bungee deck lacing, mesh pocket, and a tracking fin. Speaking of tracking, the craft's built-in rigid panels in its bow and stern also improve performance in this regard.
Construction-wise, the kayak is manufactured using 600 D polyester for the cover, a durable PVC tarpaulin material for the hull, and heavy-duty PVC for the main chamber. Furthermore, FireFly also features a welded perimeter seam.
Setup up is quick thanks to its accessible Twistlok™ valves and high flow Spring™ valves. In terms of accessories, a carrying duffel bag and a repair kit is bundled along with the main module.
What makes the Advanced Elements Kayaks so great?
There are a lot of facets that make each lineup of this brand a cut above the rest, more so with the 5 abovementioned kayaks. Although there are some differences in build and parts of the construction, all units are durable as is. Nevertheless, these are the aspects that make this inflatable kayak manufacturer noteworthy: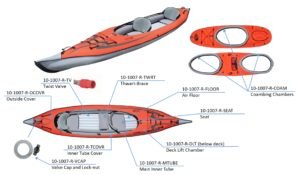 One of the most impressive advancements that the company has developed is the patented Aluminum Rib Frame design. It is, in its simplest form, an arrangement of aluminum frame, air chambers, and rigid panels, resulting in a kayak that is not only flexible, but also one that can compete with hard-shell versions.
This build is mostly seen in the AdvancedFrame® and StraitEdge™ series. However, the default built-in rigid panels, like the one found in the Firefly model, are not bad either, especially with its cheaper price tag. If you are more of a recreational kayaker, then the standard bow and stern build is more than enough.
Cutting-edge flooring system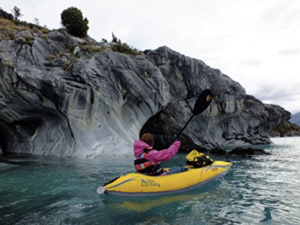 The normal inflated floor that Advanced Elements utilizes already provides sufficient stability. But, the company is never satisfied in settling with what is merely good enough. Instead, it strives to be the very best.
This commitment is only proven true with breakthroughs such as the drop-stich floor technology and the BackBone® accessory. These two are uniquely designed but carry a singular purpose, which is to make the base of the kayak even more rigid.
The BackBone® is a multi-sectional keel beam that you can place below the inflatable floor of the boat during setup. The beam will allow the hull to assume a V shape with the help of your body weight. It not only yields additional bracing for the unit, but it also augments general trackability.
When it comes to the drop-stitch floor, it caters the most rigid hull you can ever get from the brand. It is similar to what the manufacturer uses in its SUPs, which are boards meant to be stood upon without a lot of flexing. That being said, having a floorboard in a kayak that can fully support an average-sized human that is standing upright, promises extreme rigidity.
Unfortunately, such floorings are only obtainable on certain models, one of which is the AdvancedFrame® class. Furthermore, the drop-stitch variant is more expensive than the BackBone®, so bear that in mind.
Majority of Advanced Elements' products employ a multi-layer construction. What this basically entails is that the air chambers and outer lining of the kayak have their own covers. It is a huge contrast to other known inflatable boat companies that only uses one fabric for both aforesaid sections.
As for the type of material, PVC is the go-to component of the brand. An example of this is the PVC tarpaulin hull of the kayaks.
This particular build utilizes a polyester mesh fabric that is packed in between layers of vinyl. This results to a tough exterior while also maintaining flexibility, which makes each unit easy to fold and unfold.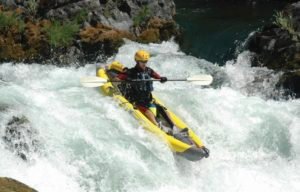 All kayaks made by Advanced Elements do not have less than 3 air chambers. The AdvacedFrame Expedition for one has up to 9 different air chambers.
Now, why would the quantity be important, you ask? Well, the number of bladders will influence the boat's ability to withstand heavy loads. However, its most significant impact is perhaps the provision of several backups for when one accidentally deflates, allowing you to paddle back to land safely.
There is no right or wrong choice here. As long as you have a clear idea of what type of kayaking you want to do, then choosing between the 5 entries above should be no problem. Also consider a high quality standup paddle board (SUP) of Advanced Elements. Just remember not to go beyond your means, especially if you are just starting out.