As an Amazon Associate, I earn from qualifying purchases. This is without any additional costs for the buyer but does support me in maintaining my website.
Solstice is an exceptional brand that caters to a lot of boaters from all skill levels. Their inflatable kayaks, dinghies, rafts and standup paddleboards are known more for being accessible, affordable, and practical, which is why a lot of water sports enthusiasts are inclined to start with their products.
Even with its beginner-friendly and inexpensive lineups, quality is never an issue. Therefore, you will never have to feel like you have been robbed, unlike with most cheap products. For this review, we will be going over five varying models from Solstice, so you can check which one will match your preferred boating activity.
A Brief Overview of the Solstice Brand
Solstice is part of the Swimline Corporation, which is a family-owned business. It was founded in 1971, and has since become one of the most prominent makers of inflatable products, particularly aboveground swimming pool liners and swimming pool floating toys.
Solstice slowly grew in the inflatable boating industry with their affordable and great quality inflatable crafts. Their product lineup ranges from inflatable kayaks, to dinghies, rafts and inflatable standup paddleboards (iSUPs).
Solstice Inflatable Kayaks, Dinghies, Rafts and iSUPs
In this article we review the best selling Solstice kayaks, dinghies, rafts and SUPs. With that said, they are not listed in any order whatsoever, since comparing different types of inflatable will be inconsistent. Instead, let each unit be an example of what you can expect from Solstice, and how they stand out from other brands.
Solstice Durango Inflatable Kayak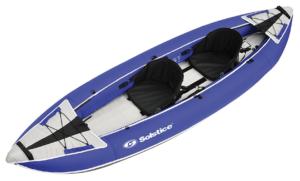 The Solstice Durango is an inflatable kayak that can accommodate two people. However, what makes it unique is that you can freely convert it between a tandem and solo setup. Thus, if you often go kayaking alone, but do not want to close the option for inviting a friend, then this model is perfect.
It comes with nylon-covered, adjustable bucket seats, which are a huge part as to why the unit can achieve a hybrid seating arrangement. You can position the seats to you and your partner's liking.
Unfortunately, the back seat usually ends up with a smaller legroom, which may not be too comfortable, especially if you are a six-footer. If you are this tall, expect to bend your legs a little bit.
In shorter trips, this will not be much of a problem. But, the same cannot be said if you are going to stay on the water for hours long, since you are bound to want to stretch your worn-out legs. Thankfully, the seats have optimal backrest, so you can at least avoid ending up with a lower back pain.
The one sitting in front, however, will be fine as far as leg position is concerned, even more so when you go solo. That being said, paddling alone will leave you with plenty of room for your equipment, because you can remove the other seat.
For additional storage, you can secure you smaller tools via the bow and stern covers' elastic cargo cords. You can also hide some items underneath the covers.
When it comes to the general construction of the Solstice Durango kayak, it is mostly made up of a combination of the following materials: PVC fabric, nylon oxford, and regular nylon. The exact specification of the PVC fabric is a 22 gauge K-80 quality, which is used to manufacture the interior.
As for the 840 denier nylon fabric, it is coated with tough (PU) polyurethane. Such added layer protects the kayak from getting over-soaked. However, you still need to let the item dry out before you can pack it back for storage, otherwise it will be too heavy, or could potentially damage it.
The bottom of the boat and 1/3 of its sides are protected with a thick, 1,000 nylon fabric. It is tough enough to survive medium to moderately strong impacts, as well as prevent punctures.
If we are to talk about physical dimensions, the Solstice Durango measures 11ft. long and 37.4 in. wide. It weighs approximately 33 lbs., which is not that heavy for one person to transport, and is certainly more than lightweight for two people.
Surprisingly enough, this model actually sports a V-shaped bottom, which is not that typical compared to most inflatable kayaks that have a flat base. Albeit not that pronounced, this slight contour goes a long way in improving tracking. Speaking of which, you can also attach a removable skeg under the device, which further enhances the Solstice Durango's ability to slice through water.
There are also multiple D-ring tie-downs that provide you with a lot of utility. Along with the main module, you will get a carry bag and a repair kit. Sadly, no paddles or air pump is included, so you have to buy them separately. The good thing about buying the paddles apart, is that you can opt for the better quality carbon kayak paddles. Carbon kayak paddles are making a huge difference compared to glasfiber paddles. Worth considering if you fancy stronger and lighter carbon paddles!
Solstice Sportster 4-Person 9.8′ Runabout Inflatable Dinghy
The Sportster 4-Person 9.8′ runabout is one of Solstice's inflatable dinghies. It sports a heavy duty all around rub strake, which protects the boat's main hull from directly hitting objects, so you can dock or tender with confidence.
The floor of the unit is made of marine grade drop-stitch high-pressure material. You still need to pump air into it, but compared to regular inflatable floors, the drop-stitch gives it a more rigid form. Such rigidity will not only contribute to a steadier performance, but it also serves as a well-balanced platform for you to step and move about on.
Overall, the Solstice Sportster 4-person is manufactured using a 500 denier marine-grade 3-ply fabric, with tough PVC coating. This gives the boat a formidable resistance against UV degradation, while also keeping the boat flexible for storage.
Under the flooring, a heavy-duty keel is also placed, which allows the unit plane optimally, especially at higher speeds. The maximum motor power that this model can accommodate is up to 10 hp. You can use either a gas-powered or electric outboard, depending on your local regulations and preference.
Although this specific Sportster has enough room for 4 people, it only has one aluminum bench seat, so some of you will have to sit on the tube. However, an optional inflatable seat is obtainable.
In terms of maximum weight capacity, this dinghy can bear up to 770 lbs. of total heft. For everyone's safety, grab lines that are threaded through molded rope eyes on both left and right sides of the hull are present.
Heavy-duty D-rings are also integrated on the unit, which is ideal for towing or mooring. Swivel oarlocks are also built-in, so you will always have a way to easily row back to land in case your motor malfunctions.
The four high-pressure air chambers of the vessel also ensure that you get to stay afloat whenever one of them pops. The 16-inch diameter of the tubes contributes to the item's high buoyancy as well.
Aside from the inflatable dinghy itself, you will you receive a set of oars, a pump, and a carry bag. The oars are made of lightweight aluminum material, and are equipped with drip rings and ribbed flat plastic blades.
As for the pump, it is a foot-operated variant with a flexible fill hose. The bag is a duffel type, and has a nylon and mesh construction. Moreover, the bag also comes with a mesh panel for easy drainage and drying of the dinghy.
Solstice Voyager 4-Person Inflatable Raft
The Voyager 4-Person is an inflatable boat that is ideal for casual fishing and recreational boating on non-rapid rivers. It is one of four size variations, which includes the 2-person, 3-person, and 6-person.
For this particular 4-person model, it measures 107 inches by 60 inches (length x width). The biggest advantage it has over the smaller versions is its compatibility with a motor. It can be affixed with either a gas or electric motor of up to 2 HP.
However, you need to get the appropriate motor mount accessory first, before you can attach a small outboard. Nevertheless, having this option is still quite the value, especially when you factor in the low cost that the product retails at.
The accessory set that is bundled with the Solstice Voyager includes a pair of aluminum oars and a bellow foot pump. They are not the most impressive, quality-wise, but they still get the job done, and for free at that. Furthermore, all Voyager models have integrated swiveling oarlocks, which makes rowing effortless
Regrettably, the oarlocks have no holding system, meaning your oars can fall underwater if swept by the waves. You can always remove the oars and place them on deck when you are not using them, but having to do it repeatedly can get cumbersome.
The valves that the Voyager series use are a Boston type. This makes the inflation and deflation process a breeze, thus reducing setup time.
The molded rope eyes with threaded grab line also provide utility and safety. If the default rope is too thin for you, as some users have reported, you can replace it with a thicker and tougher one.
As for the 2 seats, they are inflatable. But, they are only placed on the front and rear ends of the inflatable boat, so the other passengers have to sit on the floor. At full passenger capacity, space might become too limited, especially if you are all adult-sized individuals.
If you are into solo fishing, then the Voyager 4-person is a great watercraft to have. With this setup, not only will you have plenty of room for your fishing gears, but the in-built fishing rod holder will also yield exceptional utility.
The Solstice Voyager 4-person is surprisingly durable, thanks to its heavy-duty PVC build. The hull is also held strong together by its radio frequency welded seams. All in all, such construction allows the raft to survive slight abuse, but you should not overdo it.
Solstice Bali 10'8″ Inflatable Stand up Paddleboard
This entry is the first of two SUPs on this list. The Bali 10'8″ stand up paddleboard is designed for beginners to easily acclimate to, up to intermediate level. If you are new to the sport, then this model is ideal for learning the basics, such as developing balance and stamina. If you are an intermediate, you can paddle away with this iSUP very steadily and have a lot of fun!
The reason why the Bali 10'8″ SUP is so accommodating to novice users is because of its extra rigid floor. With a reinforced drop-stitch 1,000 denier 3-ply PVC core, you do not need to have expert-level balance to use the product.
Plus, the board is able to withstand up to 250 lbs. of human weight, so staying upright will not be an issue. The 12-15 PSI pressure rating of the item also aids in this regard. There is an EVA non-slip footpad on the top surface of the paddleboard, which ensures that you do not lose your footing when riding the waves.
If you have some items that you want to bring along, the four stainless steel tie-down points can help secure them. Expect the following accessories to be bundled with the main module: a pump, pressure gauge, and storage bag. Unluckily, you have to purchase your own paddles, as this offer does not come with any. However the pump is quite good and you can inflate the iSUP within a few minutes to 15psi.
A carry handle is affixed on the middle of the board for quick and easy transport. When it comes to the general size of the product, it measures 10'8″ (128 in.) long, 32 in. wide, and 4 in. thick.
Solstice Bora Bora 12'6″ Inflatable Standup Paddleboard
The Bora Bora 12'6″ SUP is Solstice's biggest stand up paddleboard. It measures 12'6" in length and 32" in width. Once fully inflated, the item will assume a core depth that is 6 inches thick.
Because of its huge size, the Bora Bora 12'6″ SUP may not be too agreeable to the uninitiated. However, if already have some experience with such device, then this model is the perfect tool to further augment your skill.
As for the general bulk of the craft, it weighs around 43 lbs. It is by no means lightweight, but it is not heavy either. Nonetheless, the product's center carry handle will help you transport the item in and out of the water without much drag.
The best use of this inflatable paddleboard is for coastal cruising. The front end of the board is noticeably sharper than its other counterparts, making it more efficient at cutting through waves. Such outline also makes paddling more seamless, thus enhancing overall trackability.
The craft is commendably well built. With the use of super high-pressure drop-stitch material for the core, the board is able to keep its rigid form even when carrying immense weight. To be more specific, the Bora Bora 12'6″ is able to tolerate a maximum weight limit of up to 300 lbs.
Packaged accessories consist of a high-pressure hand pump, air pressure gauge, a storage bag, repair kit, and a fin. Similar to other Solstice SUPs, this model also sports a reliable EVA footpad, guaranteeing a non-slip performance.
What makes Solstice so great?
Out of all the aspects that make Solstice such an amazing brand, price accessibility is certainly at the top. While it is true that a lot of seemingly cheap products tend to be mediocre, the Solstice does not appear to have this issue.
Although it can be argued that their products are not the best in terms of quality, they are guaranteed to exceed the value of what you would normally expect from items retailing at similar price ranges. To put it simply, you will get more than what paid for, in a good way, of course.
Solstice and Swimline's smart application of PVC material and drop-stitch technology in their units is also admirable. Lastly, a lot of this brand's lineups are entry-level, just like with most of the models listed above. Therefore, beginners can easily adapt to their new, respective watersport activities (kayaking, paddeboarding, etc.) via these products.