As an Amazon Associate, I earn from qualifying purchases. This is without any additional costs for the buyer but does support me in maintaining my website.
A well-known brand in the inflatable watercraft industry is HydroForce. From the stand-up paddleboard to rafts, boats, kayaks, and other sports range inflatable crafts, you have a variety of options to choose from this brand. In this particular article, we will be reviewing 5 standout models of HydroForce that come with different lineups, so as to cover a larger audience.
Inflatable watercraft have really surged in popularity ever since people started noticing the convenience they bring to the whole boating experience. They are portable, lightweight, and most importantly their performance is almost on par with their solid counterparts.
A Brief Overview of the HydroForce Brand
More often than not, the background of a particular company can have more influence on the customers' trust than the actual products themselves. With that said, learning about HydroForce as a brand will help you gain valuable insights as to how they operate, and how they handle their goods.
With such knowledge, you will likely be more inclined to put your confidence in the company, knowing that the items you are buying from them are created with care, quality, innovation, and with your convenience in mind. However, you are in no way obligated to read this part, but it is highly encouraged that you spare some time to do so.
To start with, HydroForce is actually part of a bigger company, which is called Bestway. This corporation is best known for its huge supply channel of inflatables, be it for sport or leisure use. This ranges from standard pool toys to floaters, above ground pools, and even airbeds, among others.
The company was founded in 1994, which is fairly old if you compare it to other recently started manufacturers in the business. However, their lineups are always so well-received that it often reaches global success.
It is to be expected that user safety takes precedence when it comes to products that are meant to be operated by a human. The case is no different from Bestway.
In fact, the company is so dedicated to your well-being that they use teams from Europe, Australia, and the USA, to assess safety regulations and standards on a global scale. All findings are then reported back to the main headquarters, more specifically to the R&D (research and development) team, and on a weekly basis at that.
HydroForce Inflatable Kayaks, Dinghies, Rafts, Boats, and Standup Paddleboards
As mentioned above, HydroForce hosts multiple types of inflatable vessels. These units are categorized into three main series, namely: stand up paddleboard, rafts & kayaks classic range, and boat sports range. Each offers something unique to the table and will cater to a specific demographic.
The review below will consist of 3 inflatable boats (1 dingy and 2 rafts), 1 inflatable kayak, and 1 iSUP (inflatable stand up paddleboard). With such diversity, you can easily pick a model that will fit your boating style the closest. But, you always have the option to buy more than one type, if it suits your needs.
HydroForce Caspian 9.3′ Pro Inflatable Dinghy
The HydroForce Caspian 9.3′ Pro is an inflatable dinghy, which measures 110 x 60 x 16.5 inches. Such dimensions provide enough space for up to a maximum of 4 adults, although the individual size and weight also factor in.
All in all, this dinghy can withstand around 1,058 lbs. of weight or 480 kg. It allows the boat to stay buoyant even at full passenger capacity, or with fewer people but with several gears. This makes HyrdoForce's Caspian 9.3′ Pro ideal for cruising lakes, fishing, or as a tender for a larger ship.
Each component of the Caspian 9.3' Pro's construction is quality-tested. To be more specific, a combination of high-strength PVC and marine-grade plywood are used to build this unit. Several metal steel tow rings are also present, which provides a lot of utility for managing gears.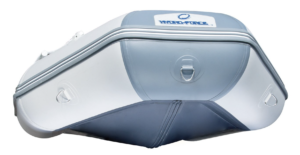 The PVC fabric used on this dinghy is fully-reinforced with terylene fiber, giving it high resistance against harmful elements, such as UV degradation. The same material is also high-density, resulting in a strong exterior.
As for the marine plywood material, you will find it on both the flooring and the transom. Speaking of floors, the set provided for this product is easy to assemble, and it does not require any tools either. Just set it as instructed, and you will end up with a firm and steady floorboard.
For added protection, a rubber strake is affixed around the edge of the hull, which helps absorb impact and friction against hard objects, such as docks. There are also carry handles on the boat, allowing the unit to be transported in and out of the water effortlessly.
In the event that an air tube pops, you can be sure to stay afloat since the Caspian 9.3′ Pro is equipped with a total of 4 air chambers. Among these four is the inflatable keel, which not only adds shape to the bottom of the craft, but it also enhances overall tracking.
Setting up this water vessel takes no time at all, thanks to the quick inflation/deflation air valves. It also has an integrated drain valve, which ensures that water does not accumulate in the deck. A grab line on each side is provided for additional safety.
For motor compatibility, this model can accommodate an outboard of up to 10 hp in power. A molded metal motor mount is readily available for such a setup, but you have to provide the motor personally. Omni-directional oarlocks are also present for easy rowing.
Along with the main module, you will also receive the following accessories: a pair of aluminum oars, a hand pump, a pressure gauge, a carry bag, and a repair kit. You will also find a 10-meter towrope and a bench seat out of the box.
HydroForce Voyager 1000 Inflatable Raft
The HydroForce Voyager 1000 is the first of two inflatable rafts on this list. This version is suited for lake exploration and casual fishing trips. Although it is totally possible for it to be used in Class III whitewater, you need proper experience to take full advantage of the craft in such an environment.
In terms of size, the Voyager 1000 measures 115 x 50 x 18 in. It can fit up to 2 adult-sized individuals, plus 1 kid. Three adults onboard are doable, but you have to make sure not to go beyond the 594-lb. weight limit.
Construction-wise, this raft is made with 3-ply reinforced vinyl, specifically a PVC type. The build is strong enough to absorb minor impacts, as well as avoid abrasions.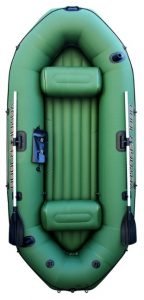 The integrated screw valves make short work of the inflation and deflation process, therefore speeding up the setup and disassembly time. When it comes to portability, you can easily roll the boat and put it in a large bag. Just make sure to dry the boat beforehand.
On both the left and right sides of the Voyager 1000, you will find an omnidirectional oarlock. This feature promotes fast and easy rowing when you are leisurely cruising calm waters or moving from one fishing spot to another. Whitewater rafting, however, will not benefit much from the oarlocks, since strong manual paddling is more optimal in such a situation.
Alternatively, you can affix a small motor to this raft, via the available motor mount. The accepted max power is only 1.4-hp, which is not much, but it is a great improvement in cruising speed nonetheless, even more so during fishing trips.
In addition, this raft comes with two built-in rod holders, which is the perfect means for hands-free fishing with your mate. An all-around safety grab line is also employed, which provides extra utility and security.
The base of the device is a high-pressure inflatable floor. It is complemented with two inflatable cushions for added buttressing, and a storage bag.
For the set of accessories, you will get a pair of oars, a hand pump, and one storage bag. A heavy-duty repair patch is included as well.
HydroForce Marine Pro Inflatable Raft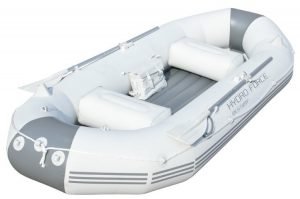 The HydroForce Marine Pro is very much like the previous product, the Voyager 1000. However, instead of green color, this one sports a bright white exterior with a gray accent. Other than this change in visual design, both units remain relatively the same.
It still measures 115 x 50 x 18 in., which means it can also accommodate 2 adults and 1 kid. The maximum weight capacity is also 594 lbs. The Marine Pro uses screw valves for quick inflation and deflation, much like the Voyager 1000.
Expect omnidirectional oarlocks on this device as well. Moreover, two fishing pole holders are still present, making it usable for fishing. There is also an all-around safety rope, but instead of a black one like in the Voyager 1000, this model has white. Both are equally reliable.
Mounting a motor on its in-built mount grommets require the same setup, which involves obtaining a Bestway motor mount and the motor itself. Recommended max motor power is still 1.4 hp.
The high-pressure flooring and seats are of the same quality as the 2nd listed model, but they are now white to go along with the main aesthetic of the vessel. The bundled accessories remain similar to the Voyager 1000.
As you might have expected, the construction of the Marine Pro is also identical to the Voyager 1000, which is a 3-ply reinforced vinyl. Therefore, you can anticipate it to have the same level of resilience against UV rays and abrasions.
HydroForce WaveEdge 10'2″ Standup Paddleboard
The HydroForce WaveEdge 10'2″ is a SUP that is made for beginners, children, and young adults. It comes with a drop-stitch core construction, which gives it a durable and well-balanced build. When fully inflated, the standup paddleboard flexes a little bit when stood upon.
The 220-lb. maximum weight limit of this paddleboard should be more than enough to bear the bulk of an average-sized adult but we recommend this SUP only for lighter persons like children and young adults. Aside from the rigidity of its core, the surface of the device also features an anti-slip traction pad, which effectively keeps your feet planted down, even when it gets wet.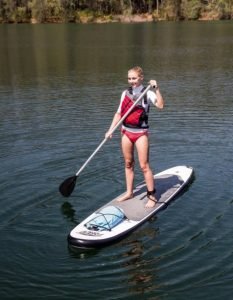 Getting in and out of the water is also made seamless since the WaveEdge 10'2″ is not only easy to set up, but it also features a dependable carry handle. After using the inflatable paddleboard, you can deflate it with ease, and then roll it up for quick storage.
As far as performance is concerned, this model scores reasonably good. Apart from 2 built-in side fins, you are also given the option to attach another bigger one. With all three in place, this SUP will be able to slice through the water and waves smoothly.
This product is packaged with the following add-ons: 83-in. aluminum paddle, inflation pump, repair kit, and pressure gauge. A travel bag for storage is also included.
The overall physical dimensions of this SUP is 122 x 27 x 4 in. when fully inflated. It weighs about 24 lbs. All in all, the WaveEdge 10'2" is an ideal SUP for beginners, children, and young adults.
HydroForce Bolt X2 Inflatable Kayak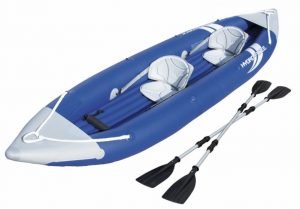 If you do not like any of the abovementioned inflatables, then maybe the HydroForce Bolt X2 kayak might appeal to you. With a kayak, you have the advantage of having a smaller vessel to maneuver, which is definitely less demanding compared to manually rowing a dingy or a raft. It also does not necessitate the same level of balance as SUPs, so it is considerably easier to ride.
However, do keep in mind that this particular kayak is not strong enough to carry you through tougher whitewater classes. The most it can manage is Class I whitewater, anything higher than that will be too dangerous. Nevertheless, the Bolt X2 is perfect if you use it for recreational kayaking on calmer waters.
Even though it is not meant for strong rapid rivers, the Bolt X2 kayak is still built with optimal durability. With its 3-ply reinforced vinyl construction, the craft can survive quite the abuse, and resist punctures. Moreover, you can attach a removable fin under it for improved tracking.
In general, this inflatable device measures 150 x 37 in., which is sufficient for 2 passengers. As for the weight capacity, this model can withstand up to 374 lbs. of heft.
More importantly, the 2 seats provided are adjustable, so you and your partner can settle in comfortably. They even have a back compartment for storing your personal effects.
Upon your purchase of the item, you will also obtain the following accessories: two 86" aluminum oars, a carry bag, and an air pump. The oars are two-bladed and work well for beginners, whereas the bag is a backpack type, which makes it easy to transport.
What Makes HydroForce So Great?
Probably the biggest reason as to why people go for HydroForce-made inflatables is their accessible price ranges. A lot of this brand's products retail at a significantly lower cost than its other competitors, but with limited sacrificing quality and performance.
The manufacturing materials used by Bestway is proof that they did not compromise construction quality enormously in exchange for a cheaper product. As you may have noticed above, most of the HydroForce watercraft are made with high-quality vinyl, the majority of which are PVC type.
This sort of component makes each of the company's inflatable device not only resilient against impacts and perforations, but it also keeps each one flexible enough to be easily folded and unfolded. This makes all units portable, and easy to set up and pack.
Plus, the majority of Bestway's HydroForce lineups also fare quite well under UV exposure. Other models can even survive getting in contact with petroleum-based elements.
Finally, Bestway does not shy away from returning even more value for your purchase of their inflatable goods. Such is the case with the generous accessory set they bundle with their units.
Looking for a brand that offers cheap yet good quality inflatable boats is already tough as it is. But, finding a similarly-inexpensive manufacturer that also provides an almost complete set of accessories is even harder. It is a good thing that HydroForce belongs to the latter.
With products that come with oars, paddles, carry bags, and air pumps, among others, right out of the box, HydroForce is most definitely worth investing in.