As an Amazon Associate, I earn from qualifying purchases. This is without any additional costs for the buyer but does support me in maintaining my website.
Intex is a huge company manufacturing an incredible amount of water sports products, ranging from inflatable kayaks and boats, to airbeds, pools, and other water sports related toys.
In this article, we will be going over a few of the company's inflatable boats and kayaks. Each one will be reviewed exhaustively, so that you can have a better time choosing which model will be most appropriate for your water sports needs.
A Brief Overview of the Intex Brand
Before we start with the review, getting to know Intex as a brand in general will provide you with great insights as to how they handle their products. Plus, being familiar with the company's history is more likely to make you trust them.
It has been well over four decades since the Intex brand was founded, which was way back in 1966. Their base of operation is located in California, specifically in the Long Beach area.
Unbeknown to some of its current consumers, or to the general public for that matter, Intex is not the first name of the group. In its earliest years, the brand was actually called "The Wet Set". Another interesting fact about the brand concerns the very first inflatable item they ever released, which is a beach ball.
It was not until 1997 that Intex began to widen its product catalogue with the creation of its original above ground swimming pool. From there, new types of inflatables were slowly added in, which eventually lead to the inclusion of boats and kayaks.
By borrowing concepts from their previous works and implementing them in their inflatable vessels, you can be sure that each boat is guaranteed to perform without fail. Apart from this, Intex also developed unique technologies specific to their boat series, allowing them to stand out that even more.
Today, Intex-made products can be accessed from more than 100 countries, worldwide. Just from this global feat alone, you can already tell that the brand is highly trusted.
Intex Inflatable Kayaks and Boats
Intex's inflatable boats are currently categorized into two groups, namely: the professional series boats, and sports series boats. The former includes models that are engineered for optimal performance and maximum durability, whereas the latter is has more of a recreational purpose. Either way, both classes offer units that are rugged and stable.
Intex Challenger K1 Inflatable Kayak
The Challenger K1 is one of Intex's entry-level inflatable kayaks. It is a one-person kayak that features an inflatable I-beam floor, which adds rigidity to the base of the unit. The kayak also sports a low profile design, allowing you to control it more efficiently.
For your storage needs, you can make use of the cargo net on the front end of the kayak. It has enough space to secure you medium to large sized items, while also providing easy access to them.
You can also find a grab line on both ends of the inflatable kayak, so you can carry it in and out of the water effortlessly. Speaking of carrying, the kayak weighs 24 lbs., which is light enough for one person to lift up and transport with ease.
As for the overall dimensions of the Intex Challenger K1, it has a length of 9 ft., and a width of 2.5 ft. The total amount of heft it can bear when fully inflated is around 220 lbs. Such capacity is enough for one adult-sized human, plus some gears.
The sitting compartment is wide enough for you to easily get in and out of the kayak. In addition, the inflatable seat has a backrest, giving you long lasting comfort while paddling. You can also freely adjust or remove the seat, which provides plenty of ways to achieve a position that you will be most comfortable with.
At the back of the kayak, a removable skeg can be attached. Such accessory will improve the overall tracking of the kayak and its ability to slice through water. This will not only benefit the general maneuverability of the inflatable kayak, but it will also minimize the effort you need to put in with each paddle you execute.
The construction of the Intex Challenger K1 is also impressive for its price. With the use of heavy duty, puncture-resistance vinyl, you can use the kayak on lakes or non-rapid rivers without fear of puncturing an air chamber.
Accessory-wise, this kayak comes with the following add-ons: 84" aluminum oars, a high output hand pump, and a patching kit.
Intex Mariner 4 Inflatable Boat
Looking for the perfect 4-person inflatable boat for various boating and outdoor activities? Then, the Mariner 4 by Intex is the perfect inflatable raft for you. You can use it either for a camping trip, for fishing, or even just for some leisurely cruising.
When completely deflated, the Intex Mariner 4 can be easily folded and stored, making it very portable. Once fully inflated, the unit transforms into a tough yet still flexible watercraft. A huge reason why it is so durable is because of its strong molecular structure.
Thanks to the SUPER TOUGH PVC, 3-ply construction of the item, abrasions and punctures are aptly abated. This build also makes the unit highly resilient against UV degradation, so you can sail under the sun all you want.
For some added protection against impacts, this inflatable boat also employs a durable rock guard around the hull. Above this layer of protection, an all-around nylon grab line can be seen, which you can use to divide manpower when transporting the boat.
Setting up the Mariner 4 does not take long. This is made possible with the help of the four Boston valves on the main hull chamber. These ports are not only easy to access, but also pumping and releasing air through them is seamless, resulting to fast inflation and deflation.
Aside from the main hull, this model also has an inflatable keel. This may not seem all that much, especially in the eyes of a beginner, but having this added shape results in better tracking compared to others that do not have it.
When fully assembled, this inflatable watercraft measures 129 x 57 x 19 inches. It weighs around 86.9 lbs. As for the max weight capacity, it can withstand up to 880-lbs. (400 kg.) of total heft.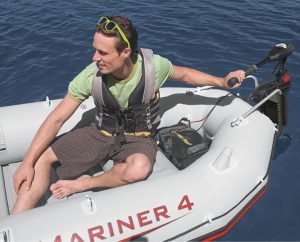 The boat also has rotating oar locks and oar holders, ensuring that your paddles do not fall underwater, while also making your paddling effortless. There are three inflatable seat cushions on the deck, which can support all four passengers comfortably.
More importantly, you can choose to outfit the Mariner 4 with an engine, via the motor mounting accessory. With that said, a battery pouch is readily provided, in case you choose to install an outboard.
Along with the main module, you will also get a repair kit, a set of 54-in. deluxe aluminum oars, and a high-output hand pump. You can also find 2 rod holders on the boat, which is great for hands-free fishing.
Intex Excursion 5 Inflatable Boat
The Excursion 5 is one of the largest inflatable boats in Intex's arsenal. It sports a total of 3 air chambers, giving the unit high buoyancy rating. Moreover, such amount of air bladders will allow the boat to stay afloat in the event that one of them is accidentally punctured, so you can safely row back to shore.
The inflation and deflation process is also made fast and stress free, all thanks to the accessible Boston valves of the main hull. After you are done with your adventure, the boat can then be folded back with ease.
Like with most Intex inflatables, a grab line is also threaded around this model, which can be used for both utility and safety purposes. Aside from the grab line, carry handles are also found on both ends of the vessel, which promotes quick and painless transport.
Prevention of punctures and abrasion is carried out effectively with the aid of the boat's heavy-duty PVC construction. The inflatable floor has an I-beam design, which not only makes the deck rigid, but it also augments the stability of the craft.
The Intex Excursion 5 has physical dimensions of 144 x 66 x 17 inches. It has a max weight limit of 1,300 lbs., which is sufficient for 4 people, although it might still be possible to add 1 more person onboard.
Alternatively, you can take full advantage of the large weight capacity by paddling with less passengers, but more equipment, which is an ideal setup for activities like fishing. Speaking of which, there are 4 rod holders placed around the hull, so you can do other things while waiting for a bite.
All in all, there are 3 inflatable seats available for the Intex Excursion 5 inflatable boat, 2 of which have a backrest and are placed at both front and rear ends of the boat. As for the 3rd one, it is placed in the middle, but it is just a bench with no back support.
To make your rowing easier, simply utilize the oar holders. Moreover, you will receive the following accessories upon your purchase of the Excursion 5: two 54-in. aluminum oars, high output air pump, repair kit, and carry bag.
Intex Explorer K2 Inflatable Kayak
The Intex Explorer K2 is an awesome combination of speed and comfort. It is a 2-person inflatable kayak that can slice through water easily, and accommodate passengers for hours. This guarantees that you get to explore as much of the surrounding seascapes as you can.
The Explorer K2 is not only sporty in design, but it also has the performance to back it all up. Thanks to its streamlined build, paddling has never been easier, especially with two people working together.
To ensure your comfort, the bundled inflatable seats of this kayak also come with a backrest, which minimizes the likelihood of lower back strain. Furthermore, the sitting compartment has plenty of space for your legs to position restfully.
A front and rear grab line makes it easier to divide the carry load between you and the other passenger. The 31.13-lbs. bulk of the Intex Explorer K2 also helps in this regard, allowing you and your partner to transport the item in and out of the water smoothly.
When filled with air, this kayak takes on a size of 10'3" x 3' x 1'8". It can also carry up to 350 lbs. of total load capacity, which is enough for 2 adults, without causing too much drag.
Out of the box, you will also be getting two 86", 4-part aluminum paddles, a hand-operated air pump, a carry bag, and a repair patch.
Construction is also handled well, with puncture-resistant vinyl being the primary component used. Much like the Challenger K1 and Excursion 5, this model also sports an I-beam floor system, giving it a firm base.
Intex Challenger 2 Inflatable Boat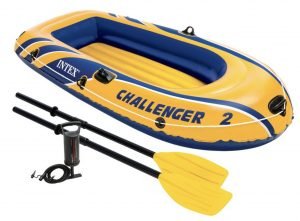 Do not confuse the Challenger 2 as a higher version of the Challenger K1, because it is not a kayak, but rather an inflatable boat. It is also one of the cheapest 2-person inflatable boats currently out in the market. If you are looking for an entry-level boat that is capable of carrying you and another passenger, but without breaking the bank, then this will appeal to you.
Having been manufactured with heavy-duty PVC fabric, you can trust this model to not rip, puncture, or pop, just out of the blue. The 3 air chambers of the unit also elevate its overall reliability to keep you above water, in case one is accidentally pierced.
Similar to almost all inflatable watercrafts made by Intex, the Challenger 2 also comes with quick-access Boston valves, which makes inflation and deflation a breeze. The carry handle on the bow and all-around grab line also yield incredible utility and convenience.
When it comes to physical dimensions, the Intex Challenger 2 measures 93 x 45 x 16 inches. Maximum weight capacity is rated at 440 lbs., which is already plenty for two people, and maybe some onboard gear. On that note, these are the following accessories that come with the main module: two 48-in. French oars, a repair patch, and an Intex hand pump.
Unfortunately, the Challenger 2 does not come with seats. However, the deck is spacious enough for you and your partner to comfortably sit on. Even without a seat, the built-in oar locks and oar holders still make the rowing easy.
Surprisingly enough, the Intex Challenger 2 inflatable boat can also be affixed with a motor, provided that you also obtain the proper motor mount fixture. Nevertheless, this boat can be maneuvered just fine, with or without an engine.
Intex Seahawk 4 Inflatable Boat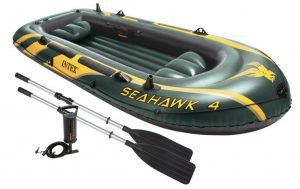 The Intex Seahawk 4 is the ideal budget inflatable boat for a group of 4. It is built using Intex's own SUPER TOUGH™ PVC material, which fares rather well against impacts and potential abrasions. This type of construction also keeps the boat flexible, making it easy to fold and unfold.
Motor fitting is available for the Seahawk 4, which is a great option to have for when you finally decide to add more speed and glide to your boating experience. However, even without a motor in place, the Intex Seahawk 4 is still an easy boat to maneuver via rowing, more so with the aid of the welded oar locks and oar holders.
To store your small personal effects, use the built-in gear pouch. And when you decide to go fishing, this product has two rod holders for you to exploit. You also do not have to hold back when reeling in those huge catches, since this inflatable boat can withstand up to 1,050-lbs. of weight.
In terms of accessory set, the Intex Seahawk 4 inflatable boat comes with two 48-inch aluminum oars and a high-output pump. Unfortunately, a carry bag is not included, but you can use almost any storage pack you have at your disposal.
What makes Intex so great?
Affordability
The biggest advantage that Intex has over other inflatable boat-producing brands, is the cheap price ranges that their units retail at. Even their large 4-person boats are considered cheap by most standards. If you are new to the world of inflatables, then this brand is one of the best place to start.
It is not uncommon for relatively cheap products to be associated with sub-par or mediocre quality. However, Intex is certainly an exception to this notion. Despite being inexpensive, Intex still employs high-grade materials in its inflatable kayaks and boats, most of which are PVC-based.
The accessories that Intex bundle with their boat lineups yield immense value for the price you are paying in general. Some of higher-end products might not even come with anything other than a carry bag. This company on the other hand, will at least include a paddle and a pump in majority of its available units.