As an Amazon Associate, I earn from qualifying purchases. This is without any additional costs for the buyer but does support me in maintaining my website.
BIC Sport is a brand that belongs to a very unique category, because it is capable of manufacturing up to 6 different types of water sports products. From SUPs and surfboards, to hard-shelled and inflatable kayaks, dinghies, and their signature windsurfers, BIC can do it all. For this particular article, we will be reviewing their most popular (inflatable) kayaks and best-selling standup paddleboards (SUP) lineups.
A Brief Overview of the BIC Sport Brand
BIC Sport was founded in Vannes, Brittany, in 1979. Within just one year, they released their first product, which was a windsurfer called the Dufour Wing. Windsurfing would later become the most popular watersport of the late 20th century, and with it came the rapid growth of BIC's reputation.
Between 1990 and 2000 windsurfing slowly declined in fame, while other board sports like surfing and snowboarding started to attract bigger crowds. Although this did not stop BIC from continuing their windsurfer line, it also did not take long for them to realize that fewer people gained interest in the sport.
This pushed BIC to expand its catalogue and in 1994 the firm acquired Tiga, which is a brand that specialized in sport surfboards. This amalgamation lead to the release of the company's first surf board, the Natural Surf, followed by other models that helped shape the BIC that is known today.
It was not until the year 2002 that BIC released its first sports kayak, the Bilbao, which is a sit-on-top kayak. After taking home various World Championship titles in Funboarding, BIC slowed down and decided to forego joining future, top level competitions, and began focusing more in their product manufacturing.
Armed with this newfound motivation, BIC was able to come up with the latest innovations in the water sports industry. Some of its most notable achievements involve the creation of their sailing dinghy and the launch of its first sport standup paddleboard (SUP). Even after 2 decades, the company is still as dedicated in discovering new and future-advanced techniques to improve their current and future lineups.
BIC Sport Inflatable Kayaks and Standup Paddleboards
As indicated in the introduction, this review section will consist of 3 specific models and 2 general lineups. The former will deal with kayaks, varying between inflatable and solid types. As for the latter, both will pertain to hard-shell SUPs (stand up paddle boards).
BIC Sport Nomad HP3 Tandem Inflatable Kayak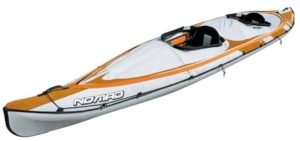 The Sport Nomad HP3 tandem is an exceptional addition to BIC's growing collection of high-pressure inflatable kayaks. It is a 2 seater model, but with an option for a 3rd paddler, as long as the right setup is achieved. Furthermore, the BIC Nomad HP3 is modeled for leisure use and recreational kayaking trips, be it with family or close friends.
It measures around 33.5 in. wide and 16 ft. 4.9 in long. This gives the kayak a narrow and long profile, yet it is still spacious for 2 people to settle in comfortably. As for the weight, it carries a heaviness of 55.1 lbs., which is not that demanding, especially since this inflatable kayak is intended to be carried/used by more than 1 person.
Construction-wise, the BIC Nomad HP3 kayak is made using Cordura polyester fabric for its top deck. This type of material not only provides high resistance to tears and abrasions, but it is also stylishly durable. As for the hull, it features a drop-stitch assembly with reinforced PVC cover.
The drop-stitching is what gives the Nomad HP3 kayak its rigid frame, almost on par with hard shell kayaks. The PVC layer keeps the hull protected against the harsh UV rays and from getting too soaked. With these two combined, you can kayak all day long, without fear of damaging the vessel.
Moreover, the air bladders are made with polyurethane, allowing them to be flexible yet tough, notably when fully inflated. They also sport Dacron shell covers, which further enhances their overall robustness.
Stability is also not going to be an issue with the BIC Nomad HP3 tandem kayak, thanks to its high-pressure keel. This is also complemented well by the high-pressure floor, resulting to an even steadier performance, which is perfect for family and beginner kayaking.
All in all, there are 3 air chambers in this BIC inflatable kayak. What this entail is a more dependable means for getting back to shore, just in case one of the bladders accidentally puncture. If it had fewer air compartments, you will be more likely to sink in such scenario.
To inflate the kayak, access the 2 Boston valves and the single high-pressure floor valve. These three ports are easy to manipulate and quick to pump air into, which leads to faster setup time as well as deflation.
Along with the main module, you will also be getting 2 seats with anatomic backrest. In addition, 2 adjustable footrests can be integrated in the deck, allowing you and your paddle-partner to achieve a position that both of you will be most comfortable with.
For added utility, a safety grab line, as well as a carry handle at the bow and stern, are readily available for your convenience. Surprisingly enough, a paddle attachment is also present, which is not that common in inflatable kayaks. With it, you can secure your paddle, thus preventing it from falling underwater.
Other accessories that come with the BIC Nomad HP3 tandem inflatable kayak is as follows: a transport backpack, a pump with pressure gauge and Y-adaptor, and a repair kit. Good thing is that you have to provide the paddle separately. Because of this you can choose the best quality paddle for you, instead of getting a generic cheap paddle that you probably want to replace very soon.
BIC Sport Yakkair HP1 Inflatable Kayak
For the solo adventurists, the BIC Sport Yakkair HP1 is the ideal inflatable kayak to bring. It has everything you could ever ask for in an blow up kayak. It is portable, lightweight, stable, and offers a generous amount of utility.
A major contributor to the Yakkair HP1's nimble and compact build is the combination of materials used to construct it. Like with other units under the Yakkair lineup, this model also has reduced wind drag, meaning it is easier to steer out on the open sea. Tracking and general performance are also very commendable, thanks to an innovative hull design.
This BIC inflatable kayak sports a high-pressure floor, and below it lays the high-pressure keel. When you put your weight on the deck, the base will assume a V-shape, which will then symmetrically curve against the pressure of the water. This results to a double concave outline that not only improves the kayak's ability to cut through water, but it also enhances overall steadiness.
When it comes to its physical dimensions, the BIC Yakkair HP1 kayak measures 10'9" long and 35.4" wide. Such size is more than plenty for one adult to fill in, along with several gears. The provided seat is well padded and comes with a backrest. A footrest is also supplemented, which will give you long lasting comfort even when kayaking for hours.
The weight of the BIC Yakkair HP1 inflatable kayak is only 24.2 lbs. When you pack it inside the bundled carry bag, along with the other auxiliary tools, such as the footrest, backrest, paddle, and pump, you will typically end up with around 33 lbs. of total heft. In most instances, such amount of bulk is relatively light for one person to transport.
If you want to bring some equipment, you can store them in the stowing mesh at the front and rear of the kayak. Aside from these mesh nets, there is also a paddle attachment you can use to secure your paddling tool. A pump and repair kit is packaged with this product.
BIC Sport Tobago Sit-on-top Kayak
The BIC Sport Tobago is a hard-shelled kayak that guarantees an impressively stable ride. It is durably built, has tons of utility, tracks effectively, and features ergonomic seating. Truly, the BIC Tobago is the perfect sit-on-top kayak to bring on a family outing or fishing trip.
Your comfort is a big deal for BIC, which is why this model features the brand's own unique ergonomic seating. It is specifically designed to encourage a more relaxed paddling by preventing your pelvis from being pushed too forward. The BIC Tobago also sets your center of gravity low enough to maintain optimal stability when cruising.
For added comfort, the seats are armed with foam pads, which provide ample buttressing for long periods of use. There are also abrasion protectors at the front and rear, which not only makes launching effortless, but it augments the kayak's overall defense.
In the event that you accidentally fall overboard, the built-in safety lines will allow you to re-enter the Tobago kayak without much effort. For your gear management, you can utilize the elasticized strap to secure each item you bring. Transporting the BIC Tobago is also made easy; thanks to its rubber-coated carry handles, both at the front and rear ends.
When it comes to the hull, the BIC Tobago sit-on-top kayak sports the THD (triple hull design) build. This particular design approach enhances the glide potential and overall maneuverability of the kayak. Once you get to see the unit in person, you will immediately notice the amount of craftsmanship and sophistication that was put into its hull design, especially when you experience it in action.
In terms of size, this hard-body kayak measures 12 ft. 11 in. x 33.1 in. (length x width). It is long enough for two adult-sized paddlers to fit in restfully and with plenty of legroom, while still having room left for a small child.
As expected from a hard shell kayak, this one is a little heavier than an inflatable kayak, weighing around 70 lbs. However, such amount of heft will only pose a problem if you are going solo, not so much if you have a partner to help you out.
Perhaps the biggest disadvantage that this BIC kayak has lies in its lack of portability. Unlike inflatable kayaks, you cannot exactly fold and unfold a hard shell type, so you have to allot a considerable amount of space when travelling with it.
On a more positive note, the hardiness of its construction does make it ideal for fishing. This is because the material will not be as susceptible to tears or punctures brought by fishing hooks. More importantly, solid kayaks like this one are very stable, allowing you to reel in those huge catches with confidence.
BIC Sport Dura-Tec Standup Paddleboard
BIC Sport holds one of the most extensive and diverse collection of SUPs in the current market. The BIC Dura-Tec SUP, or series of SUPs rather, stands to the test of time. One prime explanation as to why this lineup is so sought after is because of its flexibility.
Unlike other lineups in BIC's vast list of SUPs, the Dura-Tec models fit an all-around use. Whether you are touring, riding waves, or simply cruising the flatwater, this product line performs terrific in each environment.
All Dura-Tec SUPs are also built with optimal ruggedness. This is all thanks to a combination of polyethylene and high-density foam materials. The former component is used on the outer skin of the board, giving it a level of resilience similar to that of an inflatable kayak. Just to be clear, the BIC Dura-Tec is not an inflatable SUP but an hard-shell board. When you want to check out the BIC inflatable standup paddleboards, click on this BIC iSUP link.
As for the high-density foam, it serves as the main core of the product. This construction is somewhat identical to what you would normally find in conventional surfboards. That being said, expect only the most rigid and stable performance from these SUPs.
At present, there are four sizes available in the Dura-Tec series, which includes the following: 9'4", 9'10", 10'4", and 11'4". If you weigh less than 135 lbs., the first iteration will work fine. For 190-lb. users and below, the 9'10" model is perfect. If you are heavier than the aforementioned figures, then either the 10'4" or 11'4" will be viable.
The Dura-Tec standup paddleboard line also sports an in-built ergonomic carry handle, which promotes effortless transport in and out of the water. A deck pad is also integrated in each model, ensuring a non-slip performance. Furthermore, a removable dolphin fin will be provided, which can greatly improve overall tracking.
Regrettably, no paddle is packaged with the BIC Sport Dura-Tec standup paddleboards. However, this is normally the case even among other SUP brands. The advantage is that you can choose the best (carbon) paddle instead of settling for a lesser quality that might be included in the package.
BIC Sport Tough-Tec Performer SUP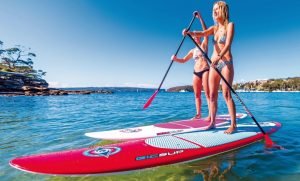 The Performer series is another one of BIC's bestseller. It currently has around 11 products under its group, but only 3 of which are built using Tough-Tec technology (the 9'12", 10'6", and 11'6"). With the Performer Tough-Tec pairing, you get a board that is not only strong, but is also very versatile.
By default, the Performer SUPs feature a surf-inspired design, which is perfect for either paddling over flat waters or for overcoming waves. They also have various attachment points, one tail leash plug and two points in the front for securing your gears (i.e. snorkeling tools).
All BIC Performer SUP models are also equipped with an embossed EVA deck pad. Such platform is not only comfortable to stand on, but it also promotes optimal traction, which prevents you from losing you footing.
Performer paddleboards sport a moderate rocker profile and a round thumb tail outline. The former helps the board glide naturally on still water, while also achieving a fairly similar performance within the surf zone. The latter design, on the other hand, is what allows the device to pivot effortlessly and execute seamless rail transfers.
The aforementioned features are just the ones you can expect from the standard Performer SUP. When you add the Tough-Tec construction into the mix, the affected boards are granted with new and unique characteristics.
For one, all Tough-Tec-made Performers are given a molded, watertight EPS foam core. It may not seem that impressive on paper, but this component is actually the reason why Tough-Tec Performer standup paddleboards are so structurally stiff.
When it comes to the outer shell, a polyethylene skin is used for high impact resistance. Molded external inserts are also employed, so no penetration through the exterior shell takes place.
What makes BIC Sport so great?
The biggest advantage that BIC has over other inflatable water sports brands is its multiple manufacturing techniques. In the entire water sports industry, only BIC has three different processing methods available under one roof. These techniques include: thermoforming, thermoforming around a polystyrene core, and blow molding.
These three procedures are the reasons why BIC is able to freely create up to 6 different types of boating product. Without these construction systems, techniques like TST (twin-sheet thermoforming), Ace-Tec/Tough-Tec, and Dura-Tec, would not have existed.