As an Amazon Associate, I earn from qualifying purchases. This is without any additional costs for the buyer but does support me in maintaining my website.
Newport Vessels is a leader in creating high quality inflatable dinghies, boating accessories, and standup paddleboards.
If you are looking for a reliable inflatable boat, without breaking the bank, then Newport Vessels has what you need. We will be reviewing some of their most well received items. One of them is an iSUP (inflatable stand up paddleboard), and the others are inflatable dinghies.
A Brief Overview of the Newport Vessels Brand
It is always a good idea to get to know the brand and company you are buying from. For one, this will give you valuable insights as to how they handle their production, as well as how they cater to their consumers. Furthermore, you are more likely trust the manufacturer once you get to know them a little better.
Compared to other producers of inflatable water sports crafts, Newport Vessels is fairly new in the industry. It was founded in San Francisco, back in 2008, but it did not take long for business to bloom. One of the biggest reasons why it has gained so much acclaim over the years is because of its interactive approach to patrons.
What makes Newport Vessels different from most of its competitors is that they deal directly to you, making them its own brand. This means they do not rely on major distributors or retailers to handle their goods. Therefore, when you order from them, expect them to be the one to deliver the product straight to your doorstep.
More importantly, the lack of secondary suppliers ensures that all items are not affected by ridiculous, sometimes unnecessary price markups. From factory to buyers, Newport Vessels guarantees reasonable price ranges. Their lineups are not only premium, but they are also available at half, if not less than half the price of other similar units.
Admittedly, Newport Vessels still partners with select (online) retailers. But, they only do so when the interested dealers have the same principal as them, so no huge disparities in cost take place. Plus, this is another way for the manufacturer to reach a wider audience.
After garnering esteem for its innovative design approach on inflatable boats, the group decided to give their own take on standup paddleboards. This desire lead to the formation of their Umami SUP division, which produces SUPs and several accessories.
Aside from boats and SUPs, this company also offers trolling motors and various marine accessories. The availability of motors from the same brand is quite advantageous because all Newport Vessels boats are designed to be affixed with one. Having such source of movement aside from manual paddling will definitely help all units perform at their full potential.
Newport Vessels Inflatable Dinghies and SUP
As mentioned above, we will go over five items from this brand, four of which are boat models, and the other is an SUP.
The Dana 8'10" model is the smallest among Newport Vessels' entire inflatable dinghies lineups. It measures 106 in. long and 60 in. wide, when fully inflated. As for the inside length and width, it measures 69 in. and 24 in., respectively.
Overall, it weighs 107 lbs., which is light enough by most standards. In terms of max weight capacity, the Dana can bear up to 1,067 lbs. of total heft (passenger + gears), which is sufficient for up to 3 people. Part of the reason why the Dana dinghy can withstand such amount of bulk, is because of its 4 air chambers (3 main tubes and 1 keel).
Speaking of tubes, the Newport Vessels Dana dinghy uses large ones, which measures 18 in. in diameter. This makes the unit highly stable and buoyant, even at high speeds. The aluminum framed marine wood flooring also further improves stability, allowing you to move on the deck with better balance.
Construction-wise, the Dana 8'10" is made with 1,100 denier Korean PVC. Such fabric is highly resistant to abrasions and punctures, giving you the confidence that no small bumps will damage your unit. PVC is also quite flexible, which makes the product easy store.
Inflating this dinghy will usually take around 15-20 minutes long, particularly if you are a first-time user. However, subsequent setups will become easier and faster, especially once you get the hang in manipulating the device's Halkey Roberts directional locking air valves. Deflation on the other hand, will more or less need 5 minutes to finish.
The recommended pressure for the main tubes is 3.6 PSI, whereas the keel can hold up to 4.5 PSI. Either way, both values are already optimal for the Dana to assume a firm shape, which in turn, enhances maneuverability.
Apart from the main module, you will also receive the following items upon your purchase: bench seat, set of oars, foot pump, repair kit, and a carrying bag. The Newport Vessels Dana can actually hold two seats, but you have to buy the extra one separately.
When it comes to motor compatibility, this inflatable dinghy can use a motor of up to 10 hp. Depending on the outboard, it is possible to achieve 17 mph using a 9.8-hp motor, with 2 passengers onboard.
The Del Mar is several inches longer than the Dana. Specifically, it measures 114 in. long, but the width remains the same, which is 60 in. As for the inside dimensions, it has a length of 77 in., and a width of 24 in.
With the added length, the passenger capacity has also gone up, which is now 4. However, make sure not to go beyond the 1,124-lbs. weight limit. The number of air chambers is still the same as the Dana dinghy, which is 4 (3 tube, 1 keel).
If you decide to attach an outboard, the Newport Vessels Del Mar dinghy can make use of a motor with a maximum power of 10 HP. Estimated speed is somewhat the same as the Dana, which is 17 mph (9.8 hp, with 2 adults). The more you add passengers, the lower the achievable cruising speed.
The Del Mar also utilizes Halkey Roberts air valves, which are very easy to regulate and pump air into. This speeds up the inflation (15 minutes) and deflation (5 minutes) process, resulting to fast setups and effortless disassembly.

Once you are done using the inflatable boat, you can store it back to the bundled carrying bag. Other packaged accessories include: a bench seat, oars, foot pump, and repair kit. More importantly, you will also get the proper DMV paperwork, which is present in all Newport Vessels inflatable boats, so you can register your unit with ease.
Resistance against impacts and punctures is also not a problem, since this boat uses 1,100 denier Korean fabric. As for the floorboard, a set of aluminum framed marine wood boards is provided, which can be laid down seamlessly. Similar to the flooring, the transom is also made from marine wood.
Furthermore, the Del Mar's main tubes can also hold a similar amount of air pressure as the Dana, which is 3.6 PSI. The same can be said for the keel pressure, which is 4.5 PSI for both units.
If you are not a fan of hard floors, then the Newport Vessels Santa Cruz 10' dinghy is a good alternative. Instead of aluminum framed marine wood flooring, as seen in the 2 aforementioned entries, this one comes with a drop stitch high-pressure air mat floor.
What is the difference, you ask? Well, for one, the drop stitch variety does not involve multiple parts. This means no assembly is required. All you need to do is fill it with air up to the recommended air pressure level (8.0 PSI), until firm.
This type of flooring is also lighter than the solid aluminum kind. Because of this, the Santa Cruz 10' is able to attain higher mph compared to the Dana and Del Mar dinghies. Even though all three have the same 10-HP max motor power requirement, the Newport Vessels Santa Cruz 10' inflatable dinghy can reach 25+ mph using a 9.9 HP outboard.
Albeit the floorboard is different, the Santa Cruz 10' is still made with 1,100 denier Korean PVC. This guarantees that the boat is strong enough to survive a beating.
The set of accessories for this dinghy is still identical to what you can expect from the 1st and 2nd entries. There is the bench seat, the set of oars, the repair kit and carry bag, and the foot pump.
As for the physical dimensions of the device, it measures 123 x 60 in. (length x width). Other specifications of the Santa Cruz 10' are as follows; a 99-lbs. boat weight, 4 air chambers, 1,124 lbs. weight capacity, and 18 in. tube diameter.
The Baja 11'9″ is the second largest inflatable dinghy under Newport Vessels. With its 142 x 66 in. (length x width) physical dimensions, the Baja is discernibly longer and wider than the 3 units listed thus far. As for the interior, it measures 106 in. long and 30 in. wide.
Due to its bigger size, up to 6 passengers can ride this inflatable dinghy boat. The 1,519-lbs. maximum weight limit of the item also helps in this regard. As for the heaviness of the boat itself, it weighs 160 lbs., which is light enough for 6 people to carry together.
Another perk for having a larger craft is being able to install a bigger outboard. For the Newport Vessels Baja in particular, it is able to handle a motor of up to 20 HP worth of power. With an optimal setup, the Baja can easily reach 25 mph with 3 persons aboard.
This vessel also sports an aluminum framed marine wood floor, giving it a steady performance. The solid flooring also complements the high-pressure inflatable keel of the boat, which results to enhanced tracking and overall maneuverability.
Surprisingly enough, despite the Baja's big size, setting it up still takes no time at all. In fact, it can be done in just 15-20 minutes, much like the other dinghy models on this list. Deflation also lasts somewhat the same as the others, which is 5 minutes, give or take.
In terms of accessories, expect the following add-ons: 2 aluminum oars, a carrying bag, repair kit, foot pump, and aluminum seat. Oarlocks and oar holders are also built in for easy rowing during emergencies.
When it comes to the build, the Baja dinghy is made using Newport Vessel's signature manufacturing method, with 1,100 denier PVC as the main fabric. Towing D-rings and a one-way drain plug are also provided for added utility.
If you're looking for an even larger inflatable dinghy of Newport Vessels, check out the Catalina 12'6″ dinghy.
Our fifth and last entry is where we deviate from the other products listed here. As you might have already guessed from the name, the Newport Vessels Umami is a stand up paddleboard.
In general, this SUP has a length of 118 in., and a width of 34 in. When completely blown up, the item can get 4 in. thick. As for the weight, it carries a bulk of 20.50 lbs., which is manageable enough for one person to transport.
This board is made with high-pressure PVC drop stitch material. This is what gives the item its rigid yet flexible construction.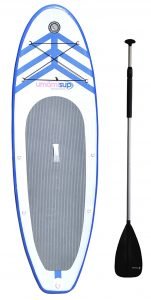 Both inflation and deflation of this standup paddleboard only takes around 5 minutes. The total amount of heft it can withstand is 225 lbs. Recommended air pressure rates at 14.5 PSI.
Standard accessories that come with this iSUP of Newport Vessels include: a pressure gauge, hand pump, aluminium paddle, repair kit, a mesh storage backpack, and an 8 in. removable fin. What the fin does is improve the board's ability to slice steadily through water, so you do not have to exert too much effort when paddling.
A special kayak seat kit is also obtainable for the Umami standup paddleboard from Newport Vessels, which can be attached via the 4 middle D-rings.
For a guaranteed non-slip performance, the Umami 9'10" standup paddleboard is equipped with a non-slip EVA foam on its surface. A carry handle is also present, so you can easily take the SUP in and out of the water.
There is also a slightly shorter iSUP available; the Newport Vessels Umami 9'2″ standup paddleboard.
What makes Newport Vessels so great?
There are a lot of aspects that makes Newport Vessels worth picking. One of which is the way it handles product distribution, wherein units are directly delivered to you, which effectively gets rid of huge price markups. As for the items themselves, here are the factors that make them great:
All of Newport Vessels' inflatable boats use top-grade PVC material, more specifically a 1,100 denier Korean fabric. As you may or may not know, the denier number indicates the thickness of the material. The higher the better, which in this case, the one that the brand uses is definitely substantial.
Without going into too much detail, this type of PVC construction consists of 3 layers, 4 if you count the base cloth. Each layer acts as a protective coating, as well as a shield against abrasions and punctures.
In addition, the type of PVC used by Newport Vessels has flex additives and UV protectants. Moreover, each of their inflatable is held together by imported German-grade adhesives.
The company clearly indicates all these elements in every product specification. Usually, if a supplier does not disclose any information on such properties, then it is highly likely that their products do not use them.
How important are these added layers, you ask? Well, the flex additives allow the device to be pliable, so they will be easy to fold and unfold. As for the UV protectants, it prevents UV degradation. Lastly, the German adhesive helps abate delamination, breakdowns, and corrosions.
The drop stitch floor and aluminum framed marine wood floor that Newport Vessels implements are also commendably durable. Although the latter type offers more rigidity and stability, the former does have the advantage of being lighter and easier to setup.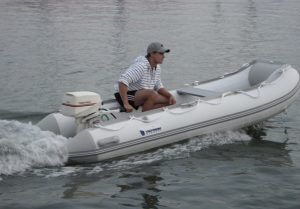 As you may have noticed in all the boats listed above, they all come with an inflatable keel. This gives the bottom of each boat a more defined shape, which leads to better planing and tracking, especially when cruising at higher speed. The SUP line's version has a removable glasfiber fin.
From the one-way drain plug, to the towing D-rings, and oar holders, among others, all Newport Vessels inflatable dinghies definitely provides you with plenty of utility and convenience. The built-in carry handles also promote quick and easy transport of each unit.
Apart from the inexpensive products, the accessories that the Newport Vessels company bundle with each unit also deserves praise for the incredible value they cater. Add-ons like the bench seat, oars (except the SUP), carry bag, repair kit, and foot pump, all make your investment worthwhile.