As an Amazon Associate, I earn from qualifying purchases. This is without any additional costs for the buyer but does support me in maintaining my website.
Sea Eagle is one of the biggest brands of inflatables since they are manufacturing so many different lines, ranging from inflatable kayaks, to canoes, pontoon boats, standup paddle boards and more. Sea Eagle is known for its continued discovery and implementation of new technologies in each product release.
Sea Eagle boats is not only known for its innovativeness, but its wide array of inflatable lineups is also a huge contributing factor to its success. From kayaks, fishing boats, to dinghies, canoes, and stand up paddleboards, this brand definitely has the advantage in terms of variety. If you are interested owning one but do not know where to start, then the reviewed models below will help you out.
A Brief Overview of the Sea Eagle Brand
Sea Eagle is a family owned business, located east of New York City on Long Island. Their base of operation is nearby Port Jefferson Harbor wherein some of the most high quality yachts are manufactured.
Because the business is so close to the water, experimenting with new builds and how each one fares in an actual setting comes easily to them. To this day, you can still witness employees of Sea Eagle testing out new products in the area. So, when Sea Eagle claims that all their items are proven and tested, you best believe it.
From its beginnings in 1968 up to the present, Sea Eagle boats has never failed to exceed itself with new iterations. The first product Sea Eagle released was a 2-person inflatable kayak named Pyrawa, which was highly received by patrons up until the early 1970s.
Every year new models were released or modified, and with this comes the continued expansion of Sea Eagle's catalogue. However, it was not only the lineups that grew, but also the entire company itself excelled as a customer-oriented business. Getting good service these days is rare, but you can rely on this one to accommodate you like family.
Sea Eagle Inflatable Kayaks, Canoes, Pontoon Boats Reviews
Hopefully, you now have a better grasp on Sea Eagle's past and how it strived to become one of the best brands of inflatables to date. Without further delay, let us now go over some popular models under its name, and check which one will suit your style the most.
Sea Eagle SE370K_P Pro Inflatable Kayak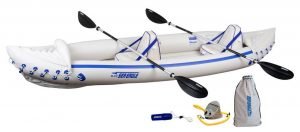 The Sea Eagle SE370K_P Pro is the pro version of the Sea Eagle 370 inflatable sport kayak. It comes with the default unit seen in the standard deal, but with the addition of several accessories at a significantly cheaper cost. That being said, you can expect the main hull to have similar functions and specifications as the regular one.
To make this review simpler, let us go over what comes with the Pro version first. With this promo, you will receive the following items: two 7 ft. 10 in. AB30 paddles, two deluxe inflatable seats, an A42 foot pump, a carry bag, and a small repair kit.
The Sea Eagle SE370 is ideally made for two paddlers, but with its 295-kg. max weight capacity, you can have your dog accompany you. As for the size of the kayak, it measures 381 cm. long and 86 cm. wide. The unit weighs around 15 kg., which is lightweight enough for you and another person to carry effortlessly.
The SE370K_P model of Sea Eagle is built using 38 mil Polykrylar (K80 PVC) material, resulting to high puncture resistance. Furthermore, the flooring on this kayak uses the brand's own inflatable I-beam construction, which is not only rigid, but also highly resistant to tears, even with your canine onboard.
In rare instances where one of the air compartments is pierced, you can rest easy that you will still stay afloat. This is because the kayak is equipped with 3 individual air bladders. One is the floor, and the other two are the port and starboard.
Inflating the Sea Eagle SE370K_P kayak takes no time at all, and can be finished in just 8 minutes. Plus, the high frequency welded seams make the inflatable kayak strong yet flexible. Tracking is also optimized even when it is used on class III whitewater, thanks to the 2 skegs on the bottom section of the kayak.
Sea Eagle SE330 Pro Inflatable Kayak
The Sea Explorer 330 model looks just like the SE370, but with a slightly shorter and lighter build. Specifically, the Sea Eagle SE330 measures 340 cm. in length, and has an overall heft of 12 kg. With its compact build, it can only carry up to 227 kg. of bulk, but it can still hold 2 people just fine.
Much like the previous item, the Sea Eagle SE300 Pro version also comes with the same set of accessories. Moreover, the SE330 is suitable for class III whitewater and below. In contrast to the SE370, the Polykrylar (K80 PVC) material used on this version is 5-mil thinner (33 mil). Nevertheless, both have relatively the same level of durability.
The port, starboard, and floor, accounts for the total number (3) of air chambers in this device. Speaking of floor, this one is also equipped with the 5-tube inflatable I-beam construction. If rigidity and buoyancy is what you are after, the Sea Eagle SE330 inflatable kayak will not disappoint.
To help keep you dry, the kayak uses lashed down inflatable spray skirts. If water splashes in, you can get rid of it via the open and close drain valve. Getting back on the deck after falling overboard is also made easy by climbing via the bow and stern grab line.
Inflating this kayak only takes 6 minutes, give or take. This allows you to get in and out of the water quickly. As for tracking capabilities, the 2 skegs on the bottom of the Se330 kayak will enhance such performance.
Sea Eagle Razorlite 393RL Inflatable Kayak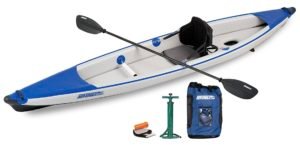 The RazorLite™ series of Sea Eagle is all about speed. With that said, each unit under this category sports a narrower build. For the Sea Eagle Razorlite 393RL, it measures 71 cm. in width and 391 cm. in length.
More importantly, the Razorlite products are the world's first all drop stitch floor inflatable kayaks. This breakthrough engineering makes the kayak so firm that you can even stand on it, similar to a stand up paddleboard. However, you should stick to a sitting position first, especially if you are just starting out.
The person capacity of the Razorlite 393RL model is limited to one. It can bear up to 227 kg. of total weight, which is more than sufficient for one average-sized adult, and a couple of gears. As for the heft of the hull, it weighs 15 kg., which is lightweight for one person to carry.
There are 3 air chambers in the Razorlite 393RL (port, starboard, and floor). The inflatable kayak is manufactured using a combination of 1,100 decitex reinforced fabric, quadruple overlapped seam, and drop stitch material.
Aside from having a narrow and long shape, the kayak also sports unique bow and stern molds with tapered side walls. This design approach improves the tracking performance of the kayak, allowing it to slice through water seamlessly. The large, removable, swept back rear skeg also contributes in this regard.
When cruising at high speeds, there is always a likelihood for water to splash inside the deck. Luckily, there is a spray skirt on both front and rear ends of the kayak to keep you dry, while the 2 open and close drains valves prevent the accumulation of fluid.
Sea Eagle 385FT FastTrack Inflatable Kayak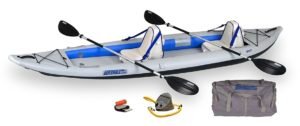 The Sea Eagle FastTrack™ series is known for its inflatable 'NeedleKnife Keel' design. With it, you will be able to paddle faster and straighter, all without sacrificing balance. Speaking of which, the sleek asymmetrical shape of the 385FT FastTrack model also abates accidental overturns, even with more than one person onboard.
Dimensions-wise, the Sea Eagle 385FT FastTrack measures 381 cm. long and 91 cm. wide. Its max weight capacity is around 288 kg., which is adequate for a group of 3 people. However, the 385FT is more ideal for 2 passengers in order to maximize performance.
Unlike the first three entries, this one has a total of 4 air chambers. This includes the port, starboard, floor, and now the keel. Such amount guarantees that in case one of the tubes is punctured, you will still have several reserves left to keep you floating, so you can safely get back to shore.
Despite having an additional air bladder to inflate, this inflatable kayak can still be assembled in just 7 minutes. The seam is electronically welded and is quadruple overlapped, resulting to high pressure resilience.
In general, the 385FT by Sea Eagle is constructed with 1,100 decitex reinforced fabric. As for the base, a removable high pressure drop stitch floor can be inserted. Surprisingly, this unit is compatible with a 34-lbs. thrust electric motor with a max engine weight of 15 lbs.
However, you have to buy the mount and engine separately. Alternatively, you can avail the Pro motor package deal of the product, which will include these two fixtures, but at a discounted rate. The standard version comes with the following accessories: nylon carry bag, repair kit, and printed instructions.
There are 18 D-rings on the Sea Eagle 385FT FastTrack, which you can use to secure the seats and your gears. Due to its flatter shape, you are advised not to ride the kayak beyond class II whitewater.
Sea Eagle TC16 Travel Inflatable Canoe
All the products we have discussed thus far are inflatable kayaks. The TC16 Travel, however, is an inflatable canoe, which is currently the only one of its kind among Sea Eagle's vast collection of inflatables. The biggest advantage it has over solid canoes is portability.
Unlike the traditional variant, the Sea Eagle TC16 can be folded easily, and can even fit in the trunk of a small car. What is even more impressive is that this inflatable canoe is as stable as a regular hard-body canoe. A big factor to such stability is the patented all drop stitch construction of the craft.
The air compartments can be inflated to a max pressure of 10 psi. In terms of quantity, there are 3 bladders in total (port, starboard, and floor). The main fabric used here is a 1,100 decitex (1000 denier) reinforced material.
With the estimated 488 cm. (16 ft.) length and 97 cm. width of this canoe, it can accommodate 2-3 persons. If you are going to paddle with 3 people aboard, then the ideal weight limit is 363 kg. On the other hand, if there is just the two of you, you can bring some gears, up to 415 kg. of total load.
Another amazing feature of the Sea Eagle TC16 Travel inflatable canoe is the packaged seats, which also makes use of the drop stitch technology. Each seat has a backrest, which yields long lasting comfort. Additionally, you can adjust the seating arrangement through the 12 D-rings, so that everyone can get ample legroom.
You no longer have to worry about slipping, thanks to the 2 diamond patterned non-slip EVA foam pads on the deck floor. And even though the hull weight is 32 kg., the front and rear carry handles, plus the 2 center carry handles, provide a lot of ways to divide manpower when transporting the TC16 canoe.
If you are experienced enough for a class IV whitewater, the Sea Eagle TC16 (16') Travel canoe is certainly up for the challenge. The 4 open and close floor drains of the inflatable canoe are also put to great use in such activity, because of all the splashing that will take place.
Sea Eagle 375FC FoldCat Inflatable Pontoon Boat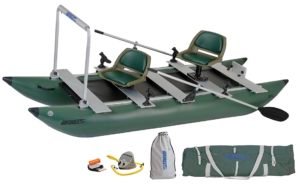 The Sea Eagle 375FC FoldCat is yet another type of inflatable that deviates from the majority on this list, because it is an inflatable pontoon boat. It features a patented folding frame design, which has the bracing platforms already attached to the tubes.
This revolutionary design is what allows the product to be rolled and unrolled without much effort, except for detaching the seats and other custom parts. In a conventional framed pontoon boat, you would need to bolt in the separate frames.
The full fabric flooring is also another edge that the 375FC FoldCat possesses over other pontoon boats, which typically come with an open bottom. Its primary function is to prevent your small items from dropping directly in the water.
When completely assembled, this Sea Eagle inflatable pontoon boat will measure 375 cm. long and 137 cm. wide. Such space is optimal for 2 adult-sized humans. The overall load limit is 295 kg., which is perfect for reeling in those big catch, without being weighed down.
Customizability is a huge part of this inflatable boat. You can have it outfitted with a single 360° swivel seat and a pedestal for that perfect solo, standing/sitting fishing experience.
If you like to fish with company, just add another swivel seat to double the fun. You can get a full list of all compatible attachments in Sea Eagle's catalog.
Rowing the Sea Eagle 375FC FoldCat boat is effortless, thanks to the built-in oarlocks. If you want to take it up a notch, then consider installing a petrol or electric outboard via the available motor mount.
Sea Eagle 285 Frameless Inflatable Pontoon Boat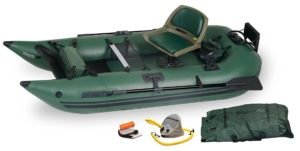 There is just something peaceful about fishing on your own. If you are the type of person that finds gratification in such situation, then the Sea Eagle 285 frameless pontoon boat will match you perfectly. Although it is not as fortified as the FoldCat series, it still has optimal stability for one person.
The Sea Eagle 285 sports a U-frame design, which is quite common in frameless pontoons. The floor, however, is raised and made from 1,000 denier polyester fabric. It is strong enough to support an upright position, so you can reel with total efficacy.
Moreover, the elevated floor complements the integrated oarlocks, since you get to row in a much better position. If you are not a fan of manual rowing, then perhaps a motor will do the trick. You can mount a small outboard, up to 3-hp, on the Sea Eagle 285 pontoon boat.
What makes Sea Eagle Kayaks, Canoes and Pontoon Boats so great?



Unsinkable
All Sea Eagle inflatables are equipped with multiple air chambers, which not only results to large weight capacities, but it makes each unit naturally buoyant.
Almost all Sea Eagle boats can be folded small enough to be stored in a car trunk. Plus, the bags that they come with are easy to carry, whenever, wherever.
Affordable
Aside from retailing at reasonable price ranges, majority of Sea Eagle's lineups are also obtainable in a variety of packaged deals. This gives you an inexpensive access to various accessories that would otherwise be a lot more expensive if bought individually.