As an Amazon Associate, I earn from qualifying purchases. This is without any additional costs for the buyer but does support me in maintaining my website.
Saturn is one of the leading distributors of premium inflatable boats in the United States. From inflatable rafts, to whitewater rafts, dinghies and kayaks, this company never fails. The models reviewed below are a testament to Saturn's incessant pursuit of quality and innovation.
A Brief Overview of the Saturn Brand
Saturn has been in the industry for many years. Their main base of operation is situated in Boise, Idaho. However, their actual manufacturing partners are actually located in South Korea and China. With this combination of design and management in the USA and manufacturing in cheaper locations abroad has a great price benefit while still retaining the high quality of the products.
Saturn's industrial plant has over 30 years of experience in handling inflatable boats. With that in mind, you can guarantee that their products are engineered with only the finest craftsmanship.
You do not have to take our word for it. But, with up to 98% customer satisfaction rate all over the U.S., the brand definitely speaks for itself.
Saturn Inflatable Kayaks Rafts and Dinghies
13' Saturn inflatable self bailing white water kayak
The 13' Saturn inflatable self bailing white water kayak is made for the toughest river conditions. It is even rated for commercial use, which usually indicate that the craft is viable for beyond Class III whitewater. As for this particular model, it is ready for Class IV.
With its 13 ft. length and 3 ft. width, up to two adults can comfortably fit in. Alternatively, you can go solo and make use of the free space to accommodate your gears, which is just what a multi-day adventurist need.
One of the many reasons why Saturn's whitewater inflatable kayaks are so rugged is because of the new cold welding technology used on them. Couple this with their amazing usage of top-tier fabrics, and you get a unit that is not only rigid, but is also able to withstand a great deal of air pressure. In the 13' Saturn inflatable self bailing white water kayak case, it has a floor pressure rating of over 7 psi, which is two to three times higher than most average inflatable kayaks.
If you already have experienced kayaking on rapid white water rivers, then you know how unpredictable the setting can be, particularly in the number and placement of rocks. That being said, this watercraft is extremely sturdy, which can even go on par with hard-shelled kayaks, construction-wise. So, you do not have to worry too much about impacts and punctures.
When it comes to the actual build of the 13' Saturn inflatable white water kayak, it is manufactured using heavy duty 1100 Dtex PVC fabric. This quality of material is not only strong and highly resistant against abrasions, but it also allows the vessel to remain flexible enough to be easily folded and unfolded.
Furthermore, both sides of the fabric are protected with 1100 g/m2, 0.9mm coating. This ensures that the material does not get too soaked, so the kayak does not get weight down. More importantly, this additional layer shields the product from UV degradations brought by prolonged sun exposure.
For this 13' Saturn inflatable self bailing white water kayak, it sports a 6"-thick high-pressure air deck floor. It is rated up to 10 PSI, which is the highest in the industry.
Aside from being firm and stable, the floor also features a self-bailing system, which is to be expected from a whitewater kayak. This function is a must in order to rid of the water that splashes inside the deck, which is common in rapid rivers.
For added utility, there are 10 heavy-duty D-rings on this kayak. Moreover, 2 towing D-rings in the front and back are also present. All of Saturn's whitewater kayaks, from 2016 and beyond, also have upgraded Leafield C7 valves, which guarantees no leaks.
Accessory-wise, you can expect the following add-ons: 2 double-sided kayak paddles, a repair kit, and a carry bag. A high-pressure hand pump is also bundled. Sadly, only 1 high-back seat is included, but you can always buy another if you often ride in tandem.
Saturn 13' Pro-Angler FK396 inflatable fishing kayak
If you are in the market for an inflatable fishing kayak, then the Saturn 13' Pro-Angler FK396 is the perfect choice. It has everything you could ever ask for in a fishing kayak. The Saturn 13' Pro-Angler FK396 is spacious, generous in utility, durably built, lightweight, and best of all, it is portable.
Whether you own an RV or a small car, it will not matter. When packed properly, the Saturn 13' Pro-Angler FK396 inflatable kayak can fit almost anywhere in your vehicle. With that said, travelling to those long-distance backcountry fishing locations has never been more stress-free.
Similar to Saturn's other inflatable boats and kayaks, this model is also constructed with heavy duty 1100 Dtex PVC, and coated with 1100 g/m2, 0.9mm on both sides. This results to a build that is rigid and flexible, not to mention it is also highly resilient against punctures and abrasions.
When it comes to the flooring, this Saturn 13' Pro-Angler FK396 inflatable fishing kayak sports a drop-stitch high-pressure airdeck floor. This is, by far, the most rigid inflatable floorboard available to kayaks. For the FK396, it has enough strength to withstand the weight of 2-3 adults.
It is so steady that you are able stand on the deck, without fear of tipping over, which will be handy when reeling in those big catches while standing upright. The highly buoyant tubes greatly contribute in this regard as well. Furthermore, the top of the hull and the air floor are doubled layered with PVC fabric, which protects them from tearing, in case your fishing hooks accidently hits them.
In exchange for the stiffer base, the Saturn 13' Pro-Angler FK396 kayak is not equipped with a self-bailing system. However, unlike the whitewater variant, this kayak is meant to be used on flat and non-rapid water, wherein splashes are not as prevalent.
If you really need this particular model to have such function, then you can cut 4-6 holes in the bottom. But, you need to know how to do it properly; otherwise you will risk damaging the kayak. Plus, the more weight you put on the vessel the likelier it will cause water to seep up the deck, so keep this in mind before punching any hole.
Out of the box, you will be receiving 2 removable aluminum seats. You can do whatever you want with them. For example, you can mount rod holders, or affix fishing gadgets such as a fish finder or a GPS device.
If you just want some good old fashion angling, minus the fancy stuffs, then you can simply sit these benches. If you prefer a more proper seat, then you have to purchase a high-back foam seat separately. For the most part, the default bench will suffice, but if you are planning to fish for long hours, then the back support of the custom seat will be more beneficial.
What is even more impressive is that you can replace the rear aluminum bench with a longer version, which can be mounted with a small electric motor. Although the Saturn 13' Pro-Angler FK396 kayak's narrow profile already makes it easy to row, having the option to install an outboard motor can greatly improve the efficiency of your fishing adventures.
All the latest iteration of the Saturn 13' Pro-Angler FK396 will come with Velcro straps on both tubes for securing your oars. Another new feature is the large removable fin at the bottom of the inflatable kayak, which enhances overall tracking.
For your utility and storage needs, you can take advantage of the 8 heavy-duty rings and the space under the splash guards. You will also receive 2 sets of oars, a repair kit, carry bag, as well as a hand pump and a spare air valve, with you purchase.
Saturn 13′ Ultra Sport High Pressure Inflatable Stand Up Paddleboard
The Saturn 13′ Ultra Sport high pressure inflatable SUP is the longest stand up paddleboard you can get from this brand. It offers high cruising performance at a very affordable price. You can even use it like a sit-on-top kayak, so it can be quite versatile.
The overall length of the Saturn 13′ Ultra Sport inflatable SUP is 13 ft., whereas the width is around 29 in. If you use it as intended, it can bear up to 230 lbs. of weight. On the other hand, if you are going to sit on it, the max weight capacity increases to 250 lbs.
In addition, you can attach a compatible chair on the iSUP via the side D-rings. But, you have to provide or buy the seat separately. Slicing through the water also comes naturally to this standup paddleboard, thanks to its long and narrow profile.
Like with most Saturn SUPs, the Saturn 13′ Ultra Sport inflatable SUP is also built with a heavy-duty, drop-stitch core. You can fill the board up to 15 psi, and not have to worry about it bursting. With this much rigidity, there will be no flex or bends once you stand on it.
Along with the main module, you will also obtain the following accessories: a hand pump with gauge, a carry bag, and a repair kit. Regrettably, a SUP paddle is not included. Luckily, the brand offers several standup paddleboard paddles at an accessible price range. 
Saturn SD290 9'6" inflatable dinghy boat
The Saturn SD290 9'6" is an exceptional inflatable dinghy for tendering to a larger vessel such as a sailboat or a yacht. It also has a size small enough to fit a large suitcase when completely folded, which makes it very portable.
Whether it is on lakes or the open sea, the Saturn SD290 9'6" dinghy can easily transport 2-3 people from point A to B. It is even light enough for one individual to carry. But, extra helping hands can make the job a lot more expedient, especially since there are 3 carrying handles available.
As an inflatable, the Saturn SD290 9'6" inflatable dinghy contains 3 separate air chambers. It also comes with an inflatable keel, which not only adds shape to the bottom of the craft, but this actually enhances the overall tracking of the dinghy.
When water gets in the deck, you can simply use the one-way drain valve with plug to get rid of it. The Saturn SD290 9'6" inflatable dinghy boat is also protected with an all-around rubber strake, ensuring that no object will directly hit the hull. This is notably advantageous when tendering, or when you dock.
Setup takes no time at all. Just unfold it, and access the Halkey-Roberts valves to begin pumping air. To help prevent over-inflation, a pressure relief valve is integrated in the product. A hugging strip with lifeline is present as well, which contributes to your general safety.
The base of the Saturn SD290 9'6" dinghy is a high-pressure air floor. Although it is not as tough as aluminum floorboards, it does have the benefit of being lightweight and not requiring assembly. You can still stand on the deck without losing your footing.
Tears, punctures, and abrasions, will not be an issue with this dinghy, thanks to its 1100 Dtex PVC construction. Furthermore, the dinghy boat is also well defended against UV degradation, so you can cruise all day long.
The seats of the dinghy come in the form of a bench seat, which is typical to dinghies. Other add-ons include a repair kit, a carrying bag, and 2 paddles. Speaking of which, there is also an oarlock at both sides of the vessel, so your paddling tool does not accidentally fall underwater.
At the back of the dinghy, you will find a marine grade plywood transom, which can accommodate an outboard motor of up to 10 HP. Generally, the motor should be short shaft to achieve optimal performance. However, an electric trolling motor will also work fine, although it will not be as powerful.
Saturn 9.6 ft RD290 Inflatable Whitewater Mini Raft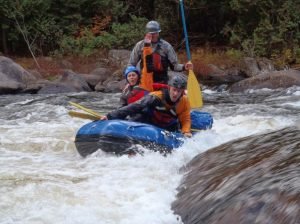 The Saturn 9.6 ft RD290 Inflatable Whitewater Mini Raft is the smallest among Saturn's entire whitewater raft lineup, measuring 9.6 ft. long and 5 ft. 3 in. wide. However, do not mistake its relatively small size for a weaker build. In fact, all Saturn whitewater rafts are constructed more or less the same way.
The most obvious difference that you can find in the Saturn RD290 is in the number of people it can accommodate. To be more specific, the Saturn 9.6 ft inflatable raft can seat 2 to 5 paddlers. If you are looking for a dependable entry-level raft for your group, this is the perfect unit to start with.
The Saturn 9.6 ft RD290 inflatable whitewater mini raft is manufactured using 1100 Dtex high strength PVC fabric, as with most other Saturn inflatables. The usual 1100 g/m2, 0.9mm coating is also present here, meaning potential damages like UV degradation and abrasions are aptly abated.
When it comes to the deck floor, a 5.5"-thick drop-stitch air floor is in place, with a pressure rating of over 10 PSI. With it, you are a guaranteed a steady and well-balanced ride. The bottom is also guarded with an extra thick 1.5mm material, all the way to the exterior tube centers.
Bumping to hard objects is less likely to cause damage to the Saturn 9.6 ft inflatable whitewater mini raft, thanks to the rubbing strake integrated around it. As for maintaining optimal air pressure in the tube, the pressure relief valve in the side tubes can get the job done.
As expected from a whitewater vessel, a self-bailing system is employed in this raft. This aids in getting rid of any water that accumulates in the deck, so that everyone in your team can focus in steering the boat.
This Saturn RD290 raft also holds a total of 12 D-rings, 2 of which are inside and the rest are molded around the hull. Use them to either secure your gears or install a custom frame (sold separately).
For the seating, two 10" (diameter) inflatable thwarts are bundled with the Saturn 9.6 ft Inflatable Whitewater Mini Raft. Other packaged accessories are as follows: a repair kit, hand pump, and a carry bag.
Overall, this inflatable possesses 5 air chambers. If one of them pops, you will still have plenty of reserves to stay afloat, so the group can safely paddle back to the shore.
13′ Saturn Inflatable Whitewater Raft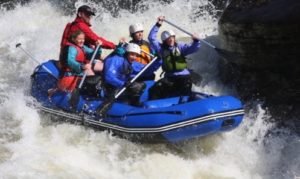 If you want something larger the previous entry, then the 13′ Saturn inflatable whitewater raft might just do the trick. It is the second smallest whitewater raft under Saturn's catalogue. But, it is large enough to accommodate 8 rafters.
Just like the 5th entry, this one also sports a self-bailing, drop-stitch air deck floor. The 13′ Saturn inflatable raft overall dimensions, however, is wider than the aforementioned model, measuring around 6'5" wide. Its tube diameter is also an inch larger than the 9.6' variant, now measuring around 18".
Aside from the raft itself, 2 removable thwarts and a carry bag are also provided. No pump is included, but given the size of the unit, a generic pump simply cannot meet the demand. Luckily, you can utilize an air mattress pump if you have it, or just invest in a high-quality inflator (also offered by Saturn).
Despite lacking an air pump, the bundled outfitter floor frame more than makes up for this. With it, you can easily transform the 13′ Saturn raft from a whitewater raft to an efficient fishing vessel.
Unlike Saturn's 9.5 ft. whitewater mini raft, which only has 5 air chambers, the Saturn inflatable whitewater raft 13 ft. version adds three more feet. Albeit 5 air bladders are already beyond adequate, having more is never a bad thing.