As an Amazon Associate, I earn from qualifying purchases. This is without any additional costs for the buyer but does support me in maintaining my website.
Sevylor is one of the best-known manufacturers of inflatable vessels. The Sevylor company produces all manner of air fillable watercrafts: from kayaks, canoes, to standup paddle boards, and various recreational boats. Aside from guaranteed quality, the brand is also known for its relatively affordable products, seven of which will be reviewed.
Brief Overview of the Sevylor Brand
In order to get a better grasp of each model that we are about to go over below, it would be most beneficial if you first acquaint yourself with the brand. Recognizing the history and ambition of the business will help you realize the commitment they put into all their creations.
To start with, Sevylor was founded back in 1948. Interestingly enough, the business' original products were not inflatable devices; rather, they began with building electrical accessories after World War II, France. It was not until the small company stumbled upon a particular process of handling PVC materials that would eventually lead them to their current, wide-ranging catalogue of inflatables.
Sevylor was already using its own high-frequency welding machines, which they used to create their first ever inflatable bathtub. This early innovation would later propel the company into becoming one of the most competitive and sought after suppliers of PVC-made inflatables.
With over six decades of experience in the industry, it is no surprise that people of all walks of life continue to put their trust in the brand. But, even with all the success it has garnered, Sevylor still strives to discover new cutting-edge technologies to help improve their manufacturing. This dedication is clearly evident with all the latest features they add in each new product iteration.
Some of these advancements include the Air Tight System®, Double Lock Valve™, and Snap 'N' Stay™ system, among others. More importantly, all canoes, kayaks, and boats, under Sevylor are NMMA® (National Marine Manufacturers Association) certified, ensuring that each item is compliant to all safety and construction standards.
Sevylor Kayaks and Boats Reviews
Armed with your knowledge about Sevylor's humble beginnings up to its undeniable success, let us now go over seven of some of the best products it has to offer. Keep in mind that these items are not ranked. Each one is unique and suits a particular usage, so it is up to you to choose which will meet your personal boating criteria the most.
The Sevylor Quikpak K1 is a sit-on-top kayak, which means riding it will expose your entire body to the outside and you'll be able to get off very quickly. Setting it up only takes around 5 minutes, give or take. Such short amount of time will not only allow you to get on the water quickly, but it also makes the disassembly effortless.
Speaking of disassembly, the Quikpak K1 features a unique easy-to-carry backpack system wherein the carry bag doubles as the seat. Because the seat is not completely separate, the entire unit will not take up that much space in your vehicle. Once you arrive at your destination, all you need to do is simply unfold and inflate the boat, and you are set to go.
In terms of build, the Sevylor Quikpak K1 uses a 21-gauge PVC fabric, giving it a rugged form. In addition, the bottom section sports a tarpaulin construction, which aids in resisting punctures and abrasions.
There are 5 air chambers (2 large, 3 small) that keep the Quikpak K1 buoyant. With such quantity, you can be sure that in case one of them pops, you will have enough spare to keep yourself afloat until you get back on land.
The Sevylor Quikpak K1 also features the Airtight® system, which prevents any air leakage from occurring. Moreover, the Double Lock™ valves integrated in the boat contributes to efficient inflation and deflation.
When it comes to your comfort, the seat has a backrest that will support your lumbar area. There is also an adjustable footrest, so you can assume a position that you will be most comfortable with.
To secure your various gears, make use of the bungee lacing at the front end of the craft. Surprisingly, you can also find a cup holder on the kayak, which is not that common for an inflatable of its class.
For a solo inflatable kayak, the Quikpak K1 is easy to transport, thanks to its two carry handles. It can also bear up to 400 lbs. of total weight capacity, which complements its 8 ft. 7 in. x 3 ft. physical dimensions.
Upon your purchase of the item, a bundled hand pump and paddle will also come with it. Although the two are only the basic kind, they still add great value, especially for the affordable price of this cheap inflatable kayak.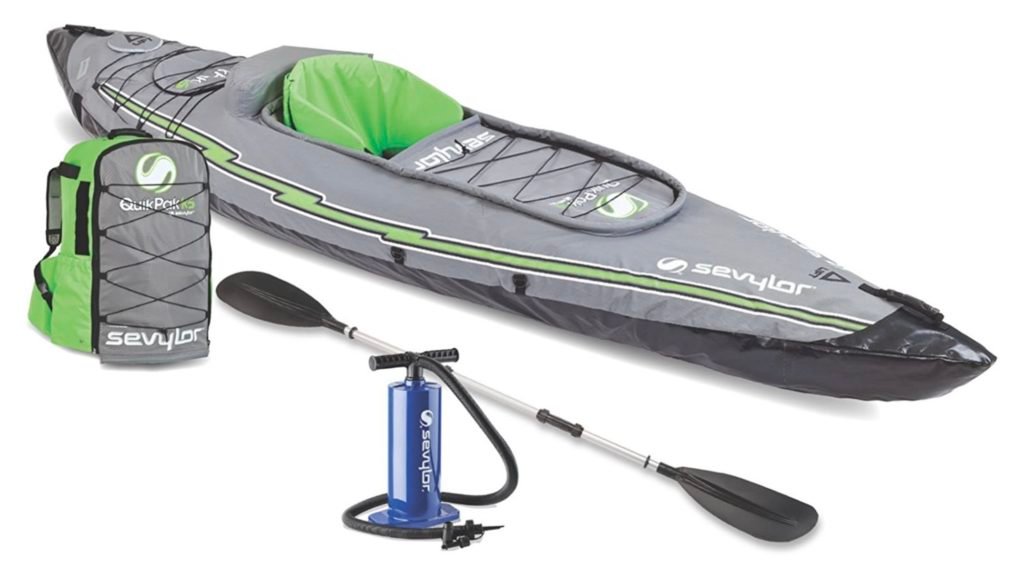 Compared to the Quikpak K1, this iteration is longer and narrower. To be more specific, it measures 10 ft. long and 2 ft. 10 in. wide. Despite the difference in size, the Quikpak K5 can still be assembled in 5 minutes.
In contrast to the open deck setup of the previous entry, the Sevylor Quikpak K5 kayak sports a close deck build. This type of seating arrangement is ideal for staying warm and dry, even more so with the spray covers. Therefore, if the rivers or lakes in your area tend to get too cold, the Quikpak K5 of Sevylor is the perfect kayak to use.
When it comes to the construction, this inflatable is built using 24-gauge PVC as the main fabric. The bottom is still layered with tarpaulin, similar to the Quikpak K1. However, a polyester cover has also been added, which contributes to an even stronger protection against punctures.
With the double lock valves, the inflatable kayak is easy to pump air into and deflate. Furthermore, the ports utilize 2 locking points, making certain that air will not escape. The Sevylor Quikpak K5 comes with the easy-to-carry backpack system as well, along with two carry handles.
A bungee lacing is present in both the front and back of the seat, giving you multiple areas to secure your important equipment. Several D-rings are also supplied, so you can attach your other items. The Sevylor Quikpak K5 kayak comes with a hand pump, paddle and backpack.
Sevylor Big Basin 3-Person
If you are a family of three, then the Sevylor Big Basin kayak will appeal to you. It can withstand up to 490 lbs. of total weight, and has enough space to comfortably seat 3 average-sized individuals. Another reason as to why this Sevylor kayak can accommodate such number of people is because of its 13 ft. 3 in. x 3 ft. 1 in. (length x width) physical dimensions.
Durability is not a problem in the Sevylor Big Basin 3-Person kayak. With the combined strength of the PVC fabric and tarpaulin bottom, you can expect the boat to survive quite the beating. But, you should still handle and maintain it properly.
In the event that one air chamber is accidentally punctured, the inflatable kayak will still keep you on the surface, all thanks to its multiple air chambers. The company's own Airtight System also does an incredible job of abating air leaks.
Each seat is adjustable, ensuring that all three of you can position restfully and with optimal legroom. For added utility, the seat can also be detached, so you can free up some room for accessories whenever you paddle with one less passenger.
Unlike the two aforementioned items, the Sevylor Big Basin 3-Person kayak does not come with paddles or pump. It is, however, packaged with a carry bag and a pressure gauge.
The Sevylor Fiji is a 2-person kayak that retails within a similar price range to a 1-person kayak. If you are just starting out and want to test how an inflatable kayak works with a partner, but without breaking the bank, the Sevylor Fiji 2-person is a worthwhile entry-level investment.
You also have the option to ride solo, because the front seat is removable. The seats are inflatable and therefore flexible to use. The seat support is decent, having a non-padded seat can become uncomfortable the longer you stay out on the water.
Much like the other lineups mentioned thus far, the Sevylor Fiji 2-person kayak is also equipped with multiple air chambers, which provides you with several reserves if one perforates. The air compartments also factor in on the amount of weight the kayak can carry. In this unit's case, it can hold up to 400 lbs. of heft, which is more than enough for two adult-sized human.
There are also spray covers to shield you against splashes. Accessory-wise, the Sevylor Fiji only includes a paddle and a carry bag. You need to buy the air pump separately, or you can use your old one.
For the largeness of the vessel, the Fiji kayak measures 10 ft. 4 in. x 2 ft. 9 in. (length x width). The kayak is manufactured using 22-gauge PVC. Unfortunately, no tarpaulin bottom is indicated. Nevertheless, punctures and tears are still aptly abated.
The Sevylor Tahiti is a unique entry on this list. The reason being is that it is available in 2 variants. One is the Sevylor Tahiti Classic 2-person kayak, and the other is the Sevylor Tahiti Hunt & Fish 2-person version. The most notable difference between the two is in their design.
The fishing model sports a dark olive green color, which allows it to blend in with the surroundings and avoid being spotted by your potential catch. The classic Sevylor Tahiti on the other hand, displays a vibrant yellow hue, which exudes fun.
The two variations are of the same length, which is around 10 ft. 4 in. long. In terms of width, however, the classic is narrower than the fishing model, each measuring 2 ft. 9 in. and 3 ft. 1 in. wide, respectively. Lastly, the latter has an adjustable seat, whereas the former does not.
Other than the aforesaid changes, the rest of the features remain relatively the same on both forms of the Sevylor Tahiti line. This includes having the same 21-gauge PVC construction, being armed with multiple air chambers, and using the Airtight® System. Both units also have spray covers to keep your dry.
The seats of the Sevylor Tahiti are inflatable. Thankfully, back support is optimized, allowing you to sail or fish for hours without fear of back strain. The two Sevylor Tahiti kayaks are packaged with a carry bag. No paddle and pump are included, and thus you have to buy them individually.
This is the part where we deviate from the 5 entries above. This is because the Sevylor Caravelle 300 is not an inflatable kayak, but rather an inflatable boat. That being said, the Sevylor Caravelle 300 seats you directly on its inflatable floor, since it does not supply a dedicated seat.
Do not take such seating arrangement as a bad thing, because that is how the craft is primarily designed. To maneuver the Sevylor Caravelle 300, you will be using oars instead of a double-bladed paddle. Molded oarlocks are affixed at the left and right sides of the unit, which results to easy rowing.
Once fully inflated, the Caravelle 300 will measure approximately 8'7" in length and 4'4" in width. This will provide enough room for 3 people. For the estimated weight capacity, the item can bear up to 600 lbs. of max bulk.
The following items are packaged with the Sevylor Caravelle 300 boat: a hand pump, and 2 oars. Much to everyone's surprise, especially with its cheap cost, the Caravelle 300 is actually compatible with a trolling motor. Although proper outfitting is required, having the option to do is still quite the bargain.
The Sevylor Fish Hunter 280 is yet another inflatable boat on this list. However, unlike the Caravelle 300, this sort is primarily geared for fishing activities. The Berkley® Quick Set Rod Holder is proof of that.
Moreover, the rod holder is adjustable, so you can do other things while waiting for a bite. Plus, with the correct mounting accessory, you can install an outboard motor on the Sevylor Fish Hunter 280 inflatable boat, up to 4 hp. If you are not going to use an engine, the default Delrin® swivel oarlocks will let you row with ease.
When you fish, you will need room for your fishing tools. The gear pouch of the product manages such necessity quite well, while also leaving enough space for some snacks. Inflatables seats can be placed on both front and rear ends of the deck for a more effortless rowing, even when fishing for hours.
If you unintentionally fall out of the Sevylor Fish Hunter 280 inflatable boat, the grabline around it makes it easy to climb back in. Overall, the Fish Hunter 280 can fit a maximum of four people, with a total weight limit of 750 lbs.
What makes Sevylor inflatables Kayaks and Boats so great?
Although each inflatable vessel under Sevylor has its own unique functions, all of them have the same goal, which is to give you a comfortable, expedient, and accessible boating experience. Here are just some of the elements that make this brand worth it:
Whether it is a boat or a kayak, Sevylor's products can be folded and unfolded seamlessly. Some of its lineups even feature the easy-to-carry backpack system in which the bag itself can turn into the seat. This innovation not only saves time during setup, but it also makes for an easy storage of the item, because there is not much parts to remove prior to packing it.



Revolutionary valve systems
Another element that speeds up the assembly of these devices are the accessible air valves. As indicated above, Sevylor uses its own unique Double Lock Valve™ and Mini-Double Lock Valve™ systems.
These two are mostly seen in the company's uncovered models such as boats and kayaks. Some units only have the standard double lock variant, whereas others combine it with the mini-double lock type. The Tahiti series is a good example that employs both.
How do they work, you ask? Well, simply open the cover flap of the valve and pull it up gently until the tab is fully extended, and then insert your pump's nozzle into the opening and start inflating. Once the bladder is optimally expanded, just push the tab inwards, then remove your pump and put outer cover back.
Because you get to lock the valve before removing the pump, no air will escape. With a generic valve, some of the air will likely leak before you can even put the cap back on.
Durably constructed and safe to use
 Sevylor generally uses a combination of heavy-duty, high-grade PVC fabric and a tarpaulin bottom in their creations. This results to a strong resistance against abrasions, tears, and punctures. Lastly, majority of Sevylor-made inflatables contain multiple air chambers, allowing you to float back to land safely whenever one is pierced.
Conclusion
Sevylor holds a wide array of inflatables for various activities, such as recreational kayaking, and fishing, among others. The catalogue above consists of 7 different units that vary in intended use. Therefore, simply choose according to your boating needs and setup.