As an Amazon Associate, I earn from qualifying purchases. This is without any additional costs for the buyer but does support me in maintaining my website.
Exploring the sea is a great way to relax and unwind. But, completely rigid water vessels are not exactly the easiest to bring with you, from land to water. Luckily, inflatable dinghies exist, which are more portable than your traditional solid boats.
However, the brand competition for such an item is quite intense, therefore it can be often hard to find a model that closely fits your criteria. But do not worry, ten of the best inflatable dinghies will be listed and compared below, so as to help you narrow your selection of products.
10 Best Inflatable Dinghies in 2021
Before we discuss each model, you should know that none of these items are ranked in any order. The following details will just serve as a point of reference for the comparison later, based on specific factors, such as price, features, accessories, and more.
HydroForce Caspian Pro Inflatable Dinghy Boat
This Caspian Pro inflatable dinghy boat from HydroForce is constructed using 4 PVC chambers, which are reinforced by high-density nylon. It also sports a high-pressure inflatable keel that complements its rigid floorboard, resulting in more stable performance. The floorboards are also easy to assemble, as well as the bench seats.
Dimensions-wise, the HydroForce Caspian Pro inflatable boat measures around 9'3" in length, and 5 inches in width. In addition, it has a carry weight limit of up to 1058 pounds, which is enough for 3 adults and 1 small child. But by itself, it only weighs about 99.7 pounds It is also compatible with an outboard motor of up to 10 hp. You can supplement this with the included aluminum oars.
Speaking of oars, this device also employs omnidirectional oarlocks, along with safety grab ropes, metal tow ring, and carrying handles. Aside from the included oars, you also get an air hammer hand inflation pump, a 33-feet towrope, a pressure gauge, and a carrying bag. Moreover, there is a built-in drain valve you can use to prevent water accumulation.
Newport Vessels Dana Inflatable Sport Tender Dinghy Boat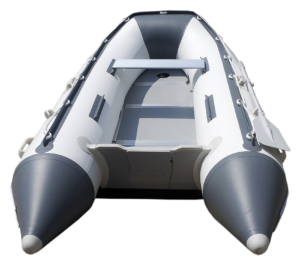 This inflatable dinghy of Newport Vessels is made from USCG-rated triple-layered 0.9mm/1,100 denier polyester and coated with anti-corrosive PVC. It also comes with a 24-mm thick aluminum-framed plywood floor with custom hard marine coating and an integrated drain plug.
When it comes to the build, the Newport Vessels Dana dinghy measures about 8'10" long and 5' wide. As for the weight, it carries an overall heft of 101 pounds, but it can withstand up to 1,067 pounds of total weight capacity, which is good for 3 persons. It can even handle both 2-stroke and 4-stroke motors and fully supports up to 10-hp max outboard motor power.
For its inflation chambers, the Dana inflatable dinghy has 3. Aside from the main boat, this product also comes with an aluminum bench seat, 2 aluminum oars, a carrying bag, a foot pump, and a pre-packed repair kit. There are 2 mounted carrying handles, holders for your oars, and integrated towing D-rings.
Newport Vessels Santa Cruz Air Mat Floor Inflatable Tender Dinghy Boat
This Santa Cruz inflatable dinghy of Newport Vessels measures approximately 10' feet long by 5'3" wide. It only weighs about 84 pounds and can carry up to 4 individuals, at a max load capacity of 1192 pounds. Its tube diameter is around 18 in. when fully inflated.
The construction of the Newport Vessel Santa Cruz dinghy is mainly composed of a USCG-rated triple-layer 0.9mm/1,100 denier PVC with a special coating, and a drop-stitch high-pressure air mat flooring. In total, there are 3 air chambers on this boat. It is also built with 2 mounted carrying handles, a one-way drain plug, oar holders with locks, and towing D-rings.
Apart from the main item, you will also receive 1 bench seat, a storage/carry bag, 2 aluminum oars, a foot pump, and a repair kit. You can attach either a 2-stroke motor or a 4-stroke type to this boat, up to a maximum power of 10 hp.
Tangkula New Inflatable Tender Raft Dinghy Boat
The overall dimensions of the Tangkula new inflatable boat measure around 10'5" by 4'10" As for the weight limit, it can support up to 1248 pounds, which is possible for 5 people to fill. Surprisingly, the boat is only 50.7 pounds light.
Some of the packaged accessories are a foot pump, a carrying bag, 2 oars, a repair kit, and 2 bench seats. It also comes with 1-floor joiners and 1 side joiners. The manufacturer recommends a 15-hp motor. In terms of chambers, this model uses a 3+1 setup.
The Tangkula inflatable dinghy is made using a combination of 3-ply PVC and polyester materials. For the design, this unit presents a V-hull frame, which adds to the product's performance stability. You can also tow your gears with ease, thanks to the stainless steel D-rings.
Saturn SD290 Inflatable Dinghy Boat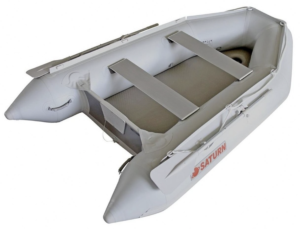 The Saturn SD290 inflatable dinghy can accommodate up to 4 people, more specifically at a max weight limit of 990 pounds. It has 3 carrying handles and triangular symmetrical splash guards. Its overall length is about 9'6", while its width is around 5'4", and its total weight is 85 pounds.
The outboard motor allowed for this unit is a short shaft 10-hp motor. All in all, there are 5 air chambers on this inflatable boat. The main unit is attached to a rope grab line, and there are also stainless steel D-rings you can utilize to tow your gears.
The Saturn SD290 is also manufactured with standard 1,100 denier Dtex PVC with high-density polyester fabric. A high-pressure drop stitch air floor is also included with this product. Bundled accessories to this dinghy come in the form of the following items: aluminum oars, repair kit, carry bag, seat bench, and a generic high-volume hand pump.
Inflatable Sport Boats Killer Whale Model 330 Dinghy
The Inflatable Sport Boats Killer Whale dinghy has a sleek and contoured design, and is built with the use of a thick 9-mm, 1,100 denier reinforced PVC. It also features an 'Easy Planing' technology via the extended rear pontoons and transom area, which balances out the passenger-to-motor ratio. The dinghy also accepts either a 2-stroke or 4-stroke motor, and up to 15-hp max power.
There is also a 24-mm easy slide solid aluminum floor and seats, resulting in faster and effortless assembly. The seams of this Inflatable Sport Boats dinghy are heat welded, which guarantees durability on both salt and freshwaters. Aside from the removable seat cushion and bag, this product is also bundled with 2 aluminum oars with lock-in holders, a carry bag, a foot pump, and a basic repair kit.
The Killer Whale model 330 inflatable dinghy has a length of 10 ft. 8 in., a width of 5 ft. 2 in, and a weight of 80 lbs. Up 5 individuals can occupy this inflatable dinghy, but just make sure not to go over the 1268-lbs. max load capacity. For the air chambers, you only have to pump up 3.
Seamax Ocean320 Heavy Duty Inflatable Dinghy Boat
The Seamax Ocean320 dinghy has a total length of 10'5" and is 5' wide. It has 3 pontoon chambers and 1 keel chamber. It also comes with a Hypalon type, 4 layers overlapped seam. By default, this unit weighs around 140 pounds and can be occupied by 4 people (870-pound max weight capacity).
The motor power limit is up to 15 hp. There are also safety grab lines on both the outer and inner sides of the vessel, but the former side uses heavy-duty parts. The main construction material used in this model is a marine-grade PVC. Marine birch plywood is also utilized on the transom.
Some of the best features on this Seamax Ocean 320 inflatable dinghy are as follow non-skid sectional aluminum floor with side joiners, a tie-down area for either a fuel tank or battery, dual-motor pads, and pull-up drain valve, and multiple D-ring kits. As for the accessories, you will get a bench seat, 2 aluminum oars, a carry bag, front towing cable, a foot pump, and repair and spare parts kit.
Inflatable Sport Boats Shark Model 300 Dinghy
The Shark model 300 of Inflatable Sport Boats generally looks the same as the Killer Whale Model 330, except this one is slightly smaller and has less load capacity. With that said, the overall dimensions of this dinghy measures about 9'8" long and 5' wide. It can still carry up to 5 people, but only up to a maximum weight capacity of 1158 pounds.
It also has welded seams but not heat-welded, unlike its abovementioned counterpart. Regardless, it still guarantees long-lasting resistance on both fresh and salt waters. For the material construction, this model uses a 9-mm, 1,100 denier reinforced PVC.
Furthermore, the 24-mm aluminum floors are easy to install, same with the removable seats. The Inflatable Sport Boats Shark 300 model is bundled with more or less the same accessories as the 330 series, but this one comes with 2 aluminum bench seats instead of just one.
Solstice Sportster 4-Person Runabout Dinghy Boat
The Solstice Sportster 4-person runabout dinghy features a marine-grade drop-stitch high-pressure air-deck floor, and a tough PVC coated 500-denier construction material. It also sports a heavy-duty all-around rub strake.
You can also find molded rope eyes with a grab line around the unit. Moreover, there are also multiple heavy-duty D-rings for your mooring or towing demands. The keel is integrated under the air deck floor. The seats are an aluminum grade, and you are also provided with swivel oarlocks for added manual maneuverability.
This unit is compatible with both electric and gas motors, up to 10 hp. The length and width of the boat measures roughly 9'8" by 4'5", respectively. In terms of product weight, this one is 78 pounds and has a carrying capacity of 770 pounds. Packed with the main item are the following extras: carry bag, oars, seat, and bellow foot pump. Solstice manufactures also a 3-person Sportster inflatable dinghy.
BRIS BSA300 Inflatable Fishing Dinghy Boat
The Bris BSA300 inflatable dinghy is built using 1,100 denier, 0.9-mm PVC material. Its floor type is a 12.5-mm thick aluminum, whereas its transom is made of marine grade plywood. Altogether, there are 3 individual air chambers on this dinghy, which are held together using aluminum side joiners with rubber ends.
Together with the main vessel, you will also obtain a foot pump, a carry bag, repair kits, oars, aluminum floor, and seat. With the item's 9'8 length, 5' width, and 1102-pound weight capacity, it can easily withstand up to 4 adults. The Bris BSA300 9.8 feet inflatable boat has an overall bulk of 110 pounds.
If you want to use a motor, the BRIS BSA300 can handle up to 10 max hp. There is also a one-way drain valve plug. And for your hauling needs, you can make use of the D-rings of the boat.
Best Inflatable Dinghies Comparison
With the details and features of each dinghy now provided, it's also important to compare them side by side so you can choose the best of the best. 
Out of all the 10 inflatable dinghies listed here, the HydroForce Caspian Pro is priced the cheapest, followed by Tangkula New 1.2mm PVC inflatable boat tender raft and BRIS BSA300, respectively.
On the other end of the spectrum, the Inflatable Sport Boats Killer Whale 10.8' model 330 takes the spot as the most expensive product, with the Seamax Ocean 320 10.5' heavy-duty inflatable boat trailing closely behind.
For the rest of the entries, they belong under the mid-price range. However, do keep in mind that the prices used as a reference here are from a single retailer only, for the sake of uniformity.
Each product mentioned above has their own strengths and weaknesses. But, there are also models that stand out with their innovativeness.
A good example of such innovation is the 'Easy Planing' feature of the Inflatable Sport Boats Killer Whale 10.8' model 330 dinghy. This feature ensures that the passenger and motor ratio are optimally distributed through the extended rear pontoons and transom area.
The unique triangular symmetrical splash guards of the Saturn SD290 inflatable boat is also worth mentioning. Furthermore, Seamax Ocean320's dedicated tie-down area ensures that your motor-of-choice's power source (fuel tank or battery) stays protected.
In addition, the same model (Seamax Ocean320) also offers safety grab lines on both its outer (heavy-duty) and inner sides. Albeit also present in most of the other units, it typically only comes in either a grab handle form for both sides or as a generic rope.
The majority of the inflatable dinghies enumerated above have their own oars holders. However, not all use the same approach. One of the standouts among the 10 is the HydroForce Caspian 9.3' Pro inflatable dinghy boat, which has unique omnidirectional oarlocks.
A big factor that influences how easy a particular dinghy is to use, is in the assembly. And since this equipment mostly requires the inflation of air chambers to be fully operational, the number of such compartments will also determine the time and effort needed for the setup.
For this particular catalog, 3 is the least number of air chambers, and 5 is the maximum. Products that have the former amount are the following: Newport Vessels Dana, Newport Vessels Santa Cruz, both the Inflatable Sport Boats Killer Whale model 330 and Shark model 300, and BRIS BSA300. The latter quantity, on the other hand, applies to the Saturn SD290, which is the only product that has the same exact number of air chambers.
Normally, the fewer the air chambers the less time you need to fully set up the boat since there are fewer processes you need to perform, such as accessing valves. However, there are also advantages of having more air chambers, which is discussed in the section below.
Furthermore, motor compatibility and setup, and even the overall build of the unit can all affect user-friendliness too. But, these are also better deliberated over under a more appropriate category.
As mentioned above, there is an advantage for a dinghy to have more air chambers. The most notable benefit of which tends to be realized only in emergencies. Although dinghies are made with the utmost durability, the risk for accidental punctures is never 100% gone.
When such worst-case scenarios happen, you will be down 1 air chamber. But, the more air chambers the vessel has, the more reserves you will have left to keep you afloat. This puts the Saturn SD290 at an advantage in such situations since it has the most number of air chambers (5) among the rest of the entries.
The 10 inflatable dinghies being compared here come in varying sizes. If the longest vessel is what you are looking for, the Inflatable Sport Boats Killer Whale model 330, with its 10'8" length by 5'2" width dimensions, easily match such criteria.
However, if you want the most compact dinghy you can get from this particular list, then go for the Newport Vessels Dana inflatable sport tender boat, which only measures around 8'10" long and 5' wide.
In terms of heft, the Tangkula New 1.2mm PVC inflatable boat takes the lead as the most lightweight unit, at only around 50.7 pounds Its complete opposite is the Seamax Ocean320, with whopping 140-pound product weight. Nonetheless, such figures will not matter as much on water.
There is not much disparity among the products listed here in terms of the type of materials used. For the most part, all 10 dinghies given here uses PVC as a constriction component. The difference, however, mostly lies in the property of such an element.
Some models are very specific to the type of PVC they use, whereas others only indicate a general build type. For example, both the Newport Vessels Dana and Santa Cruz, along with the BRIS BSA300, all use a 0.9-mm, 1,100 denier PVC, whereas the HydroForce Caspian only implies the use of a heavy PVC.
The construction of the flooring is also another factor the influences the performance and durability of a dinghy. For this specific product list, the following types of flooring are prevalent: aluminum, plywood, and drop-stitched air floors. There are also models that use a combination of multiple materials.
Newport Vessels Dana is a good example of a dinghy that uses both plywood and aluminum on its floorings. But, if you prefer mostly aluminum floors, then check out the BRIS BSA300 and Seamax Ocean320. For the models that use drop stitched air floorings, consider the following entries: Newport Vessels Santa Cruz, Saturn SD290, and Solstice Sportster 4-Person.
Seating and Weight Capacity
If you require an inflatable water vessel that has the highest weight limit, the Inflatable Sport Boats Killer Whale model 330, which can withstand up to 1268-lbs. of passenger load, is your best bet. However, if you normally journey light, then the 770-pound weight capacity of the Solstice Sportster may more than suffice.
When it comes to the recommended number of occupiers, the Newport Vessels Dana can house the least number, at only 3 passengers per unit. The Tangkula New Tender raft dinghy and the two Inflatable Sport Boats models, on the other hand, can accommodate up to 5 people.
As far as accessories are concerned, there is not much disparity between the 10 entries. Each of them comes with basic add-ons such as oars, seats, air pumps, and carry bags. However, the HydroForce Caspian does seem to stand out a bit when it comes to inflation management since it is the only model with a bundled pressure gauge, which is quite a value for its relatively cheap cost.
Additionally, all models have packaged repair kits, except the HydroForce Caspian and Solstice Sportster 4-Person. Speaking of kits, only the Seamax Ocean320 comes with dedicated spare parts set, in addition to the basic repair tools, which is really not a surprise given its steep price tag.
Additional accessories for fishing can be mounted for your rods, fish finder, and more. Similar to the inflatable fishing kayaks accessories.
The majority of the entries are compatible with a 10-hp motor. Only the Tangkula New tender raft, Seamax Ocean320, and the two Inflatable Sport Boats dinghies, can make use of a motor of up to 15-hp.
The choice here is mostly dependent on the types of water you will pursue. If you frequently sail on rough streams, then it would only make sense to get a dinghy that can handle a motor with higher HP. Otherwise, a 10-hp motor is more than enough for calmer water surfaces.
There is also the topic of the 2-stroke and 4-stroke types of motor. For this list, only the two Newport Vessels dinghies (Dana and Santa Cruz), along with both the Inflatable Sport Boats Shark and Killer Whale, gives you the option to install either of these two motor varieties.
How does this affect your choice of a dinghy, you ask? Well, for one, the 2-stroke motor has a lighter engine and is cheaper and easier to operate than the 4-stroke. However, the latter has more power output, runs with a cooler engine, and consumes less fuel. You can easily find more in-depth comparisons between these two engine types, either online or from your local shops.
Hopefully, all the information mentioned above will lead you to the inflatable dinghy of your choice. Remember, do not think of the comparisons made here as a means for discerning which model is the most superior, rather, use it to find an item that matches your immediate needs the closest.
Hence, if you are on a budget, then go for the cheaper products. Or, if you like to have a lot of people on board with you, then look into the models that can seat the most people.