As an Amazon Associate, I earn from qualifying purchases. This is without any additional costs for the buyer but does support me in maintaining my website.
The Sea Eagle 330 Pro kayak is a tough, two-passenger inflatable kayak. When blown up, it is capable of holding about 500 pounds of weight. Just like with other kayaks in a similar price range, the Sea Eagle kayak has I-beam engineering, strong welded seams, and a thick exterior.
The Sea Eagle 330 Pro, can fit in its storage bag for easy transport, and it is spacious enough to bring a few days of camping and fishing supplies. This kayak is quite functional for a variety of uses, from relaxing paddling with the family to fishing on a lake or river. Rest assured that the SE330 can handle even Class III whitewater rapids.
Additional specifics are the back and front rope handles and spray skirts that are inflatable. Moreover, it comes with a drain valve that is self-bailing, which is a convenient feature when you head to ocean surf or whitewater channels.
Specifications
| | |
| --- | --- |
| Length | 11′ 2″ |
| Width | 2′ 10″ |
| Weight | 26 lbs |
| Capacity | 2 Adults or 500 lbs |
| Features | 9″ tube diameter |
| | 33 mil Polykrylar material |
| | inflatable I-beam flooring |
| | 3 chambers: floor, port and starboard tubes |
Review
Sea Eagle SE330 Pro Inflatable Kayak
Construction -

9/10

Stability -

9/10

Tracking -

8/10

Accessories -

8/10

Versatility -

9/10
Summary
The Sea Eagle SE330 Pro is a great package deal on this inflatable kayak. This low budget great manufactured kayak is suitable for pleasure paddling, for kids and adults, (whitewater) rivers, lakes and along the coastline at sea. Good fun for 2 Persons!
Features
An inflatable kayak that is made to support two persons together with their equipment, which is approximately 500 pounds.
Designed for fun, fishing, Class III whitewater rafting, and (weekend) trips.
Has a dimension of 34 inches in width and 134 inches in length.
With 33 mm hull made of polykrylar, I-beam design, and welded seams in high frequency.
Inflatable spray skirts; consisting of a foot pump and two kayak seats.
Three-year warranty
With a storage bag
Comfort and Handling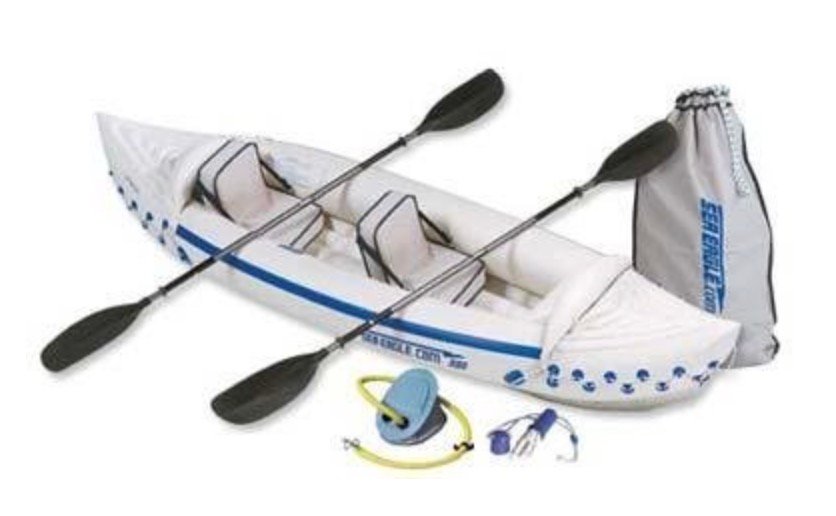 Even though the Sea Eagle 330 Pro is suitable for two individuals, and can carry around 500 pounds. This is certainly one comfortable kayak for a single individual even if they are tall and with long legs. In fact, keeping stuff for the excursion is more feasible with one kayaker. It is easy to steer and manage the craft, which is attributable to the two skegs that are connected below the vessel.
With some practice and lots of kayaking adventure, you will have an easy time to head straight and gradually speed it up. While the Sea Eagle SE330 Pro is not a speed devil especially in the open sea and paddling can sometimes be a challenge in heavy winds, this kayak certainly excels on streams and small rivers, in which speed paddling is quite easy.
Transporting
With a weight of 26 pounds, the SE330 is as light and sturdy as it can be for a 2-passenger kayak. A teenager can carry it without difficulty, yet big enough to transport two individuals in comfort. This Pro model includes a storage bag to make sure you are ready to go from the time it arrives in your home. You can keep with you in your car and use anytime for quick excursions or store. It is not bulky at all.
Value and Price
The 330 Sea Eagle Pro is in the middle range price tag for a high-quality kayak pro version. There are less durable and shorter kayaks at an affordable price out there. However, many cheap kayaks do not include paddles, a pump, or a storage bag. The SE 330 is equipped with a one-foot pump, two seats, two 8-foot paddles, plus a carrying bag.
Convenience
The fishing methods while on a kayak basically is the same as with other watercraft. One of the big differences between these kayaks is the positioning and available space for fishing equipment and other accessories. The Sea Eagle SE330 Pro is a modern fishing kayak, which can fit important accessories such as a repair kit.
Balance and Stability
The SE 330 inflatable kayak is reliable on the water. You can depend on it in turbulent waters and tough weather conditions. As a kayak angler, you can bring the 330 in less favorable spots just to get that prized fish. It comes with an enclosed seating that provides you with a better sense of balance and lower resistance to the wind when kayaking in rough waters.
Pros
The Sea Eagle SE330 Pro has a lot of advantages. To start with, it is lightweight, and thus you can carry and lift it by yourself. It is small enough that you can even take it with you on a vehicle. It is an affordable inflatable kayak that is easy to set up; you only need a few minutes for the quick installation.
The 330 Pro comes with deluxe seats that are really comfortable for the two people who can fit inside. In fact, this kayak can be used for solo kayaking. It has a high level of versatility that guarantees a safe paddle in the flat water and mild whitewater.
Cons
The tracking could possibly be more effective for the Sea Eagle 330 Pro despite having the two skegs included. There are also no tie-down ropes available in this package.
In addition, some users think that the 330 Pro version is somewhat crowded for two individuals. In that case, they can opt to get the SE370, which is the longer model of the Sea Eagle.
Conclusion
On the whole, the Sea Eagle 330 inflatable kayak pro is a great investment. They come in good quality and the right choice for paddling, fishing or simply enjoying nature. For a beginner kayaker, you will be happy with the SE330. If you prefer to go on fishing escapades by yourself, it is also a better pick. This is also the right option for short journeys, with its comfortable single-seating position.
While it is not a super machine, it is safe in fast-flowing rapids. If you desire excitement and a thrill ride, you can go for the SE330 kayak. It is capable of giving you a fun and satisfying kayaking experience.
If you consider yourself a skillful kayaker, you can even take the Sea Eagle SE330 Pro to more challenging spots to help you capture that prize catch that your fishing colleagues have been boasting about.