As an Amazon Associate, I earn from qualifying purchases. This is without any additional costs for the buyer but does support me in maintaining my website.
If you don't know who Red Paddle boards are then you should probably check a dictionary under "Inflatable Stand up Paddleboards". Red is Paddleboards! Through and through. And their Red Paddle Co Ride 10'6 MSL is one of the best selling inflatable standup paddleboards on the market today!
Do you want a SUP that suits all conditions? Easy for beginners but at the same time is a high performance for experts? Do you like extra goodies like RAM mounts and waterproof phones cases?
Let's riiiiiide!
Tossing up whether the Red Paddle Co Ride 10'6" MSL is for you?
We've taken the time to include all you want to know below.
We've assessed the materials, durability, performance and extra features. We've even got you a list of pros and cons for quick skimming.
If you already know about the board but just need that gentle push to sway you into purchasing one, let us leave you with this.
You can't beat Red Paddle Co manufacturing! You may pay a higher price than other iSUP's that are seemingly the same board but that's only because you can't see what lies underneath!
Another note is that these guys know what they're doing – they have been at it since 2008 and their customer service will make you feel like you're a guest at the Hilton. That means for over 10 years now these guys have shown progression in the emerging sport fighting prejudice against inflatables and yet still delivering some of the best products on the market.  
If you want the best all-around experience the Red Paddle Ride could definitely be the board for you, keep reading to check out all of its great features.
NOTE: We are covering the Red Paddle Co Ride 10'6" MSL 2018 model.
Specifications
| | |
| --- | --- |
| Length | 10'6" |
| Thickness | 4.7″ |
| Width | 32" |
| Weight | 21 lbs |
| Capacity | 100 kg / 220 lbs |
What You'll Get When You Purchase The Red Paddle Co Ride MSL 10'6″
The Inflatable SUP Itself
Ergonomic and Wheeled (!) Back Pack
Titan High-Performance Hand Pump
Repair Kit
Cell Phone Case
Review
Red Paddle Co Ride 10'6" Inflatable SUP Review
Construction -

9.5/10

Stability -

9.8/10

Tracking -

9.0/10

Accessories -

9.0/10

Versatility -

9.5/10
Summary
The Red Paddle Co Ride 10'6″ MSL inflatable standup paddleboard is a great versatile SUP for beginner and expert paddlers. It's stable, light, great construction and high-performance board for experts! Check it out and buy it now!
Materials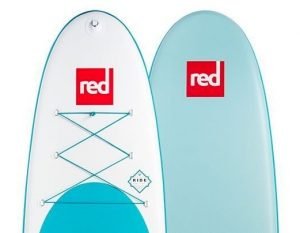 You wouldn't expect anything less than amazing at Red Paddle Co when it comes to materials of their inflatable standup paddleboards. Well known in the SUP industry for their leading innovation when it comes to board technology, this 2018 model of the Ride MSL is a perfect example of their craftsmanship.
It's Tough and Light!
Over the past 10 years, Red paddleboards have been revolutionizing the inflatable paddle board industry, creating new techniques and processes to build the strongest, stiffest boards available.
To be able to manage this process more effectively Red paddle boards actually work out of their own factory. Not shared with any others. This way they can manage all of the quality and control of every product in-house.
This has meant that they can test and try a number of different ways to get the boards as strong as possible. The latest boards are using the process of a dual layer board, but with the new MSL technique. Whereby Red actually bond the components at the raw material stage, meaning it can be done with better quality and precision than other single layer or standard dual layer boards.
You'll find the same drop stitching core with an outer layer of PVC that you see across nearly all inflatable SUP's, however, there is a slight difference with the 2018 Ride.
Though introduced earlier than the Ride 2018, here on out if you weren't already aware Red Paddle Co only constructs board using their own invention; Monocoque Structural Laminate (MSL) fusion technology.
Say what?
Instead of the labor-intensive hand gluing of the PVC layering, Red Paddle Co came up with a new system of machine fusing the extra layering.
The MSL process also boasts an impressive 2kg weight reduction to other dual layer boards which is a huge bonus. The Tec Air technologies they have been trying and testing have been used for a while now. Red is able to build boards that run on an upgraded drop stitched core but adding the 2 layers of PVC and an extra rail protection system. This 3 layer rail almost completely removes the risk of puncture or material failure on what is commonly the weakest area of the board.
What you get left with is actually a work of art. If you line up a fully inflated Red paddleboard on a display alongside hardboards many would struggle to differentiate. Red paddle boards wanted to build the best boards they could, and that's exactly what they have done.
They've also gone as far as making a video of a 22-tonne digger driving over the board to prove their SUP's are as hardcore as they say. You can watch it here.
The Red Paddle 10'6 Ride is definitely one of the best-built boards on the market utilizing these innovative techniques to build a lighter stronger, stiffer board for your enjoyment.
Deck Pad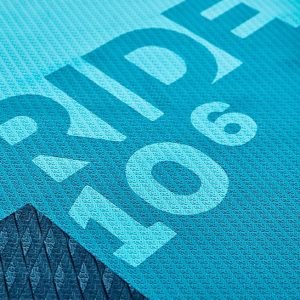 2017 models saw the introduction of a diamond grooved tail end of the deck pad and we are overjoyed to see it continue into the 2018 model.
We love how it makes you feel like one with the board, you only have to slide your foot around to feel the change from the crocodile skin cut to the diamond grooves to find the exact spot you want to anchor down.
Though the deck pad doesn't reach to the nose of the board, the tie down storage area means you wouldn't use that area to sit, kneel or place another person/animal anyway.
A full-size deck pad covering over two-thirds of the board proves that the Ride means serious business, why give you all of this deck padding if they don't expect you to use it? 
The pad is textured and soft to allow for plenty of all-day comforts yet providing enough grip even when heading off to steeper waves and more turbulent waters.
The deck pad for 2018 has been applied at over 170 PSI pressure to the board this means that it will be perfect with no bumps or wrinkles in the layers. Everything about this board just screams quality.
Want to know something cool?
The 2018 deck pad design is modern yet still classy, it's a nice touch and not too much. For 2018 Red paddle board are celebrating their 10th birthday and for this reason, have also released a beautiful purple colorway as a special edition piece.
In the future, we would love to see more color options. But when you are getting this kind of quality color is not important!
D-rings + Bungee
D-rings for all occasions!
The improvement for 2018 can be found with an extra set of D-rings on the deck complete with tie downs, improving the overall storage space. The 10'6 Ride has been built with the rider in mind combining 8 well place D-rings to really serve your every need. Starting up front with as we like to call it the James Bond D-ring. This D-ring is actually a tether for attaching your prized accessory whether it be a portable action camera, mobile phone, even a Bluetooth speaker or fishing rod. 
The sneaky brass insert next to the D-ring is designed to take a whole host of accessories from brands such as Ram mount or Railblaza. This ingenious idea certainly opens up your board to some personalization to give you a greater user experience. 
If you move back slightly, you will spot the 6 D-rings preloaded with a strong bungee cord. This is your cargo area, whether it be gold or rum from the Caribbean or simply flip-flops and sun lotion the area is set up front to better balance your board.
If you turn to the tail of your board,  you will spot the large launching handle, to make moving the board in the water super easy. Then right on the side of this is the last D-ring. This one's actually pretty important. This is where you will secure your paddle leash, this stops the board running away when you decide you want to cool off in the cool waters.
Fins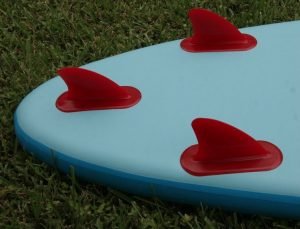 Some like big fins some like small fins, retractable, changeable, moveable, upside down. Whatever your feeling on fins someone will always think differently.
The team at Red paddle board over the past 10 years have tested thousands of different fin combinations.
Trying to come up with the best solution, What they have decided is that there is actually no one best solution. That's why each of the boards in their line up may have a different fin option depending on its intended use.
For the all-around Red Paddle Ride MSL board, the emphasis had to be on durability and reliability. The majority of people who want this board wants something quick and easy, suitable for all conditions. That's why the team at Red paddle boards opted for a 3 fin set up.
The introduction of their own iFin system saw Red Paddle Co making headlines. They've invented a few different types but we'll only go into what you see on the 2018 Ride. Built with a super durable plastic, rubber compound the I-fin system is designed to take the abuse you want to throw at it. Whether running up on rocks or getting caught in weeds. These fins are designed to flex and bounce with zero maintenance and no chance of losing or misplacing a fin or clip. They provide the perfect addition to this user-friendly package.
The molded fin.
3 small fins that are perfect for shallow waters and rough conditions like whitewater. The performance of 3 smaller fins provides also means the board cuts through waves like Kelly Slater.
The particularly fascinating part about the molded fin is that if you happen to damage the fin, you can pour hot water over them and reshape by hand. You can find a video instructing how here. This feature makes up for them not being removable in our eyes.
If you are beginner you may find the tracking a little trickier to start without the large center fin you'd normally find on touring boards. So don't feel hopeless if you finding yourself switching from side to side – you will find the rhythm soon!
With enough length to keep you tracking true yet still enough spread to keep your board nimble and maneuverable gone are the days of forgotten or broken fins.
Portability
Another highlight of the 2018 model is small details on the handles and backpack.
Using the handles to carry the board that now have a printed material logo is like stroking velvet (the right way). It makes transporting more pleasant especially if you need to walk a little way!
Finding the most risk-free way to carry the board is easy with handles featured on the center and end of the board too.
The backpack we are covering in full further down.
Inflate/Deflate
The 10'6 Ride is designed with performance in mind boasting a PSI operating range of between 16-25 PSI. With many boards on the market only capable of 15 PSI, the Ride will still be super rigid even at these lower pressures.
The 2018 Ride is a simple push valve inflation/deflation along with what's been rated time and time again (according to customer reviews) to be the best manual hand pump; The Titan High-Pressure Pump! (Which we cover more on further down)
This board is easily inflated either by the Titan pump included or by using a compressor and adaptor. To deflate simply press the valve, be aware of the loud noise, then twist the pin a quarter of a turn before carefully rolling it up for storage.
It's a fail-safe system with a twist lock valve cover.
Overall Performance
Year after year the Red Paddle Co Ride has been leaving its owners in pure glee.
This 2018 model will be no different, aside from all it's fun little extras it delivers the same stable, comfortable and enjoyable ride.
We really believe that this board is out of this world, its been built with enough extras to satisfy James bond but once launched, we welcome you to another dimension in space, with a little more water and oxygen than space travel. The Ride is the board to take you anywhere you want to go.
The Red Paddle Ride MSL board paddles like an old friend, inspiring confidence at every turn through its unprecedented stability and predictability. Knowing what's going to happen before it actually does is something that gives this board a real edge. You can push the board to its limits and still not even scratch the surface of what it is capable of.  This kind of performance will have intermediate and expert paddlers truly scratching their brains for even more exciting explorations.
As a beginner, the 10'6 ride is the perfect companion, really easy to paddle and fast to set up. The solid feel of the board and super stiff rails will lead you to believe you are paddling a solid board. The maneuverability and use of the small fins allow the board to be nimble yet paddle forward confidently.
When you do take a tumble into the briny unknown, right then you will remember exactly why you chose an inflatable board, for its incredible durability in any situation.
For an intermediate who wants something different in their quiver, The Ride offers so many options. It really is the one board for everything, whether river, sea or surf. The 10'6 Ride from Red paddle boards shows no fear. Super resilient and robust, this board will handle all you can throw at it.
Some users depending on their skill level will notice a slight improvement even in the performance because of the extra density and less weight from the new improved construction.
Perfecting the all-rounder iSUP is a mighty task that many companies try to take on, most do well but not many shine as bright as Red Paddle Co has done with the 2018 Ride MSL.
All-rounder means the board is suited to all conditions up to an intermediate level of SUPing.
Flatwater
As we mentioned earlier, beginners may struggle with tracking a little at first due to the lack of large center fin. Given that in most flatwater conditions; lakes, rivers etc you'll be spending most of your time trying to track a straight and gain speed, you may find the performance in this area not feel up to standards – though we just advise keeping at it because the flexibility having the tri-fin brings is well worth it.
For the more experienced SUP-er, you'll find it a dream paddling around as a cruiser. The 32" width provides a solid base under your feet, the deck pad providing ample amounts of cushioning, support and grip and while it isn't the fastest cruising board, it may well be the easiest to use.
Whitewater / Chop
A big point for whitewater is the issue of stability and as we just explained, you'll be standing as strong as Goliath. The small fins that avoid damage, easy to feel diamond grooved tail for a strong back foot stance is excellent features for whitewater too. Even though 4"7 thickness can result in flex, the composition of the board brings extra stiffness so that we've never experienced flex before which is vital for the stability in choppy conditions.
Surf
Choosing a line and being able to stick to it, being able to execute a bottom turn and having a board that moves with you are all vital aspects of taking a SUP into the surf.
While you won't be riding your 2018 RIde in 6ft Hawaiian barrels (we at least don't recommend it) we fancy it for a session of smaller wave shredding. Plenty of giving in the rails for turning abilities, extremely responsive on the tail for a step back turns and enough rocker to take the face of small waves.
Accessories
Paddle
Unfortunately, no paddle is included with the 2018 model but Red Paddle Co does have a fantastic selection of paddles available as a separate purchase. You can have a look here.
Leash
Again, no leash is included in the 2018 package. Any leash you already own will do or if you are looking to purchase one, we recommend finding a coiled leash. Coiled leashes have a less chance of snapping back in your face.
Pump
So you have just arrived at the beach and taking a moment before setting up your board. You look over and watch as your friends, dripping with sweat, pumping furiously for minutes on end. Unfortunately for them, they are tired before they even touch the water.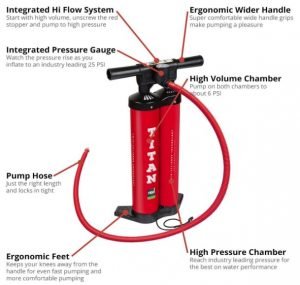 But instead of housing nuclear launch codes, our cargo is far more important. That is why they put in even more effort to build you the product you want as well as the product you need.
As you unroll your board still deciding on which ice cream topping you prefer, your friends turn to watch with open mouths when you reveal the beast that is the Titan!
Within just a few minutes of almost effortless exertion and your still contemplating chocolate or vanilla, you sit peacefully and watch on, whilst your friends are still inflating their boards. 
Yes, really that is a true story!
The Titan pump is actually one of the best on the market. The dual chambered pump looks like something from a fire truck but delivers a mix of high volume and high pressure with easy to read switches. Allowing you to pump the board in under 5 minutes.
Red Paddle Co's High-Pressure Titan Pump has been constantly innovated over the years to produce one of the highest quality manual pumps on the SUP market.
Included is a built-in pressure gauge to follow where your PSI is the pumping is as easy as slicing warm butter. Naturally, as pressure raises you will feel some resistance but nothing like compared to cheap knockoffs.
The Titan Pump stows neatly inside your bag with the rest of your accessories. A quick tip we learned was to roll the pump into the middle of the board when deflating to make it all fit in the bag that little bit easier.
Bag
Red paddle boards have been industry leaders for a long time, over 10 years they have heaved and hauled their boards around the planet.
Lugging your SUP has never been more comfortable!
On the Ride 2018 model, you can see improvements on the bag with extra padding and added support.
Aside from that, the usual "bag that has it all" is what you'll get. The materials used have been chosen to handle sun, salt and water and no chances of ripping with double stitching at the seams.
They have learned a thing or two about storage and transport. That is why they have some wheely nice features included on their bags.  
From the top side of the bag, it looks like oversized travel luggage. But with the same quality feel and components, you would expect from a Nato briefcase. 
Ample amount of room so you can get the board in and out with no hassle and cinch straps to keep it all in one place, avoiding uncomfortable weight distributions if you're backpacking.
The large 2-way zips make packing and loading a breeze with special inset and straps to hold a breakdown paddle and space for all of your accessories. The case has tidy padded shoulder straps which are easily hidden away when not in use. The large clear ID holder makes it easily identifiable when on a baggage carousel. 
On the bottom is a set of wheels designed to roll and flow, now you can grab the top handle and the bag will follow on behind you effortlessly.
They've even been considerate of keeping the board comfortable by using foil as an inner lining so your board stays nice and cool.
Repair Kit
The simple repair kit is not just for the pros it is designed to give you all the most important pieces you need to get you back on the water and paddling as soon as possible.
We all know that disaster strikes when you least expect it.
A flat tire only happens when it's raining, a broken heel just as you walk into a bar. It just never happens in the sun or in your own home.
Well because of Mr. Murphy and his law every board includes a couple of patches and a valve wrench neatly packed into an orange canister so no excuses not to always have it to hand. Be sure to pick up some glue as it's not included due to shipping regulations.
You can find videos detailing how to repair your board on the Red Paddle Co website.
Anything Extra??
Yes!
You get some goodies. Ram Mount and Railblaza Mounting System on the nose so you can record the momentous amounts of fun you'll be having. There's also their tested waterproof phone case, which if you are going on long trips can be particularly helpful!! Tip: take some nice photos and send them to us!
Pros
Undoubtedly high quality of materials
Stable, comfortable
Extra goodies, RAM mount, and waterproof phone case
Definitely suits all conditions
5 Star customer service
Cons
Bit pricey if you are looking for an entry level board
No included paddle and leash
Beginners can find tracking tricky, to begin with 
Conclusion
You just simply can't go past Red Paddle Co if you are looking to get the most out of your money. Performance, materials, durability – they really do tick the boxes.
The best part is that if you look back over the years, they constantly are updating their boards, we don't know how they can improve this 2018 model really, aside from making it fly maybe?
This show of dedicated craftsmanship is a testimonial to their passion for providing the best iSUP to their customers. You may pay a slightly higher price than other brands like iRocker but you'll never feel as though you've wasted a penny.
Red paddle boards have really pulled out all the stops when they updated the Ride for 2018, combining so many great features it's an explosion of fun just waiting to happen.
For the beginner, the Ride series offers stability and security usually found on much wider boards, due to its stiffness it will hold its form with less 'wobble' than cheaper brands. 
For the intermediate rider, the Ride will just keep giving. You can try different locations, moving water, rocks; anything you want to throw at it, it will handle with ease and confidence of a specialist board.
The ride is available in a couple of different sizes with the Ride 10'8 perfect for bigger riders whilst the Ride 9'8 is the perfect companion for smaller riders who want versatility and plenty of fun.
This really is one board that can go anywhere, it won't be the fastest or the slickest but you will be smiling from ear to ear all day long.
If something was to happen and you weren't a happy little SUPer in the water they have a 24-month warranty on their products and no need to be afraid of dealing with cranky underpaid customer service.
If you haven't already noticed Ride paddle boards pride themselves on building the best boards, with the best technologies. That is why they go above and beyond. The live chat features on their website get you talking to an expert within seconds for all your needs. Super friendly and helpful team and the 2-year warranty really shows how much they trust their manufacturing and materials.
Right down to the smallest details Red paddle board has you covered!
Still not satisfied? You can browse through our many other reviews of SUPs and we're sure you'll find exactly what you are looking for soon!