As an Amazon Associate, I earn from qualifying purchases. This is without any additional costs for the buyer but does support me in maintaining my website.
The answer to the age-old question
Short Answer: There is no such thing as the best inflatable fishing boat that excels in just about everything, different boats for different conditions.
If you want to see a summarized version of the best fishing boats, scroll down or click here. For the best inflatable fishing kayaks, click here.
Long answer: One of the major reasons people buy an inflatable boat is to use it for fishing, and for a very good reason. They are versatile, portable, take up almost no space and more often than not, will do everything just as good as their non-inflatable counterparts.
One of the most popular questions we get asked all the time is "What are the best inflatable boats for fishing?" People ask us that question so often that we finally decided to create a complete buying guide for people interested in fishing on inflatable boats.
Let's just start by saying this; there's no best inflatable boat for fishing. We're sorry to burst your bubble, but that's the way it is, there are just too many things to take into consideration. What might be the best fishing boat for an experienced fisherman might be a total waste of money for someone just getting into the sport? There are a lot of factors to take into consideration, location, what type of fishing you're going to do, experience level, and your budget. These are all things you have to think about when choosing your boat.
Instead of taking a gamble and hoping to choose the right boat from the bat, let us help you. We have been there, even though it was 10 years ago, we still remember how frustrating it can be not knowing what to choose. Don't sweat it though, we'll cover just about EVERYTHING needed to know before you decide what to purchase.
Note: Please keep in mind that you do not have to by any means follow our guide to the core, nothing we have written here are "rules". If you want to fish with a dinghy in a river, go to the ocean with a small raft, you're more than welcome to do it. This guide reflects our opinions and experiences on what we think are the best inflatable boats for fishing.
Fishing From an inflatable boat, why?
If you accidentally stumbled upon this guide, you might be wondering why in the world someone would want to fish from an inflatable boat. Maybe you're just curious to know what the pros and cons are. Either way, we'll explain why someone would rather want to do some inflatable boat fishing than sit in a wooden/metal/plastic boat.
The first and most common reason is portability. If you want to own a kayak but live in a small apartment in New York, where are you going to store a 9 feet long hard shell kayak? Nowhere, it's not possible unless you rent extra storage. Or what if you live far away from the water? Are you supposed to buy yourself a trailer just to get the boat to shore? This is where inflatables shine the most, an inflatable kayak can be 9 feet long but still fit under your bed or in your car's trunk. The gray bag on the picture here has an inflatable kayak which is 12 feet long when inflated when packed it doesn't take much more space than a camping backpack.
The second reason is the cost. Inflatable fishing boats are generally much cheaper than a regular wooden/metal/plastic boat, if you're on a budget but still want to go fishing, buying an inflatable is the best choice you can do.
There are a couple of drawbacks, however… The most significant being durability. Inflatables will never be as durable as boats made from hard and solid materials. You can run a wooden boat into a sharp rock without making too much damage, do the same with an inflatable and you'll be swimming back to shore. Punctures are pretty much inevitable when it comes to rubber boats, and you might have to fix your boat once every month.
But if you can overlook the drawbacks of an inflatable fishing boat, they are well worth the money and will do almost as good as a real boat out in the water.
Kayak, dinghy/raft, or pontoon for fishing?
You're probably already thinking about which inflatable watercraft you want to buy, we understand that you're eager to start fishing, but don't buy anything just yet. Each vessel has its ups and downs when it comes to fishing, they all act differently when in the water. That's why it's crucial to know the pros and cons of each inflatable before you make your decision. Luckily for you, we've covered everything you need to know, kayaks, dinghies, rafts, pontoon boats, even inflatable fishing boats with motors, it's all here.
Note: We recommended that you read everything we have written so you can make an educated decision and find the perfect fishing boat for yourself.
The best inflatable fishing boats in a nutshell
Inflatable Fishing Kayak
Almost all inflatable kayaks consist of just air and fabric, they are very comfortable and will not strain your butt or lower back when you fish for longer periods. Inflatable kayaks are easy to store, transport and will hold most of your gear. With no option for motor mounts (even though in some rare cases you will find inflatable kayaks capable of taking smaller motors), you'll be required to paddle to get to your destination.
We like to say that the majority of fishermen that use kayaks for fishing are 99% fisherman and 1% kayaker. What we mean by this is that it's very common for a fisherman to buy an inflatable kayak just because they have read that's the best option. If you're going to be fishing in large open areas, that's fine, but if you plan on paddling in a more technical environment you'll be amazed how much proper paddling techniques can help you. You'll learn how to paddle more efficiently and faster, meaning you'll cover larger distances without exhausting yourself. Take your time and learn some proper paddling techniques.
Sit-on-top or sit-inside?
When choosing an inflatable kayak for fishing you have two options, a "sit-inside" or a "sit-on-top" (pictured to the right).
Overall, sit-on-tops are more popular for inflatable kayak fishing. This is because they let your fish from a wide variety of different positions, be it from the front, the side, or the back. They are also not going to swamp (when a kayak is accidentally filled with water) on you if you were to flip, just flip it back up and hop in. The downside with them is that they cannot take as much gear as sit-insides. Generally speaking, most inflatable fishing kayaks have a pretty open design, much like a canoe. So getting swamped while fishing is not very likely.
The other option is a sit-inside kayak. These have a place in the inflatable fishing world too, their main advantage is that you'll be a lot dryer than a sit-on-top. They're great to use if you're going to be fishing in the colder water, bring a lot of gear, or just want to keep yourself dry. The drawbacks are that you are limited to one fishing position and it will get swamped when flipped.
Speed or stability?
The next thing to consider is the length and width of your kayak. Generally speaking, the narrower and longer the inflatable is, the faster it'll be. Shorter and wider boats will obviously be the exact opposite, they'll move slower but will be a lot more stable.
If you need to paddle long distances when fishing we definitely recommend getting a kayak that's 10 feet or longer. When going for a longer inflatable kayak, it's very important to go for one with a good tracking fin/skeg, this will help you go in a straight line rather than a zigzag pattern. Inflatables tend to drift and track much more poorly than regular hard shells. With poor tracking performance, you'll be less efficient and spend more time trying to go straight rather than fishing.
If speed is not that important to you, going for something less than 10 feet is a good choice. These kayaks are wider and more stable. If you plan on sitting and fishing, almost any kayak will do, but if you want to stand upright and fish, you will need something wide and stable. We prefer to sit down while we fish, it feels safer and is a lot more comfortable in our opinion.
Pros
Lightweight and highly portable
Easy to maneuver
Can get to places no other inflatable can
Cons
Limited storage space compared to bigger inflatables
Can only be paddled
Limited storage for gear
Where can I fish with a kayak?
Kayaks are pretty versatile, they can be paddled in most water conditions without too much trouble. They're perfect for fishing in lakes, ponds, rivers, and ocean bays. Because they're easy to maneuver and control, you can paddle into unknown territory without fear of losing control. They do poorly in oceans, trying to battle wind and waves will suck all the enjoyment from fishing.
Lakes

✓

Ponds

✓

Rivers 

✓

Bay areas

✓

Oceans

✘
The Best Inflatable Kayaks For Fishing
The kayak we recommend is the one we think excels in most areas, it's versatile and made with fishing in mind. There are additional features that make fishing easier, such as a stable platform, extra gear storage, and so on. We also made sure it can be used in as many different water conditions as possible. To sum it up, the recommended kayak is a "do-it-all" kayak.
If you want to see what other kayaks we have reviewed, head over to our inflatable kayak reviews to find something that fits you.
Best Value For Money: Advanced Elements Straitedge Angler Kayak
If you're looking to get the most out of your purchase, the Straitedge from Advanced Elements is well worth the money. It's specifically designed for fishing, with serious anglers in mind. Multi-layered materials, aluminum frame, abrasion pads, a wide hull, and the option to add your own fishing accessories to the accessory frame. The Straitedge is a rather unique inflatable kayak, it's the first one to feature a removable accessory frame in the front. With this frame, you'll be able to mount additional fishing rods, fish finders, and lots more, all making the fishing experience much more pleasurable.
People buy inflatable kayaks because they take up a lot less space than your average hard shell and the Straitedge is no exception. We were impressed by just how portable this kayak is. When fully inflated, it's  9 feet long, but when deflated and packed into its carrying bag, it's no longer than 30 inches. It's so compact you could put this into a Smart car's trunk and still have plenty of space left.
Verdict: If you want to get the most out of a fishing kayak for your money, this is what you should get yourself. The Straitedge is an exceptional kayak, it's wide and stable, has great abrasion resistance, it's comfortable, holds all of your gear, has a frame where you can mount the very best fishing accessories AND it will fit into the smallest car trunks. What's there not to like?
The Cheapest: Intex Challenger K1
The Challenger from Intex is about as cheap as you can get, costing most of the time well under $100, this kayak is very affordable and surprisingly very good for fishing. It is made from vinyl, it's not as strong as PVC or Hypalon, but that's expected with such a low price tag. That's why you need to be extra careful with hooks and not scraping against hard surfaces.
There's a large net in the front to hold your gear, a regular-sized backpack will fit, but that's about it. There's room for smaller pieces of gear behind the seat as well.
Verdict: The Challenger K1 is perfect for people that are on a tight budget or just want to give inflatable fishing a try. It's not the best kayak for fishing, but for the price, you cannot really go wrong. You won't find an inflatable kayak cheaper than this.
Buy on Amazon or read our Review
Inflatable pontoon boats are made purely for one thing, fishing. And while you can take them down class 3 rapids, they perform the best out on open lakes. There are three types of pontoon boats you can buy; float tubes, frameless, and those with a frame. What you choose depends on your level of experience and preference. One thing is sure, inflatable pontoon fishing boats will give you plenty of looks.
Float tubes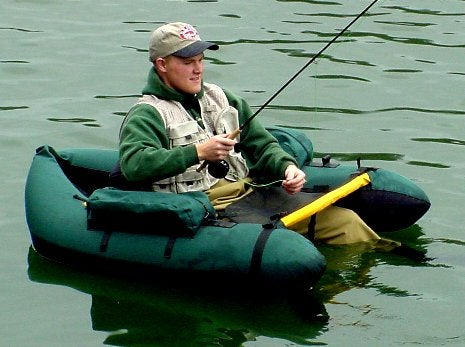 Technically not really a pontoon boat, but we decided to include them in the buyer's guide because of their similarities. Inflatable float tubes are for the fishermen that want to get up close and stalk their fish. Instead of standing at the bank hoping the fish will come to you, you come to fish instead. It's basically an inflatable seat with a couple of pockets and to power the boat you paddle with your feet.
Floating tubes are small, compact, and portable, they're actually the most portable fishing boat. They require little to no maintenance, meant to be used in calm waters these are a perfect fit for lakes and ponds. They are not maneuverable and neither will they take you any larger distances, but if you know exactly where you want to fish, they're a good option.
Pros:
Highly portable and lightweight
Gets you near the fish without scaring them away
Cons
Can only be used in calm waters
Doesn't hold a lot of gear
Not maneuverable at all
Where can I fish with a fishing float tube?
Fishing with a float tube will limit you to the calmest of waters. A tube is not meant to take you any long distances, but rather make you leave the shore and get in with the fish. Works great in lakes, ponds, and smaller bay areas.
Lakes

✓

Ponds

✓

Rivers

 

✘

Bay areas

✓

Oceans 

✘
When we looked at the best float tube we compared it to cheaper variants, we took a good look to see if the bigger price tag was really worth it. Things like the amount of storage space, comfort, and durability all played a part in our decision. We did not compare handling and control since there is little to no difference between float tubes when it comes to steering.
If you want to see what other float tubes we have reviewed, head over to our inflatable float tube reviews to find something that fits you.
PS. We recommend that you buy a set of fins with your float tube to make moving in the water easier.
Best Value For Money: Classic Accessories Cumberland
If you want everything a float tube has to offer, the Cumberland will deliver even more. It's the most expensive tube of all three, but if you're into float tube fishing it's well worth it. The Cumberland is packed with loads of features, two-rod holders, two cup holders, a thick and padded seat, an apron with a fish ruler, and plenty of pockets. What we like the most about it though, is the fact that it's "backpackable", meaning there's an adjustable shoulder strap for easy carrying.
The padded seat is large and will give you bring you higher the water level, making both you and the float tube easier to see.
Just like the Teton and The Togiak, the Cumberland features a stripping apron with Velcro patches. The patches make the ruler easy to remove but also limits you to how much weight you can place on the apron.
Verdict: It's packed with lots of handy features, such as two cup holders and two fishing rods, the Cumberland is made for the fisherman who loves float tubing.
Buy on Amazon or read our Review
The Cheapest: Classic Accessories The Teton

If you like the idea of a float tube but have never actually tried one, getting a cheaper one to try it out is smart. The Teton is an affordable float tube but the build quality is good for what you're paying and it's actually pretty durable. It has an inflatable backrest and a stripping apron with a ruler, we would however rather see bungee straps instead of the velcro patches for the apron.
It doesn't have all the features of more expensive float tubes, but more than enough to give you a sense of what's like to be floating and fishing.
Verdict: If you're curious about the float tube fishing experience, but feel like shelling out too much just to try something is not worth it, go for this. The Teton is an affordable way into float tube fishing.
Buy on Amazon or read our Review
Frameless Pontoons
Inflatable pontoons without any frame look a lot like dinghies, they behave pretty much the same way. The only real difference is the motor mount and the few added accessories that most frameless pontoons come with, swivel seats and rod holders are one of the most common accessories.  These are easier and faster to set up compared to pontoons with frames, they also take up less space. They are versatile as you can both row them or use a motor.
If you want to get the most out of your lake fishing, a frameless inflatable pontoon is highly recommended, you'll be able to go further, fish in more water conditions, store more gear and if you want to, you can stand up and fish.
Pros
Can get into shallow areas thanks to the pontoons
Capable of carrying large gas motors
Can be used with oars and motors
Cons
Takes a lot of time to inflate
Poor tracking and drifts easy
Where can I fish with a frameless pontoon?
A frameless pontoon boat can handle more water conditions than a float tube and a framed pontoon. It handles lakes, ponds, and bay areas with ease. It will handle rivers up to class 2 without any problems, anything beyond that will really push the limits of the boat, you shouldn't be fishing in an inflatable in class 3 rapids either way. As for oceans, it's possible but not recommended. It's important to remember that just because something is possible, it doesn't mean you should do it.
Lakes

✓

Ponds

✓

Rivers 

✓

Bay areas

✓

Oceans 

✘
The Best Frameless Pontoon Boats
There are not a lot of frameless pontoons available in today's market, therefore there is very little difference between the two pontoons listed below. The recommended one has the same features as the cheap one, but they're either made from higher quality materials or have been upgraded to something more high end.
If you want to see what other float tubes we have reviewed, head over to our inflatable pontoon boat reviews to find something that fits you.
Best Value For Money: Sea Eagle 285
Next up we have the 285 boats, this is an upgraded version of the 285fpb. It has all the same features, plus a little more. It's possible to set up this boat in two ways, for those who want a lightweight craft, and for those who want to maximize their fishing. If you choose to go, lightweight, you'll have no floorboards or swivel seats, but the boat will only weigh 32 pounds. If you choose to maximize your fishing experience, it becomes a little heavier, totally decked out it lands at the 59-pound mark.
There's about a $200 difference between the two, so what's the real difference? To put it simply, the 285 is just an upgraded variant of the 285fpb.  Some of the upgraded features include Scotty rod holders. For some, the upgrades might be worth the extra $200. If you have trouble deciding between the two, we recommend that you read our reviews.
Verdict: This is more or less the same boat as the 285fpb, with slightly upgraded features. There's a $200 price difference and for some, the upgrades and green color change might not be worth the extra money.
Buy on Sea Eagle website or read our Review
The Cheapest: Sea Eagle 285fpb

Sadly there's no cheap way of getting a frameless pontoon boat. The Sea Eagle costs quite a bit of money, expect $800+, and that's about as cheap as it gets.
So what does this give you? The 285fpb is a 1 person inflatable fishing pontoon boat, it comes with a swivel seat, sturdy motor mount, floorboard, two-rod holders, pump, oars, carry bag with shoulder straps, stripping apron, side bag, and a stow pouch. It's 9 feet long, weighs only 42 pounds, and will fit in the back of your car's trunk.
As you can see, it has all the fishing accessories a fisherman would want. It will accept both electric and gas motors. As if that wasn't enough, you'll get a three-year warranty on the boat if anything were to happen.
Verdict: One of the most affordable inflatable frameless pontoon boats. It has everything a fisherman would ever want from an inflatable, rod holders, swivel seat, stripping apron, and the ability to mount gas motors.
(We do not have a review of this pontoon since it's an older version, the review of the new 285 reflects the opinions on the old version)
Pontoons With Frames
Pontoons with frames are another hit among fishermen. Instead of a hardwood floor, they have pockets and bags to store all your fishing gear. They get you closer to the water than a frameless pontoon, not as much as a float tube but just enough so you can reach down and grab a fish from the water. Just like the floating tubes, framed pontoons give a more 'personal' feeling to your fishing. It's hard to explain but it's almost as you're one with the lake, it's definitely a different side to fishing. If a float tube had an upgrade, it would be this.
These types of vessels are great for rowing, the ergonomic position and the long oars make it easy to cover longer distances with less effort. Sadly they lack skegs or any tracking fins, which makes going straight a challenge. The large inflatable pontoons are at fault for this, it makes sense, they're just big inflated tubes after all. They do have their advantages though, the pontoons put you on top of the water, not in it, which lets enter areas with shallow water.
You can find these kinds of pontoons in all shapes and sizes, you have the ones that can be carried on your back and you have the ones that are as big as cars. Obviously, you won't be using the large ones for fishing, as they're meant for going down rapids. The inflatable pontoons used for fishing are somewhere around 8-10 feet long (measuring the pontoons). They're also slow, even if they're equipped with motors. It's not necessarily a bad thing either, with no tracking capabilities at all, drifting is really easy. If you were to speed up in one one of these, disaster would be waiting around the corner.
As for onboard storage, there's not a lot of space, if any at all. There's no floor, just a seat so most of your gear will be found in pockets on either side of the pontoons, most of the time this will be more than enough for the casual fisherman. One of the drawbacks with a design like this is just how unbalanced it can become if you load with too much gear, especially in the back. If you use a trolling motor it's very common for the rear end of the pontoon boat to sag and lifts the front up.
Pros
Plenty of pockets
Possible to mount trolling motors (not all pontoons have this option)
Easy to steer and maneuver
Cons
Poor tracking, hard to go in a straight line
Extra weight in the back (like a motor) makes them unbalanced
Where can I fish with a framed pontoon?
You can take this to lakes, ponds, rivers (but nothing over class 1), and ocean bay areas. They're mostly used in lakes and ponds but will do just fine on calmer rivers where you don't need to dodge rocks and trees. Going to the ocean with a pontoon like this is a really bad idea as they can't handle rough water at all, capsizing will be inevitable.
Lakes

✓

Ponds

✓

Rivers 

✓

Bay areas

✓

Oceans 

✘
The best pontoon boats with frames
When figuring out which pontoon had the best value for the money, we took a hard look at the features that came with each one. When it comes to steering, they're all more or less the same, there's very little difference in control and handling. Features like the amount of storage space, seat quality, motor mounting, and oar positions all played a role in helping us decide.
Best Value For Money: Classic Accessories Colorado XT Boat
Continuing the trend of accessories and features, here come the 9 feet Colorado XT boat. The bigger and better brother of the ordinary Colorado boat. So, what are the upgrades? The most useful one in our opinion, is the integrated transport wheel, making transportation of your pontoon 10 times easier. When not used, the transportation wheel can be stowed under the seat. The gear bags still have 20 pockets, but they are now removable, meaning you can move them around as you like. The motor mount has gotten an upgrade, it can now be mounted in two different positions. There are two detachable fly patches instead of one.
The Colorado XT is packed with as many features as humanly possible, it'd be hard to find another pontoon boat that has more features.
Verdict: If you're looking for the most versatile and feature-packed inflatable pontoon boat with a frame, you cannot go wrong with the XT. It offers everything the Roanoke and ordinary Colorado offers, and a lot more.
Buy on Amazon or read our Review
The Cheapest: Classic Accessories Roanoke
This is as basic as an inflatable pontoon gets. The Roanoke is lightweight and nimble thanks to its basic design, there are no extra baskets or accessories, just the seat, oars, and frame. It's 8 feet long, heavy-duty pontoons with temperature resistant (they will not shrink or expand in different temperatures) bladders inside. There's a stripping apron underneath the seat, armrest pockets with zippers, a rear fabric storage platform, a molded plastic seat, and adjustable footrests. It's not possible to mount a motor mount on the Roanoke, so rowing will be the only option for moving around.
This is by no means a high-end pontoon boat, and if you're more serious about fishing you might find the lack of extra storage and rod holders a bit disappointing. But if you're out for something cheap and minimalistic, this might be just it.
Verdict: This minimally styled pontoon boat is perfect for the minimalist fisherman, the type of fisherman who only brings a fishing rod and a couple of tackles. If you need more storage and accessories, the two following pontoons might be a better choice.
Buy on Amazon or read our Review
Inflatable Dinghy/Raft
We like to be comfortable when we fish, going to the ocean in a kayak or pontoon boat might work, but how comfortable is that? You will constantly have to fight against the waves and rowing is significantly harder than a lake. Inflatable dinghies and inflatable rafts are the largest and the widest, which makes them ideal for oceans and rivers. You'll have more space for gear and be able to mount larger motors, taking you longer distances.
Dinghy or raft?
Wait, what? Are they not the same thing? There's a confusion going on where people mistake dinghies for rafts and vice versa. The main difference between the two is the shape. Rafts have their inflatable tubes "wrapped" around the floor, while dinghies have the inflatables tubes go in a U-shape, just like frameless pontoon boats. Dinghies come with a solid plate motor mount in the back, while rafts need a specialized motor mount in order to mount a motor.
Inflatable Dinghy
Dinghies will be able to go further and faster than rafts due to their strong motor mount, you'll be able to mount heavier and more powerful motors, you also don't have to buy an additional motor mount. If you're the type of fisherman that needs to move a lot and cover long distances, a dinghy is the right choice for you.
Dinghies also make for a great addition to a larger boat, like a yacht or sailboat. Even 9 feet long dinghies can be rolled up into something that's not much larger than a sleeping bag, which is why they're so popular among large boat owners.
Choosing the right kind of floor
What makes dinghies stand out from the rest is their floor, there are three types of floors a dinghy can come with; slats, air deck, and a solid deck. They all have their special feel to them, what floor you get depends on much money you're willing to spend.
Slats

This type of deck consists of wood or plastic panels that you slot into the base of the dinghy. They're usually a couple of inches wide and leave gaps in between them. They are found on the cheaper dinghies. Their main advantage over the other floors is the fact that they can be rolled up,  it's easier to set up and easier to store.
Air Deck
These kinds of decks do not have any slats or inserts. They're inflated like the rest of the boat, which makes set up time longer compared to those with slats or inserts, they do however feel more solid than slats. Air decks add more mass to a dinghy, making them heavier and less portable (still more portable than a solid deck dinghy though).
Solid Deck
A solid deck will be the most solid out of all three, it makes the dinghy feel like a real boat. A solid deck is made out of either wood or aluminum panels that you connect together. Because it's a hard and solid deck, the keel will be pushed down, this makes for better steering and handling of the craft. It's what we recommend when you buy a dinghy, there's a drawback, however… These kinds of floors are a real challenge to put together, especially if you've never assembled a floor like this. We highly recommended that you get a friend or two to help you out. Trying to assemble a floor like this by yourself for the first time will drive you crazy. Luckily it gets easier with each time you assemble it, so give it a couple of weeks and you'll have it done in no time.
Pros
Large carrying capacity (more people, more gear)
Possible to mount large gas motors
Feels like a real boat
Cons
Not very comfortable for an inflatable
Gaps in the floor make things go missing
Heavier and bulkier than pontoons and kayaks
Where can I fish with an inflatable dinghy?
Since an inflatable dinghy looks and acts almost the same way as a real boat, it can go into most water conditions, even oceans. It's really the only inflatable that can go into an ocean without making it awkward for you.
Lakes

✓

Ponds

✓

Rivers 

✓

Bay areas

✓

Oceans 

✓
Deciding which dinghy had the most bang for the buck was decided based on their portability and carrying capacity. We chose the ones we think to be the most portable but also the ones that can carry a lot of weight for additional gears or motors. Handling and material quality did not play a part in our decision making because there's not too much difference.
Not satisfied with our recommendations? Head over to our inflatable dinghy reviews to find something that fits you better.
PS. Most dinghies do not come with rod holders, luckily you can purchase glue on rod holders for as low as $25-30.
Best Value For Money: Newport Vessels Catalina
Slightly bigger than the Solstice Sportster, the Newport Vessels Catalina is 10.5 feet long, and it packs a punch. It has a carrying capacity of a whopping 1,600 pounds, it can carry up to 6 people and loads of gear, but most importantly, heavier and stronger motors. The Catalina dinghy can take up to 20 HP, so if you want to cover long distances while fishing, this is definitely a boat you want to have your eyes on. The hull is made out of 1,100 deniers coated PVC, twice as tough as the Sportster. It has a solid deck floor made from aluminum and plywood. It comes with two seats, two oars, a carrying bag, a foot pump, and a repair kit.
Huge carrying capacity, loads of space for gear, and is capable of 20 HP motors. If you want to get out there, like a way out there in the ocean, the Catalina will take you there and back.
Verdict: This is a beast of a dinghy, with huge carrying capacity, plenty of space, and most of all-powerful. This is as close as you can get to a real boat, the line between an inflatable and a real boat is thin when you look at the Catalina. Few people need an inflatable dinghy like this, especially if they're looking for something that's portable and lightweight. But if you know why'd you need something like this, by all means, go for it.
The Cheapest: Solstice Sportster

This is a small and affordable inflatable dinghy. While it says it will take up to three persons, it's actually two adults and one kid. It has an aluminum slat floor, not the most rigid but for portability and storage, having a slatted floor is great. The hull is made out of PVC coated 500 Denier marine grade fabric, and there are 3 plies of fabric, making the hull abrasion and puncture resistant.
There are no rod holders on this dinghy, which to be honest is too bothering since there's plenty of space on the floor. It comes with a carry bag, seat (it's just really an aluminum plank), and foot pump. It can take a 4 HP electric or gas motor.
We recommend using the Sportster alone if you're the type of person that likes to bring loads of gear with you, if you're the minimalist type, bringing a friend along will be fine.
Verdict: The Sportster is a small but highly portable boat that takes a 4 HP gas or electric motor. While it's main intent is not fishing, it's price tag makes it a good choice for people on a budget. It doesn't have any rod holders but these can be purchased separately and be glued on.
If you prefer to have a lot of space and comfort, rather than speed, an inflatable raft will be your dream fishing boat. Rafts have no solid parts except for plastic seats and slat floors. Due to the soft body of a raft, there are no solid anchor points for a heavy motor. The best motor you're going to get is an electric trolling motor, they're not the strongest but will do just fine getting you from point A to point B.
Inflatable rafts are best enjoyed by the casual fisherman, they're not very maneuverable, have poor tracking and most of them are made from cheaper materials like vinyl. If you're the type of guy who goes fishing once or twice every summer, an inflatable raft will do just fine. The main advantage over all the other inflatables is their weight and size, making it ideal for people with little no storage but who still want an inflatable larger than a float tube.
How can I tell the difference between toy rafts and fishing rafts?
The serious rafts, those who are intended for fishing come with fishing rod holders. The other ones (usually found in Walmart and other superstores) are not intended for fishing, they're made from cheap quality vinyl and will get punctures as soon as you scrape against something hard. Even hooks and fish will puncture these kinds of rafts.
They can look very similar in terms of design, they're usually colorful and will have more or less the same shape. If you're unsure if it's a toy boat or not, just look for rod holders, if you can't find any it's safe to assume you're looking for a toy raft.

Where can I fish with an inflatable raft?
These types of inflatables do best in calm to moderate waters, like lakes, ponds, and calmer rivers. And like with the majority of inflatables, rafts are not suitable for oceans, they're just too soft.
Lakes

✓

Ponds

✓

Rivers ✓ (Class 1 only)

Bay areas 

✓

Oceans ✘
The Best Inflatable Rafts For Fishing
Deciding which inflatable rafts gave the most value for the money was decided based on their comfort, how easy they are to upgrade (installing the motor, adding new floors, etc), and durability. Handling and maneuverability were not included because there's little to no difference between rafts.
Best Value For Money: Intex Mariner 3

The Mariner is a large inflatable raft. Made for the type of fisherman that likes to go fishing with a few friends. The mariner will take up to 3 people and plenty of fishing gear, the total amount of weight is 880 pounds. This is like a hybrid mix between a dinghy and a raft, the stability, and durability of a dinghy but the comfort of a raft. It has a plastic slat floor, an inflatable keel for improved handling and control, but most importantly, a strong and super durable hull. The hull is made with 3 different layers of separate materials, these 3 layers make for an extra-strong and durable hull. There are pouches for gear and a battery to power a trolling motor.
With the additional motor mount from Intex, you can mount an electric trolling motor. It won't give you any amazing speeds but will do just fine for getting around the lake, pond, river, or bay areas. It's certified by the National Marine Manufacturer's Association (NMMA) and U.S. Coast Guard I.D.
Verdict: A heavy-duty raft, made with extra strong and durable materials to ensure that no rocks, fish, or hooks end your fishing day unexpectedly. Thanks to the inflatable keel, the Mariner handles a lot better than most rafts. Having that extra control makes the Mariner ideal for rivers and other areas where maneuverability is crucial.
Buy on Amazon or read our Review
The Cheapest: Intex Excursion 5

You might not have the money for a Mariner 3, or just don't know if raft fishing is for you. What do you go for then? We'd suggest you go for the Excursion 5, it's about half the price of the Mariner but will still deliver a nice fishing experience.
The most notable difference between the two is the material they're made of. Unlike the Mariner, the Excursion is made out of one layer of vinyl, a material that isn't very durable nor abrasion-resistant. If a hook gets caught in the hull or if a fish bites it, a puncture is more than likely. But the vinyl construction doesn't make this raft bad, it's just less durable but will still deliver an experience that is more or less the same as the Mariner.
It has 4 fishing rod holders, will carry up to 4 people (it will theoretically hold up to 5, but you will have to sit on top of each other), and can also be used with an electric trolling motor.
A reason why this inflatable is so popular is that it's easy to modify, owners have installed their own hardwood floors along with extra storage and swivel seats. So if you're the type of guy that likes to upgrade your boats, the Excursion 5 is a cheap and good alternative.
Verdict: The raft might not be as tough as the Mariner 3, but will still give you an awesome time. With 4 fishing rod holders and the option to add an electric trolling motor, the two are almost identical in terms of specifications. For fishermen looking for something that's cheap, portable, and usable for fishing, the Excursion is just the right choice.