As an Amazon Associate, I earn from qualifying purchases. This is without any additional costs for the buyer but does support me in maintaining my website.
This week we're taking a look at the Aquaglide Cascade 10' paddleboard. This iSUP (Inflatable SUP) All-rounder may be your match made in heaven. If you are wanting to find out if it's truly the one, read on below. If you're looking for the big brother, the Aquaglide Cascade 11′ SUP click here.
Aquaglide is one of the older companies in the game; having over 30 years of experience in design and construction of SUP boards. They aren't purely a SUP company, however! They also do kayaks, inflatable sailboats and commercial floating recreational fun parks.
The company has a firm message for its customers:
All pieces are intended for long-term and heavy-duty use; built tough to meet the heavy demands of camp, resort, and commercial use
Being the recent recipient of the 10 feet long Cascade standup paddleboard, let's take a look at whether that rings true.
Specifications
| | |
| --- | --- |
| Length | 10' |
| Width | 32" |
| Thickness | 4" |
| Weight | 26lbs |
| Volume | 45 Gallons / 170 Liters |
| Capacity | 250lbs |
What You'll Get When You Purchase The Aquaglide Cascade 10′ blow up paddleboard:
The Inflatable Standup Paddleboard
Travel Back Pack
Single Action, High-Pressure Pump
Repair Kit
Review
Aquaglide Cascade 10' inflatable SUP
Construction -

9/10

Stability -

9.5/10

Tracking -

8.5/10

Accessories -

8/10

Versatility -

8.5/10
Summary
The Aquaglide Cascade 10 feet inflatable standup paddleboard is a great iSUP for the whole family. Beginners and advanced riders will feel comfortable on this blow up paddle board. Perfect for lakes, calm rivers or seas, and your daily yoga exercises, as long as you don't do too much SUP-surfing!
Materials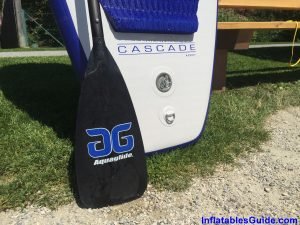 Firstly, let's talk materials. If you've been researching for a new iSUP there's a good chance you've come across the term of "drop-stitching" before. You're probably like "Oh cool, but what does that mean?"
The short explanation of drop stitching is as follows: A form of construction in where thousands of robust threads/ fibers are stitched top to bottom inside the inner layer. Using this as the inner layer for an iSUP means that the board can be inflated to high pressures and kept compact all the way through.
Around this inner layer are 2 more layers. The next layer is the common PVC layering, top and bottom and then the additional bottom layer "power strip" you'll see printed on the board. Power in the form of improved rigidness and prevention of air leaks.
Drop stitching makes inflatables like the Aquaglide Cascade standup paddleboard as sturdy and rigid as most hardboards.
Eva Deck Pad
Paddling around on a SUP without a deck pad is likely to have the same result as running with soap bars on your feet. The deck pad adds an ample amount of traction and covers the most important area of the board at 60" L x 25" W.
This Eva deck pad works perfect and looks good very good as well!
Bungee Tie Downs and D Rings
6 D-rings are featured on the board. One for attaching your leg rope – don't want to be losing your board now. Four of the D-rings include are complemented by a bungee cord tie downs. Any items you'd like to bring on your journey can be securely stored under the bungees.
** Pro Tip – Want to try some SUP yoga or fishing? The storage area on the nose is an imperative feature you'll want so you can store your paddle — or it might float away! **
The last D-ring is on the nose for towing or anchoring. This feature is overlooked for its handiness. If you're out for a full day of SUP-ing, when you pull up for lunch somewhere being able to anchor easily is appreciated. If your little ones want to come along for the ride but lack the speed to keep up, towing is a fantastic way to keep the whole family involved.
Fin
A 7" single fin is included when you purchase an Aquaglide Cascade. Single fins as opposed to tri-fins or thruster setups aid your paddling when you're on flat water. The single fin acts as a rudder, keeping your board tracking straight. Exceptionally handy for beginners.
The fin is removable, which I like. Being able to remove the fin makes snuggling the SUP back into the carry bag an easier process.
Portability
Your Cascade will come with a bag it will call home at the end of every session. The bag has well-padded straps, providing decent support for back and shoulders whilst traveling. There is a good amount of room for your board and extras so you don't have to spend time cramming everything it.
The actual board itself has a soft-cloth handle in the middle for carrying once inflated, which is a whole heap friendlier on your body!
Once packed the bag rolls up into a bundle of joy small enough to fit in your car trunk or be stored in a cupboard inconspicuously. The portability of not only the Cascade but all iSUPs makes them be the number 1 choice for travelers.
Inflate/Deflate
Inflate process is so simple my 3yr old niece could do it. If you haven't used a spring loaded valve before, you may not agree. Not to fear, we are here! There are 2 parts to it, that's it!
Part 1. When the spring is up, this allows air to be pumped in without it coming back out. When the spring is down, air can go in but also come back out.
Part 2. Make sure your spring is down when inflating and up when deflating!
Pump to between 14-18PSI, checking your PSI on the handy pressure gauge featured on the pump and you're ready to go.
Voila!
Overall Performance
Single fin SUP's when paddled in surf above 1 or 2 ft can be hindering, (lack of sharp turning ability for waves). So you don't want to take your Cascade out in anything above that. Impressively, it handles small surf and chops relatively well.
There's a 32" width (about average for All-round types) and pre-mentioned rigidness for stability in chop. While the slightly pulled back tail allows for easier back-foot turning in smaller waves.
Nowhere near as fast as racing SUPs, but, a slight point in the nose gives a streamline effect so momentum can be gained reasonably quickly.
Upon standing on the Cascade, you'll feel the boards resilience from its core out. You'll have no need to worry about dings or scratches. Not having longevity issues in the back of your mind, allows you to relax and enjoy the paddle wholeheartedly!
The weight capacity for the board says 250 lbs which at this weight, I'm sure the board will still feel stable. If however, you are needing something a bit bigger, Aquaglide also has an 11' and 12' in the Cascade series.
Accessories
Repair kit
Everything you'll ever need in the unlikely event your board needs repairing!
4 x (4″ x 6″) Commercial PVC patches (assorted colors)
2 x (3″ x 6″) Tear Aide patches
Shop towel
China Marker
Sandpaper
HH-66 Marine grade glue
MEK (used for cleaner)
Pump
Your Cascade is equipped with a high pressured hose pump. Though only a single action pump, the "thick barrel" pumps a little more air than the usual single action. On the pump, you'll see a pressure gauge reader which is perfect for knowing when your SUP is at its optimum PSI.
Pros
Performs well for an entry-level / budget priced board
Durable
Stable
Reliable company
Cons
Not many accessories – No included paddle, leash etc
Single action pump is tough to use in high PSI numbers
Limited maneuverability
Conclusion
If you are a beginner and just starting out with SUP riding and not feeling comfortable yet to be splurging a big amount of some of the higher-quality boards, the Aquaglide Cascade is a guaranteed good option.
The Aquaglide Cascade is extremely beginner friendly – it's tough, a breeze to paddle, super stable and priced well.
It lacks in essential accessories such as a paddle and leash but if this is just a board to add to your quiver, especially if your quiver is for your whole family, you should be able to make do with your spares. Not including those accessories is also what makes it so affordable and lets you buy a higher quality paddle than you'll find in most standup paddleboard package deals.
If you are looking for a fast or performance level board, this is not the board for you. Check out our other inflatable boards for more detailed reviews. I'm sure your perfect match is waiting for you there.