As an Amazon Associate, I earn from qualifying purchases. This is without any additional costs for the buyer but does support me in maintaining my website.
We know you're probably super excited and feeling impatient. You've already conjured images of yourself gliding elegantly, the setting sun with its warmth on your face, glistening through the leaves that line the serene lake. Onlookers are admiring your poise and seemingly effortless paddling.
However, If you have never been out on a standup paddleboard (SUP) before, it's imperative to know about safety. Knowing a little about the technique is helpful too!
If you haven't got your board yet, check out this helpful guide on buying your first SUP.
So here it is. The birds and bees of your first SUP experience.
Safety First
Sometimes even the most experienced lose their boards unexpectedly, leg ropes snap, or aren't put on correctly. The more common reason why you may find yourself swimming is due to falling off. The leg rope (leash) on a paddleboard is surprisingly long. Even if you are attached, you may find yourself swimming a little way. If you aren't a strong swimmer, you should consider wearing a lifejacket. Always be safe on the water.
What's your level of fitness?
Remember that for how far you paddle away from where you started, you need to make it back!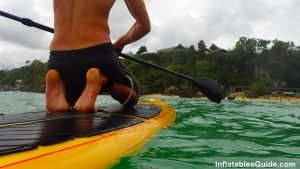 If you are starting out on SUP we'd strongly suggest you begin on flat water. If where you are paddling feeds out to the ocean, paddle as far away from the mouth (where it meets the ocean) as possible. With the change of incoming and outgoing tides, currents increase both ways. These currents are more amplified closer to the mouth of a river. Basically, if the tide is going out, you will be getting pulled out to the ocean and one of two things could happen. You may end up in the ocean…eek! Or you will be having an arduous paddle back. Vice versa, if you paddle down the river and want to come back on an incoming tide, you'll be one tired paddler when you get back. The aim is to make the first few times as easy as possible. Where you can, you should control factors to make your first time an easier paddle. We want you to come away with seething satisfaction.
How long do you plan to go out?
Take precautions such as wearing sunscreen, a hat, and a rash vest or shirt. A sunburnt SUP-er is not what we want. Consider the reflection of the water, you'll be getting twice the dose of UV rays as you would if you were standing in a park. If you are planning to be out for more than an hour, take water! Stay hydrated. It's surprising how quickly a SUP session can make you thirsty. Lack of water can lead to some killer headaches and fatigue, not what you want if you've still got a half-hour paddle back home.
Now the fun part!
Step By Step Guide: How to Paddle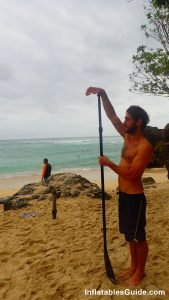 THE MOST IMPORTANT PART
Now we're going to take you through a quick step-by-step how to paddle.
The general rule is to grab the paddle, stand it upright next to the blade on the floor, and extend your arm above your head. The handle should sit nicely under your hand with your arm slightly bent.
If you have an inflatable SUP – time to get pumping!
Inflatable or hardboard, you should have a hold in the middle of the board. You use this as a handle, scoop the board under your arm and carry away! (Don't forget to stay conscious of the length you're carrying behind you too!)
Place your board in the water and if you're with someone, ask them to steady the board for you. The middle of the board (where you hold the board whilst carrying) is where you want to be positioned. Either exactly over it or just behind it. You can start by getting aboard into a kneeling position if you feel particularly unsteady. From there you can slowly stand up as you find your balance. Keep that friend closeby for a steady hand if you're feeling those wobbles!
Now lift that chin up, gaze to the horizon, and ask for your paddle. You've got this! Keep your gaze forwards (it will help with balance). You'll want your knees slightly bent for a stronger stance too. Grab the paddle with one hand clasped over the handle at the top and the other below on the shaft. A good strong paddle is achieved by totally submerging the blade when you stroke. It gains the most power. Twist your torso as you pull your stroke through. Work those abs! You'll last longer if you don't rely solely on your arms to power your paddle. At first, just small stroked with this technique will do while you get used to the whole experience.
So now you are paddling, keep switching sides, always keeping one hand on top and one just below. If you need to go to the left, paddle more on your right and vice versa. If you want to turn around quicker, paddle backward! If you keep paddling backward you'll do donuts 😉
At some point in your SUP life, you will fall off. Maybe won't be the first time, but it will happen at some point. The good thing is that water doesn't hurt! Just remember to grab your board before your paddle if you can. Again, climb back on and into your kneeling position. A fall can interrupt your balance, so take a moment to make sure you're balanced. Some deep focused breaths and off you go again!
Smile, have fun, don't take yourself or others too seriously, encourage others, and be proud of yourself. Take a moment to appreciate how something so simple as getting on a board and going for a paddle can make you so happy and relaxed!
CONGRATULATIONS ON JOINING THE SUP CLUB
You're all set now. If you haven't got your board yet, check out our other article of a beginner's guide to buying a SUP.
Or check out our top 5 of the best inflatable stand up paddle boards:
This is a guide for if you are just starting out, it won't take you long to progress and you'll soon find that there is more to a SUP session than what we've written here. Which is fantastic! Otherwise, the fun levels would drop rapidly as you become a better SUP rider.
When you are starting out, you don't need to worry about the smaller details, they won't be applicable and it'll take away from the experience. We want you to spend more time smiling and having fun, rather than worrying about what you're doing wrong.
May your first experiences be SUPstantial 🙂