As an Amazon Associate, I earn from qualifying purchases. This is without any additional costs for the buyer but does support me in maintaining my website.
For people who love to go boating in rivers and lakes with some fishing on the side too (or maybe fishing is the main reason), one of the best watercraft options that they can get is an inflatable pontoon boat.
An inflatable pontoon boat has two large air bladders that make up the main floating base and are connected together with the use of a metal frame. The boater, fisherman, or angler sits at the center of these two air bladders, guiding the pontoon boat through the water while also having his fishing rod in check and ready. These pontoon boats can be used with paddles or motor.
There are several inflatable pontoon boats offered on the market today, each of them varying in features and options. To the fisherman or angler, what could possibly be the best inflatable pontoon boat for his needs?
7 Best Inflatable Pontoon Boats in 2021
For those of you who are looking to invest in an inflatable pontoon boat, start your search by checking out the pontoon boat models we have enumerated here. Each one of these models is very much capable and competent to take you down the river, letting you fish comfortably while also keeping you safe and moveable.
Classic Accessories Colorado Inflatable Pontoon Boat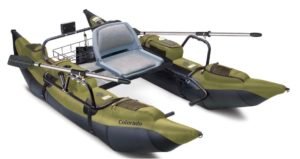 For those who wish love to go fishing on their own, the Classic Accessories Colorado is an excellent one-man inflatable pontoon boat. You can cover a lot of territory in just a short time with the good size this watercraft imposes on the water.
The position of the angler also makes it easy to control it. Fully inflated, it measures about 9 feet in length and 4 feet wide, has a height of 6 inches on top of the water with a maximum capacity of 400 pounds for the boater/angler and gear.
Sea Eagle 375fc FoldCat Inflatable Pontoon Boat
Ready to go on a nice river or lake trip with an inflatable pontoon boat? Do so with the Sea Eagle 375fc FoldCat. This inflatable watercraft can accommodate two adults with its two swiveling chairs.
The Sea Eagle 375fc measures about 12' long and 4' wide. The boat by itself weighs about 75 pounds and when you include gear that is brought along, the boat can accommodate up to 650 pounds of weight. A patented folding system allows you to set up this boat very quickly.
The front casting bar makes it very easy to stand up for the fisherman. This pro angler package comes with additional Scotty rod holders and oarlocks.
Classic Accessories Colorado XT Inflatable Pontoon Boat
The Classic Accessories Colorado XT is a step up in the Classic Accessories line of single-man and one of the best inflatable pontoon boats. Featuring a smoother and sportier design, the Colorado XT will let you easily glide through rivers, lakes, and areas of water.
Similar to plain vanilla Colorado, it measures 9 feet in length and more than 4 feet wide, a height of 6 inches and weighs 77 pounds without any gear stored. The Colorado XT is available in the colors pumpkin and sage/grey. You can load it up with a full complement of gear, equipment, and the angler to a maximum of 400 pounds.
Sea Eagle 285 Inflatable Frameless Fishing Pontoon Boat Pro
Here is another one of Sea Eagle's best inflatable pontoon boats, the 285 Frameless Pro. Measuring 9 feet in length and 4 feet in width, this is a single-man inflatable watercraft that will provide much room for you and your fishing gear/ equipment as you traverse rivers and lakes in search of good fishing spots.
The boat itself weighs only about 42 pounds. You can bring a lot of fishing gear on board since the maximum capacity is 450 pounds. This is a boat that can be launched almost anywhere in just a matter of minutes.
Classic Accessories Roanoke Inflatable Pontoon Boat
Probably one of the lightest and smallest inflatable pontoon boats in this guide, the Classic Accessories Roanoke inflatable pontoon boat checks in with a length of 8 feet, a width of almost 5 feet, and a height on the water surface of more than 2 feet.
The inflatable boat alone has a weight of 43 pounds and reaches a maximum of 350 pounds once it is loaded with gear. Manned only by a single individual, this very nimble boat can get you to those difficult fishing spots that would be almost impossible for a typical fishing boat.
Orvis Fish Cat 10-ir Stand Up Inflatable Fishing Pontoon Boat
Built as the inflatable pontoon boat for the more basic adventurous, the Orvis Fish Cat 10-ir is designed to allow the angler to stand in a more natural position for better casting and sight fishing. Ideal as a fly-fishing boat!
The Orvis Fish Cat 10-ir measures at a length of almost 10' long and 56″ wide when fully inflated. The boat by itself has a gross weight of 68 pounds and the maximum weight capacity, with all your equipment and gear, is 450 pounds. Choose this boat if you require extra durability while in the water.
Outcast Fish Cat 13 Pontoon Boat
A 2-manned pontoon boat that is designed to be used in difficult and dangerous waters: the Outcast Fish Cat 13 inflatable pontoon boat can get you even over strong currents with its strong and sturdy platform.
It measures at 13' in length and more than 5' in width with tubes that have a diameter of almost 2 feet. On its own, this pontoon boat has a weight of 170 pounds and has an incredible maximum weight capacity of 750 pounds so you can bring enough of your equipment. The perfect, but also quite expensive, watercraft for the daring fisherman.
Which Is The Best Inflatable Pontoon Boat?
We should not stop at knowing the product features, we should compare each model with others on the list to come up with an informed choice once you have decided you are ready to buy your very own inflatable pontoon boat.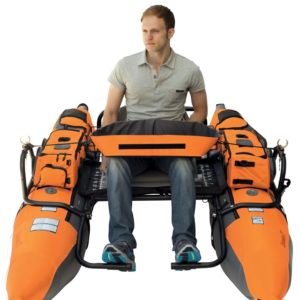 Several factors influence the price of an inflatable pontoon boat. Mainly, it will be the size of the boat and where will it be used. Features and level will also influence how much each model will cost.
The Classic Accessories Roanoke is one of the most simple and straightforward, like a modern-day raft which makes the most affordable inflatable pontoon in this group. The Classic Accessories Colorado XT and the Sea Eagle 285 Pro technically are upgraded from entry-level models which is why they are priced slightly higher.
The Orvis Fish Cat 10-IR and the Outcast Fish Cat 13 are the top two most expensive boats in the group and will cost even higher as you also need to purchase several accessory upgrades in order to fully utilize their abilities. Yet these two are also among the longest and widest pontoon boats and are catered for intermediate and advanced boaters and fishermen.
Technology and Added Features
Almost all of these best inflatable pontoon boats here more or less use identical materials when it comes to the technology in their materials. All of them use PVC material at the bottom of their pontoons while nylon covers the top and the sides. Boats that have frames use either steel or aluminum rods, as both differ in strength and weight.
Distinguishing itself from the rest of the group though is the Outcast Fish Cat 13 whose PVC bottoms are rated at a high density, between 900 to 1200 denier. While this level of durability results in a higher cost, it also guarantees this inflatable pontoon boat is going to last for quite a while.
Size very much influences how easy it is to set up and inflate an inflatable pontoon boat. One that is common among this group of inflatable pontoon boats is not only do framed models take additional time to set up, but the steel or aluminum rods that make up the frame will naturally add more carrying weight. Consider this if your trip requires hiking before you get to the water's edge.
Both the Orvis Fish Cat 10-IR and the Outcast Fish Cat 13 are heavy-duty inflatable pontoon boats so it is only natural that you take extra time laying them out from being packed and then inflating them to their full size.
Meanwhile, the Classic Accessories Colorado and Colorado XT have framed pontoon boats too but because they are both smaller in size, they can be set up and launched in less than 20 minutes.
In contrast, the Sea Eagle 285 absolutely has no frames so all you have to do is unpack and then inflate it. The entire process will take you only 5 minutes at least. The minimal effort required in setting it up makes it one of the most convenient and enjoyable inflatable pontoon boats.
Most of the inflatable pontoon boats in this group are made to be used in lakes, rivers, ocean bays, ponds, wilderness, and remote fishing spots where the water surface is generally calm with minimal waves.
Even the Classic Accessories Roanoke, despite its outgoing design, is recommended to be used only for calm waters to ensure the integrity of its pontoon bottoms. The Sea Eagle 375fc is specifically identified as a model that is to be used only for fishing, and should not be used for traveling in waters where there might be strong, sharp hazards and obstacles.
The Orvis Fish Cat 10-IR and the Outcast Fish Cat 13 Pontoon Boat, however, are at a whole different level, thanks to their extra-strong pontoons and sturdier, better-built frames. The Outcast Fish Cat 13 is the largest pontoon boat in this group with its long aluminum frames.
These two boats can handle opposing currents and wavy, choppy water. You can fish in both these boats while in a standing position and without any worry that they are built to stay stable even when the water gets difficult.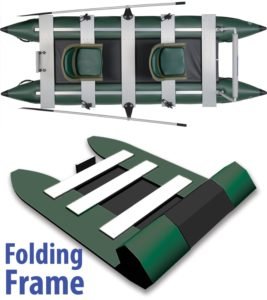 If one looks closely at the pictures, one could observe similarities in the construction of the frame and pontoons of these boats. Classic Accessories pontoon boats (Colorado, Colorado XT, and the Roanoke) feature one-man central cockpits with flexible pontoons at the sides.
The Sea Eagle 285 and Sea Eagle 375 are similar to the classic rubber boats, except for the better seating position provided by their cushioned seats. The Orvis Fish Cat 10-IR and the Outcast Fish Cat 13 prioritize rigidity and stability, so as to give its user the ability to stand steady.
The Sea Eagle 375fc has probably the best overall construction design. Disassembled, the boat parts easily fit right into the carrying bag. On the water, the 2-swivel seat design gives you a comfortable, excellent view of your surroundings. You can also conveniently cast your fishing rod in a standing position on the Sea Eagle 375fc.
Weight and Passenger Capacities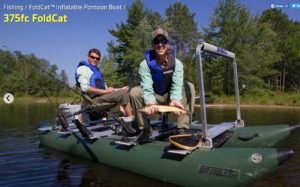 Only two inflatable boats in this group offer a 2-passenger seating capacity. The Sea Eagle 285 FC features a catamaran-like design with both passengers in the center, in a very comfortable position. Whether you are headed to the other side of the river or cruising easy looking for a nice place to fish, the Sea Eagle 285 FC places you both in a good position.
The Outcast Fish Cat 13 can be configured to be used solo or for 2 passengers, with the rear passenger occupying a slightly higher position. It is an excellent intermediate watercraft that is quite enjoyable ridden solo or in a pair.
Loading capacity is determined mainly by the size of the boat. The Classic Accessories Roanoke, the smallest of the group, also has the lowest load capacity. Take note however that the Orvis Fish Cat 10-IR, although considerably larger than the others, does not have a high loading capacity and is outdone by the Sea Eagle 375fc by several hundred pounds.
The Outcast Fish Cat 13 has the largest load capacity of the group. Take note also that this is a heavy boat when fully assembled or when disassembled. You may want to consider this factor as it might hamper you when transporting it.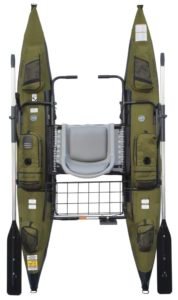 The size of the pontoon boat plays a factor in where you can utilize and enjoy it. Calm, steady waters are great for almost any type of boat, save of course if it is a spot with a narrow entrance like a secluded fishing hole.
In this case, pontoon boats like the Classic Accessories Roanoke and the Sea Eagle 285 have the advantage as their small size allows them to wiggle and scoot into these waters with ease. The Classic Accessories Colorado and the Colorado XT can do the same though.
The Orvis Fish Cat 10-IR and the Outcast Fish Cat 13 Pontoon Boats are once again stand-outs due to their extra size and length. They are made such to be used in waters with waves. This also means bulky and somewhat cumbersome handling and maneuvering, which is definitely not recommended for first-time boaters.
Most of the inflatable pontoon boats have similar accessories, a couple of which are their fishing rod holders, their oar holders, and the removable storage coolers that can store your small buckets as iceboxes and fish holds.
Take note though that it is only the Sea Eagle 375fc that offers a standard accessory a swiveling chair. The latter is an additional option with the rest of the inflatable pontoon boats.
Now that you have browsed through several pontoon boat models, you now have a general idea of the capabilities of the different pontoon boats as well the features that they offer. You also very well know the price range of each model.
Understand that the place where you will be boating and fishing plays an important role. Check out the river rating of your prospect inflatable pontoon boat and compare it with the water conditions where you are going. This will ensure that the pontoon boat that you get is able to thrive and endure.