As an Amazon Associate, I earn from qualifying purchases. This is without any additional costs for the buyer but does support me in maintaining my website.
A float tube, or belly boat or kick boat as its other names go, is a useful tool for solo fishing on still waters. Its original design was a doughnut-like inflatable tube with a hole beneath the center. However, most modern iterations of fishing float tubes now come as an open V or U shape, allowing you to paddle using both feet with better ease.
Given how well-received these newer frameworks are, it is only natural for major manufacturers to join in on the trend. The problem is, each brand is unique, and if you are truly serious about their float tubes, it could take a while before you find a model that can accurately meet your standards.
Now, let's compare ten of the best fishing float tubes currently in the market, so you can narrow down your list of potential purchases much easier.
10 Best Fishing Floating Tubes in 2021
Before I get into any specifics, I would like to emphasize that none of these inflatable float tubes is rank in any order whatsoever. They are listed solely for comparison purposes, in the hopes of helping you find a specific model to match your fishing setup. Nonetheless, these float tubes are already the best you can get out there, so there are no wrong decisions here.
Classic Accessories Bighorn Inflatable Fishing Float Tube
The Classic Accessories Bighorn fishing float tube comes with an extra-large and comfortable backrest. It is made from a combination of tough high-quality materials and synthetic fabric. You also get improved maneuverability on water, thanks to the unit's hydrodynamic hull shape and unique sculpted design.
The stripping apron with a fish ruler makes it easy to size up your haul, while its horizontal rod holder makes for a convenient fishing setup. In terms of build, the Bighorn float tube measures approximately 54 x 50 x 27 inches (LxWxH) and weighs only 11 lbs. For the total weight capacity, the Classic Accessories Bighorn fishing float tube can carry up to 300 lbs., from both equipment and passenger.
Your storage needs are handled by the two armrests compartments comprised of more than 3 different zippered divisions. There are also rear storage and exterior mesh pockets, for additional room. The D-rings of this water vessel are used for attaching extra gear or creel bags.
Caddis Sports Nevada Inflatable Fishing Float Tube
The Nevada float tube by Caddis Sports is built with a custom oversized seat and a backrest bladder. Furthermore, its critical seams are double-stitched, while most of its construction is made from heavy-duty ripstop material.
This inflatable fishing float tube has two main equipment pockets, plus an improved working and stripping apron, which is nylon coated and all mesh. Such area is also reinforced by a padded stabilizer bar. A dry fly patch is also integrated on this device, along with a front fishing rod holder.
As for the dimensions, this float tube measures 46 x 42 x 20 inches. Its weight and passenger capacity are 9.3 lbs. and 225 lbs., respectively. Transporting the boat is also easier, thanks to its storage/carrying handles.
Classic Accessories Teton Inflatable Fishing Float Tube
The Teton float tube from Classic Accessories measures roughly 42.5 x 40 x 18.5 inches. It can bear up to 250 lbs. of total weight capacity, albeit the product itself is only 8.5 lbs. It has a comfortable backrest and seat, which are integrated into the main unit.
In total, there are 2 zippered, 2 reels, and 1 seatback, storage compartments on this kick boat. Like most models of the Classic Accessories brand, this inflatable fishing float tube also comes with a lap stripping apron with a fish ruler. The boat is mainly made out of heavy-duty fabric material and is designed with a hydrodynamic hull shape.
Its multiple armrest pockets are easy to access, same with its back storage pocket. D-rings are also present, for towing additional gears. Sadly, it has no drink holders, nor any backpacking shoulder straps but on the other hand, it's one of the cheapest float tubes currently available.
Classic Accessories Cumberland Inflatable Fishing Float Tube
This float tube measures around 56 inches in length, 44 inches in width, and 19 inches in height. It weighs about 14 lbs., but it can withstand up to 350 lbs. of total heft (user and gear). The seat is thickly padded and is paired with an adjustable high backrest, giving you a comfortable experience.
The Boston valves are ideal for effortless inflations and deflations, while its rugged PVC bottom guarantees strong resistance to tear. The overall hydrodynamic hull shape of the unit makes it easy to track with and steer. Apart from two drink holders, you also get two-rod holders for added convenience.
You can easily carry the Classic Accessories Cumberland inflatable float tube with its adjustable backpacking shoulder straps. Its mesh stripping apron with fish ruler also makes it easier to assess every catch. Storage-wise, you can use the two cargo pockets with easy-open double zippers on both armrests, the seat-back mesh pocket with drawcord, and the large back mesh storage platform. Overall and great inflatable fishing float tube!
Classic Accessories Marshland Fishing Float Tube
This inflatable fishing float tube's dimensions measure 56 x 44 x 19 inches, and it carries a total bulk of 18 lbs. Its weight limit is rated at 350 lbs. For the constriction, the product is mostly made of heavy-duty materials and is complemented with RealTree™ Max 5 camo print.
The Marshland float tube can double as a fishing and hunting inflatable watercraft and is back-packable. Much like the other models, this one also sports a hydrodynamic shape for better tracking. An adjustable shotgun tether and two drink holders are also provided, but none for your fishing rod (sold separately).
On the side of the Classic Accessories Marshland fishing float tube, you will find web loops, which you can affix fake brushes to, adding to your overall concealment when hunting. The D-rings on both sides of the tube's armrest pockets are used for attaching the brand-exclusive decoy bag (optional accessory), which can hold up to 24 duck or 6 geese decoys. You are still given a mesh stripping apron with a fish ruler for your great fishing adventures.
Caddis Sports Premier Plus Inflatable Fishing Float Tube
With a 4-inch adjustable foam seat and a 2-inch foam backrest, your comfort is guaranteed on this inflatable float tube of Caddis. The Premier Plus also uses new and improved custom-molded Boston valves for effortless inflation and deflation. Its seams are also double-stitched, which ensures durability.
When it comes to overall construction, this float tube is made of heavy-duty ripstop material on its top exterior, whereas the bottom and front ends are of heavy-duty tarpaulin. Some of its best features include the front rod holder straps, a fluorescent safety accent, and a stripping apron that is supported by a stabilizer bar.
If fully inflated, the fishing float tube measures 57.9 x 43.7 x 24 inches (LxWxH) and weighs about 15 lbs. It can handle up to 325 lbs. in weight capacity. Apart from the two large main equipment compartments and two auxiliary pockets, there are also two removable dry fly patches and an extra cargo area behind the seat.
Caddis Sports Pro 2000 Inflatable Fishing Float Tube
The Pro 2000 float tube of Caddis Sport carries a total bulk of 11 lbs. and is capable of sailing up to 250 lbs. in the weight limit. For the dimensions, it measures 53 x 46 x 15 inches, when fully assembled. The 2-inch seat and backrest are foam-based.
Its air chambers are securely sealed with Boston-style valves, while the Caddis float tube its general construction is completed using heavy-duty ripstop material, as well as double-stitched seams. The Pro 2000 appears in a unique teardrop shape and sports a ruler apron with a stabilizer bar.
The Caddis Sports inflatable fishing float tube also has a removable fly patch and front fishing rod holder installed on the Pro 2000 model. For storing your tools, you can make use of the two large main equipment pockets on each armrest, and the two auxiliary pockets. In addition, the cargo area behind the seat is great for some needed extra room.
Orvis Outcast Fish Cat 4 Inflatable Fishing Float Tube
The Fish Cat 4 belly boat/float tube of Orvis Outcast uses a combination of fabric denier and 500 PVC materials, along with sewn seams. Its air chambers are supported by vinyl air cell material, ensuring maximum durability and resistance to punctures. Its seat is made of foam and paired with a high backrest.
In terms of dimensions, the Orvis Outcast Fish Cat 4 inflatable fishing float tube measures 54 inches in length and 44 inches in width. Its weight, on the other hand, is gauged at 15 lbs., although it can handle up to 250 lbs. of total passenger and equipment weight capacity.
Two gear packs are provided on each armrest. A detachable stripping platform is also bundled with the product, along with other accessories, namely: an air pump, fins, and boat bag. Plus, a basic repair kit is also included in your purchase.
Outcast Prowler Inflatable Fishing Float Tube
The Outcast Sport Gear Prowler float tube uses inflatable seats for added versatility and is reinforced by a fully inflatable floor. It has 3 air chambers, each of which is made from urethane material. The valves on this specific device are of Summit II quality.
A combination of fabric denier, 600 PC, and 500 PVC, is used to manufacture this fishing float tube. The seams of the watercraft are strongly sewn, while its stripping apron is height-adjustable. For stowing your personal effects and fishing gears, make use of the left and right armrest storage compartments, or the mesh net at the back.
Speaking of storage, this inflatable float tube can carry up to 325 lbs. in weight capacity. However, the unit alone weighs 21 lbs. When it comes to physical dimensions, this craft measures 64 x 50 inches (LxW).
Outcast Super Fat Cat LCS Inflatable Fishing Float Tube
Much like the Fish Cat 4 float tube, the Outcast Super Fat Cat LCL fishing float tube also has the same 64-inch length, but its width is 5 inches shorter, at only 45 inches. This is also relatively lighter than the aforementioned model, weighing only 17 lbs. As for the weight capacity, this fishing float tube can lift up to 300 lbs. of total bulk.
The seat is fully inflatable, including the backrest. Its 3 urethane-based air chambers are accessible via Summit II valves. Moreover, a mix of fabric denier, 500 PVC, and 420 PC, materials, are utilized in the construction of this kick boat. Additionally, the seams are welded, which ensures optimal tear resistance.
The calibrated apron is oversized, so it does not get in the way of your lower extremities. Two large pockets are securely affixed to each armrest, along with two bottle holders. A pocket behind the backrest is also present, for extra storage.
Which is the best inflatable fishing float tube?
Factoring in your expenses when buying any product is totally understandable, especially if you are on a tight budget, and for inflatable fishing float tubes, it's no different. With that said, go for the Caddis Sports Nevada float tube if you want to save the most money since it is the cheapest among the group. Next to it is the Classic Accessories Teton, which is the second least expensive kick boat.
Otherwise, if money is less of an issue, then you are free to widen your range for potential buys of a kick boat/belly boat up to the most expensive model on the list, which is the Outcast Sport Gear Prowler. The other two Outcast Sport Gear inflatable fishing float tubes also belong to the expensive class.
Searching for something within the mid-range cost? Then, look into the Classic Accessories Cumberland, Bighorn, and Marshland fishing float tubes. Moreover, both the Pro 2000 and the Premier Plus by Caddis Sports also belong in this price range.
Technologies and Features
All Classic Accessories float tubes on this list come with a hydrodynamic hull shape. While it may not seem that significant on paper, once you experience the amazing tracking and steering capabilities it delivers, you will immediately understand why it works. However, the teardrop shape of the Pro 2000 is also worth mentioning.
One feature that is commonly expected from most modern kick boats is the calibrated stripping apron. As far as calibration is concerned, all the items in this catalog have numbered aprons. It is in the design and setup of these aprons that some dissimilarity is noted.
For the most part, all four Classic Accessories units use a similar lap-stripping apron with a fish ruler design. Those under the Caddis Sports brand also share somewhat the same setup, including a stabilizer bar. However, the same cannot be said for the Outcast Sport Gear belly boats, which all come with adjustable-height stripping apron.
Another feature you should look for in fishing boats is some form of fishing rod holder. The majority of entries from Classic Accessories have this, except for the Marshland unit, although it has a unique shotgun tether. Furthermore, only the Classic Accessories Cumberland comes with two-rod holders.
The Caddis Sports float tubes each have their own front rod holder. Oddly enough, the Outcast Sport Gear units do not have any default means for holding your rod, despite retailing at very high prices.
Do note that all the rod holders mentioned above thus far, only aim to secure your fishing rod, so you do not have to keep a constant eye on it when on the water. If you want something that is stronger or something to help with reeling in larger fish, you need to buy a separate accessory for it.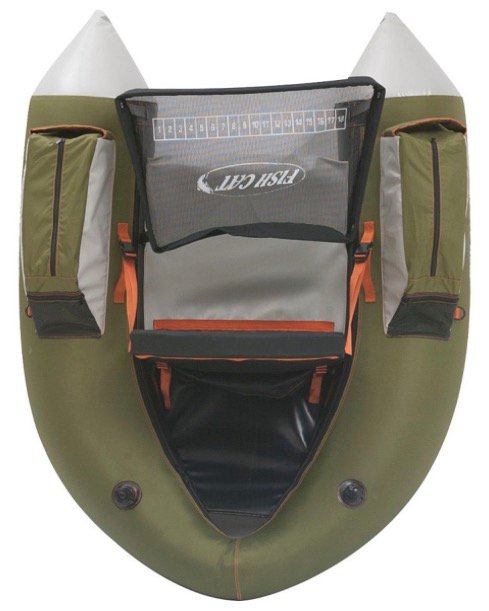 Although it may not appear all that significant, a water bottle holder can actually make your fishing experience better, especially if you fish in longer hours or warmer climates. Among the ten best inflatable fishing float tubes, only the Classic Accessories Marshland and Cumberland, Caddis Sports Premier Plus, and the three Outcast Sport Gear models have this feature.
The Premier Plus, however, is the odd one out, since it only has one bottle holder. And, it is found on the apron, unlike the others, which have drink holders at both armrests.
If you are not too keen on wearing your own drying fly patch, then consider any of the Caddis Sports products listed here. The Premier Plus and Pro 2000 each have two removable dry fly patches at their armrests, whereas the Nevada model only has one. If you often use an artificial "fly", then this feature will greatly benefit you.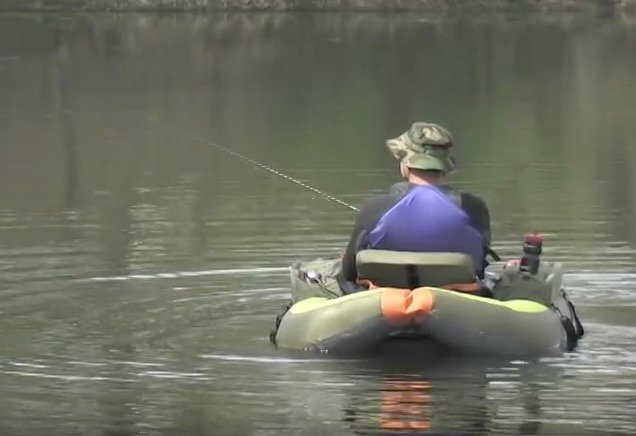 The user-friendliness of these inflatable float tubes can sometimes be subjective; meaning what you may find as easy may not be the same for others. For example, you may find that the fishing float tubes, which have integrated seats and backrests, are easier to assemble. But, when put into action, those with inflatable seats will likely be better at keeping you above water, which others may prefer more.
Transportability is also a huge factor when determining the ease of use of a float tube. Among the Classic Accessories units, only the Marshland and Cumberland have dedicated backpacking shoulder straps. For the rest of the entries, you can make use of their D-rings to create an improvised carrying system, which is better than nothing at all.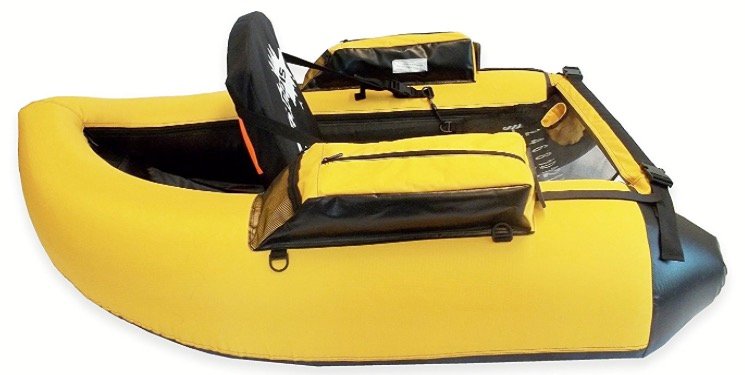 When comparing the material construction of each product on the list, it will mostly vary between PVC, heavy-duty fabric, and synthetic fabric, materials. Among the Classic Accessories lineup, the Cumberland model offers a rugged PVC bottom, whereas the others in this group vary between heavy-duty materials and synthetic fabric.
As for the Caddis Sports models, all three of them come with a unique heavy-duty ripstop material. In addition to that, they also use double stitched seams, which ensures adequate intactness. However, of this sort, only the Premier Plus features a heavy-duty tarpaulin bottom and front ends.
When it comes to the Outcast Sport Gear float tubes, a combination of fabric denier, PC, and PVC, materials, is typically found. All three sports a blend of fabric denier and 500 PVC components. But, only the Prowler and Super Fat Cat come with PC-grade parts, rating at 600 PC and 420 PC, respectively.
As for the seams of the Outcast Sport Gear group, only the Super Fat Cat comes with welded seams. The other two have sewn seams.
If you are in the market for the biggest inflatable fishing float tube within this catalog, then consider the Outcast Sport Gear Prowler. With an overall length of 64 inches and a width of 50 inches, it takes the lead as the roomiest model among all entries.
However, the Prowler's steep price might not be for everybody. Alternatively, you can check out the Premier Plus model from Caddis Sports. Its 57.9" x 43.7" dimensions and mid-price range are a good compromise over the expensive Prowler.
For a more compact accommodation, lean towards the Classic Accessories Teton, which only measures 42.5" x 40". If it is too small for you, look into the Caddis Sports Nevada, with has 46" x 42" dimensions.
As for the lightest water vessel on the list, the Teton unit from Classic Accessories also takes the spot, with only 8.5-lbs. of heft. The Classic Accessories Bighorn and the Caddis Sports Pro 2000 trail closely behind, both weighing only 11 lbs., individually.
When it comes to the heaviest kick boat, the Outcast Sport Gear Prowler leads the group, weighing as much as 21 lbs. Following it is another model from the same brand, the Outcast Sport Gear Super Fat Cat, which carries a total bulk of 17 lbs.
Do not confuse the exact weight of the product for the amount of heft it can withstand, since some lighter models can potentially carry more load than those with heavier weight. Nevertheless, if you like to bring a lot of stuff on your fishing trips, consider the Cumberland float tube from Classic Accessories. It has the highest load capacity, rated at 350 lbs.
Although its weight limit is 25-lbs. short than the Cumberland, the Outcast Sport Gear Prowler is still a strong contender in this regard. On the opposite end of the spectrum, the Caddis Sports Nevada handles the least bulk, with only 225 lbs. of the weight limit.
Minor details and differences aside, all 10 float tubes mentioned here are equipped with pocket armrests, which is slowly turning to be the norm for modern iterations of these inflatable float tubes. With that said, it is rare to see similar tubes without this kind of storage setup.
If I had to choose, based on the quality and quantity of the pockets, I would say that the Classic Accessories latest Bighorn series has the most utility. Overall, this particular unit has 6 mesh pockets, 6 zippered compartments, 2 reel pockets, and 1 seatback storage.
Out of all the 10 listed products, only the four Classic Accessories float tubes have a clear indication of including a bladder repair kit in their packaging. The Marshland series is also best paired with the decoy bag accessory, which you either buy separately or purchase a bundle.
If there is one model that offers the most incentives, it would be the Fish Cat 4 by Orvis Outcast Sport Gear. Out of the box, it comes with an air pump, fins, a boat bag, and a repair kit, which you barely see on some of the other entries. However, if you are willing, the Outcast Sport Gear Prowler's optional anchor system accessory can be useful for fishing one spot at a time.
Conclusion 
All in all, these 10 best inflatable fishing float tubes are worthy to be considered as the best in the float tube industry. They each have something unique to offer and have the capability to change the way you fish in non-rapid waters.
However, your decision is all that will matter in the end. What you need to do is lay down a realistic groundwork, which basically means forming your own personal criteria. Simply put, choose a float tube that matches your immediate needs the closest.
For example, if you are on a budget, consider starting your search among the cheap float tubes, and then eventually move your way up. Another factor worth considering is the number of gears you carry. If you tend to over-pack, then picking the model with the highest weight capacity will benefit you the most. Hopefully, all the above-mentioned inflatable fishing float tube comparisons can help make this process more bearable and you can continue fishing asap.