As an Amazon Associate, I earn from qualifying purchases. This is without any additional costs for the buyer but does support me in maintaining my website.
Kayaking is one of the best ways to explore the water around you, in a slow and relaxing manner. It is easy to get the hang of, and once mastered, it can even be used for faster watersport activities. Sadly, kayaks are not exactly cheap, but luckily for you, there are some models that are budget-friendly.
This article will list 10 different and relatively cheap inflatable kayaks under $300. All items will then be compared side by side for the purpose of helping you find a model that will fit your needs. So, whether you want the cheapest unit or the one that has the most features, you can easily find your answers in the comparison below.
10 Budget Inflatable Kayaks in 2021

These are the kayaks that made it to our 2020 list. Just remember that all entry products are not listed in any order whatsoever, meaning there is no exact winner or loser among them. You should pick a model that meets your criteria the most or the closest to it at least.
Intex Challenger K1
This inflatable kayak offers a low profile design and is ideal for one person. It can also keep your other gears secured with its cargo net. It is made from quality raw materials that have been properly welded, resulting in durable yet nimble performance. To be more specific, it uses 30-gauge PVC vinyl.
Its cockpit is built with the user's utmost comfort in mind and is also maximized in terms of space. It also has an inflatable I-beam floor that adds stability. For easy handling, there is a grab line on both ends of the unit. Plus, the inflatable seat also has a backrest, which is great for alleviating back strain, especially for longer periods of use.
When fully inflated (takes less than 3 minutes), this gear can measure 9-ft long by 2-ft by 6-inch wide and can weigh about 27.2 pounds. Its maximum load capacity, however, is around 220 pounds. Some of the accessories included are the 84-inch double-bladed aluminum oar, a high output manual pump, and a repair kit.
Sea Eagle SE330 Pro
The 26.4-pound Sea Eagle SE330 Pro can easily fit two people, as long as it does not exceed the 500-pound maximum weight capacity. For overall dimensions, this item measures approximately 11'2" long with a width of 2'10", when fully expanded. Furthermore, assembly (including inflation) only takes roughly about 6 minutes, granted you use the included foot pump.
Construction-wise, this unit is made of 33 mil Polykrylar (PVC type) with high frequency welded seam, and has an inflatable I-beam floor frame. With such a build, this kayak can be used for Class III whitewater rafting. Out of the box, you can expect the following components: 2 seats, a repair kit, a carrying bag, a skeg, and two 8-foot AB30 paddles.
Intex Explorer K2
The Intex Explorer K2 can be occupied by two people, at a maximum weight limit of 400 pounds. For the dimensions, this unit has a length of 10'3", an overall width of 3 feet, and a heft of 31.13 pounds. It is constructed from heavy-duty and puncture-resistant 30-gauge PVC vinyl.
Its air chamber is separated into two parts, which are affixed with Boston valves for easy inflation and deflation. The inflatable I-beam floor of the product also contributes to its overall rigidity. Aside from its low-profile build, the Intex Explorer K2 is also bundled with adjustable inflatable seats with backrests, a detachable skeg for added maneuverability, 86-inch aluminum oars, and an air pump.
Solstice Durango kayak
This product can double as a single or a two-seater kayak (440-lbs. max capacity), thanks to its adjustable bucket seats. Speaking of which, the chairs that come with the unit are made from foam material, which is covered with durable nylon. Moreover, the fabric 840 Denier nylon oxford fabric top cover of the Solstice Durango kayak is coated with tough polyurethane.
As for the bottom and interior constructions, they are built using 1000 Denier nylon and 22 gauge K-80 PVC materials, respectively. When fully ballooned, this device can measure 11 feet long and 3'1" wide and weighs 33 pounds. Although it does not come with a paddle and a pump, it does include a carry bag, repair kit, and a detachable skew.
Sevylor Quikpak K1
All it takes is 5 minutes to completely set up this one-person inflatable kayak. It also features an easy-to-carry backpack system, which can serve as your seat. It uses a 21-gauge PVC construction which is complemented with a tarpaulin bottom, resulting in rugged and puncture-free durability.
The Sevylor Quikpak K1 also comes with 5 air chambers that are layered in an order that can keep the unit afloat even when one is accidentally pierced. Plus, with the combined effort of its Airtight® system and Double Lock™ valves, you can be sure that no leakage occurs. For your convenience, the device has a multi-position footrest, which yields optimal comfort, especially when partnered with the seat's backrest.
Apart from a storage area, this model also has a cup holder. Moreover, its inflated dimensions, weight, and load capacity are as follows: 8'7" by 3' (LxW), 18 pounds, and 400 pounds, respectively. The whole package includes a hand pump and a paddle.
Outdoor Tuff Stinger 4 OTF-4252PK
This blowup canoe measures 12'4" by 2'6", and can be inflated in just minutes using the foot pump that comes with it. Thanks to its three high quality reinforced chambers made from triple-layer PVC, you get a kayak that is as resilient as the traditional type. Plus, the main unit itself is only 36 pounds and can withstand up to 425 pounds, which is enough for 2 people.
Bundled with the product are the following: two 87-inch double-bladed rotatable paddles, two inflatable seats, and 2 fins. In addition, you also get two nylon splash covers to keep you dry. The construction material used is mainly rubber. 
Advanced Elements FireFly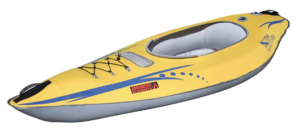 This compact inflatable water kayak is 7'10" long and 2'11" wide (when assembled). It only weighs about 16 pounds and can accommodate up to 250 pounds of combined heft. However, the Advanced Elements FireFly is built for only one person.
The bow and stern of the device are reinforced with rigid panels, allowing it to pass through waves with ease. Furthermore, this model is made from a strong rubber material and comes with a 600 D polyester cover and a heavy-duty PVC air chamber. Some of its accessories include a skeg fin, mesh pocket, rubber-grip handles, bungee deck lacing, duffel bag, and a repair kit.
Rave Sea Rebel inflatable kayak
This recumbent style inflatable kayak can hold one person, up to 200-lbs. max weight capacity. In terms of length and width, this device measures around 8'7" and 2'11" respectively. As for its overall bulk, this one weighs approximately 22 pounds.
The material composition of the product is a combination of 420 denier nylon for the cover and 26-gauge PVC for the bladder. Its seat is also adjustable and has a bottle holder at the back. Aside from the main unit, this product also includes a kayak paddle, dry carry bag, 3 bottom fins, and hand pump.
Airhead AHTK-2 Montana Performance
This 12 feet long and 3 feet wide inflatable kayak can fit 2 individuals and has a max weight limit of 500 lbs. For the build, it sports a semi-rigid heavy gauge PVC construction, which is further supported by a tubular I-beam floor. It also comes with 2 removable seats, which are adjustable.
Inflating and deflating the unit is also made easy with its 2 Boston valves. Plus, it has a threaded drain hole with a plug. All in all, there are 3 air chambers on this unit, which are protected by rugged 840-denier nylon with water-resistant and ultraviolet coatings. For added buoyancy support, the bottom of this device is tri-laminated.
To store your gear, you can utilize the 6 D-rings at the product's bow and stern, as well as the stretch net in the bow. Make sure to manage your cargo well, since the 36.3-lbs. the heft of the item might already be a little heavy in and of itself. Regrettably, it does not come with a pump, nor paddle.
Sevylor Fiji 2-Person inflatable kayak
This 23.8-lbs., 2-rider kayak by Sevylor comes with a 22-gauge PVC construction and can hold a max weight level of 400 pounds. It also employs a Mini Double Lock™ and Double Lock™ valves. Furthermore, leakage is duly prevented, thanks to its integrated Airtight® system.
When it comes to the number of the air chamber, this one has 3, which is a real lifesaver in cases of sudden perforation. When fully filled with air, it can measure up to 10'4" by 2'9". Even though it fits two, there is only one paddle that comes with this product, along with a carry bag.
Budget Inflatable Kayaks Comparison
Now, let's take each one, review and compare them using different criteria so you can make an informed choice should you decide to get yourself a nice but affordable kayak.
Among the 10 inflatable kayaks listed above, the Intex Challenger K1 is the least expensive, whereas the Solstice Durango kayak is priced the highest. Following the former is the Intex Explorer K2 as the second cheapest item.
For the mid-priced models, the following fits the criteria: Sevylor Quikpak K1, Sevylor Fiji 2-Person inflatable kayak, and Rave Sea Rebel inflatable kayak 2011, in increasing cost order. On the other hand, the Advanced Elements FireFly, Outdoor Tuff Stinger 4 OTF-4252PK, Airhead AHTK-2 Montana Performance 2 Person, and Sea Eagle SE330 Pro, are all relatively priced high.
Of course, budget, affordable and cheap inflatable kayaks is something relative but at least all these 10 kayaks listed in this article are below $300 retail price.
If you're really looking for higher quality inflatable kayaks, check out our article with the best inflatable kayaks but next to better quality, do expect a higher price as well compared to these cheap kayaks.
Technology/Added Features

Most of, if not all, the models mentioned here all function well in terms of basic features. However, there are those that stand out with their innovativeness. Do note that most of the features mentioned in this particular category are somewhat specific. Other general features like construction and build, accessories, and dimensions, will have separate sections below.
There are only a few of these inflatable kayaks that offer a dedicated gear storage system. Only the Intex Challenger K1, Advanced Elements FireFly, Sevylor Quikpak K1, and Airhead AHTK-2 Montana, have clearly visible areas for securing your other tools, which varies between mesh pockets and nets.
Although it is not really that common, having a bottle holder on your kayak can actually be useful. And for this product list, only the Sevylor Quikpak K1, and Rave Sea Rebel inflatable kayak 2011 offer such luxury.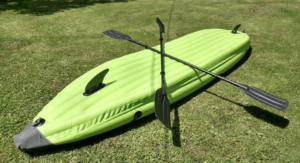 Skegs or guide fins are also great features to have on this type of inflatable watercraft. Although they come in different designs, it is the number of these attachments that will typically have the most impact on the maneuverability and tracking performance of the kayak.
The Rave Sea Rebel inflatable kayak 2011 has 3 bottom fins, which is the highest number of the 10 products. It is then followed by the Sevylor Quikpak K1 and Outdoor Tuff Stinger 4 OTF-4252PK, each with 2 fins. The rest comes with only 1 skeg, except for the Sevylor Fiji 2-Person inflatable kayak which needs to be bought separately.
Other features you need to take note of are the kayaks' locking mechanisms and valve system. In that regard, both the Sevylor Quikpak K1 and Sevylor Fiji 2-Person inflatable kayak's integrated Airtight® system and Double Lock™ valves clearly stand out. However, the threaded drain with plug design of the Airhead AHTK-2 Montana is also another notable feature for managing leakages.
Ease of use is a relatively loose term since your proficiency to adapt to the situation might be different from another person. There are many factors that can determine how easy a particular kayak is to handle. One of such factors is inflation time.
Usually, the more air chambers the unit has the longer it will take to fully assemble. With that being said, the Intex Challenger K1 and Advanced Elements FireFly are probably the easiest to set up, which takes just a few minutes, since both only have 2 air chambers for you to fill. The 2-person Intex Explorer K2 also has 2 air chambers, but it might take more time to inflate since it is wider and longer.
The material composition of each product listed here varies from rubber to welded raw materials, and PVC, among others. In order for you to have an easier time distinguishing each kayak apart in terms of build, they will be divided according to the base material structure.
When it comes to rubberized construction, the Outdoor Tuff Stinger 4 OTF-4252PK and Advanced Elements FireFly are the only two on the list that uses rubber to a more apparent effect. However, both also have PVC materials in their overall construction, specifically to their air chambers.
Almost all of the inflatable kayaks listed here are using PVC. It is the thickness and durability of such component that varies from model to model, which are usually determined by either the gauge number or the mil rating.
Note that mil and gauge are not exactly the same. Nonetheless, a higher value usually indicates better quality and stronger resistance to punctures. You can also do some further research on this to supplement the succeeding comparisons.
The model seen with the highest PVC gauge rating is the Intex Explorer K2, which uses a heavy-duty 30-gauge PVC vinyl. Following it are the Rave Sea Rebel inflatable kayak 2011, Solstice Durango kayak, and Sevylor Quikpak K1, all of which using 26-gauge, 22-gauge, and 21-gauge, PVCs, respectively.
The other models with PVC construction are either indicated as semi-rigid or multi-layered, which can be too broad to use for a comparison. The only PVC-constructed item on this list that specifies mil as a rating is the Sea Eagle SE330 Pro, which uses a 33-mil polykrylar (PVC) material.
If you read through all the product reviews above, you may have encountered the term 'I-beam floor'. Generally, it is a type of construction that improves that kayak's stability, tracking, and buoyancy control. Thus, it can be quite advantageous to have at your disposal.
To personally experience it in action, you can select any of the following products: Intex Challenger K1, Sea Eagle SE330 Pro, Intex Explorer K2, and Airhead AHTK-2 Montana Performance 2 Person.
When it comes to top covers, the 840-denier nylon fabrics of both the Airhead AHTK-2 Montana Performance 2 Person and Solstice Durango, impress quite a lot. However, the 420-denier nylon top of the Rave Sea Rebel inflatable kayak 2011 is not bad either.
For the bottom cover, the 1000-denier nylon of the Solstice Durango and Airhead AHTK-2 Montana's tri-laminated bottom, both deserve recognition. The tarpaulin bottom of the Sevylor Quikpak K1 also fares decently.
Weight and Passenger capacities
The 10 inflatable kayaks mentioned here can be divided into two seating capacities, namely: 1-person and 2-person. Max weight capacity, on the other hand, can be a little more specific.
The Intex Challenger K1, Advanced Elements FireFly, Sevylor Quikpak K1, and Rave Sea Rebel inflatable kayak 2011, all belong to the former, while the rest can be occupied by two people. There is, however, one model that is quite unique in terms of seating arrangement. It is the Solstice Durango. Although it is designed as a 2-seater, you can adjust it to occupy just one person, which is ideal if you like to switch between the two setups.
One would naturally expect that the more seats there are on a kayak, the higher its max weight limit. However, there are also 1-seater units that can withstand as much as some 2-seater kayaks, maybe even more, so you can never be too certain. To make the comparison easier, let us separate the 1-person models from the 2-person ones.
For the 1-seater kayaks, the Sevylor Quikpak K1 takes the spot as the model with the highest weight capacity, which is at 400 lbs. Opposite to it is the 2011 Rave Sea Rebel, with a 200-lbs. weight capacity, followed by the Intex Challenger K1, at 220 lbs. The Advanced Elements FireFly falls somewhere in the middle range, with its 250-lbs. capacity.
In regards to the 2-seaters, both the Airhead AHTK-2 Montana and the Sea Eagle SE330 Pro have the same 500-lbs. load limit, which is the highest among its class. In contrast, the Sevylor Fiji 2-Person inflatable kayak and the Intex Explorer K2 ties at 400-lbs., which is the lowest capacity among the 2-passenger models.
Inflatable kayaks are already compact, in general. However, there is no shame in wanting more space. But, keep in mind that the longer and wider the device, the harder it may be to maneuver.
Without going into too much detail, the model with the highest measurements is the Airhead AHTK-2 Montana Performance, with a length of 12 ft. and a width of 3 ft. As for the smallest unit, the Rave Sea Rebel inflatable kayak 2011 claims the spot, which measures 8 ft. 7 in. by 2 ft. 11 in.
As mentioned above, the fewer the air chambers the faster it is to set up. But, a kayak with more than one inflatable chamber will likely have reserves whenever one of it is nicked or punctured, allowing you to safely row ashore. If you want the product with the most number of such compartment, then consider the Sevylor Quikpak K1, which has 5 air chambers.
Multiple air chambers are adding additional safety during fishing activities. Read our extensive about inflatable fishing kayaks.
Almost all entries here are bundled with a paddle and an air pump, except for the Solstice Durango kayak and Airhead AHTK-2 Montana Performance, which offers none of the two.
You can expect from a set of a relatively cheap inflatable kayak, a paddle, and air pump that there are better options available. When you're getting more serious about kayaking, do consider a better quality paddle and two-chamber high compression air pump.
Hopefully, you can use all data above to your advantage. It may be too much information at first, but once you have a clear idea of what you truly want, then you will surely find the inflatable kayak that can offer the most value to you. Just make sure you decide after all factors have been considered, such as your budget, number of users, type of waters you intend to explore, and bundled accessories, among others.