As an Amazon Associate, I earn from qualifying purchases. This is without any additional costs for the buyer but does support me in maintaining my website.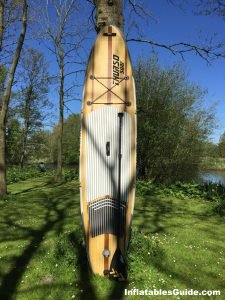 We have stepped aboard, slid along, and fallen off hundreds of different standup paddleboards. The question really is, why is the Thurso Surf 11' Waterwalker inflatable SUP such a class act? Is there really a better-looking board currently on the market? Of course, we know looks aren't everything, but it is certainly a pretty good start for any piece.
The company Thurso Surf, founded in 2016, are fully committed to its customers, providing a 2-year guarantee with a full refund or replacement available. The 11′ WaterWalker is the larger brother of the other popular 10'6" edition, the Thurso Surf 126 WaterWalker. It also offers all of the great features found on the bigger version.
If you want to learn more about this ThursoSurf board, read on and find out why the Thurso Surf 11′ Waterwalker inflatable standup paddleboard will have you performing miracles of your own.
Specifications
| | |
| --- | --- |
| Length | 11' |
| Width | 32" |
| Thickness | 6" |
| Weight | 26 lbs |
| Weight Capacity | 330 lbs |
Review
Thurso Surf 11' Waterwalker inflatable SUP
Construction -

9.4/10

Stability -

9.6/10

Tracking -

9/10

Accessories -

9.3/10

Versatility -

9.5/10
Summary
The Thurso Surf 11′ Waterwalker is a great inflatable SUP which is very affordable, stable and because of its internal Nylon drop stitch core gives the board both its rigidity and firmness. The standup paddleboard has a UV resistant laminate and the absolutely stunning wood effect graphing makes the Thurso Surf WaterWalker really one of the best looking boards on the market. This Thurso Surf is ideal for beginners and intermediate SUPers. Included is a carbon fiber paddle, carry backpack, coiled leash and double action pump that makes this package a great purchase!
Materials
Built with the user in mind. The Waterwalker internal Nylon drop stitch core gives the board both its rigidity and firmness. Incorporating the same ultra-durable double-layer construction as the rest of Thurso Surf line up. The double PVC outer layer is both durable and strong. Finished with a UV resistant laminate and absolutely stunning wood effect graphing the Thurso Surf WaterWalker is really one of the best looking boards on the market.
The 2-year guarantee goes above and beyond many competitors proving just how much the team at Thuro Surf trust all of their components and manufacturing techniques
Deck Pad
Thurso Surf has really gone above and beyond or should we say deep and groovy. This 2 part deep channeled traction pad offers a good amount of grip and enough 'squidge' to be ultra-comfortable. This is extra important for beginner  SUPers.
The colors are really well matched to complement the wood grain effect of the Thurso Surf 11′ Waterwalker board. It is not the biggest deck pad we have seen on a board, but it is ideal for the all-around design.
D-rings + Bungee
D Rings only mean one thing… Accessories! And that's why we love to see D Rings, what possible accessories can we add to make this board even more fun? Starting upfront, the four-deck rings are already equipped with the strong bungee for securing shoes, flip-flops, or your drybag, whilst out on the water.
In the center of the board, you will find another 4 D Rings these are perfectly positioned to add a carrying strap or kayak seat/backrest. On the tail of the board, you will spot the heavily reinforced D-Ring for securing your leash.
All of the D-Rings are integrated into the board and are extremely strong. 
Fins
Fins have been subject to many serious questions, with many boards opting for a couple of smaller fixed rubber fins and a center removable fin. Whereas the Thurso Surf Waterwalker has incorporated all three removable fins.
The ingenious design means fins can be removed for storage or loading on a rooftop, and then simply clicked into place when you want to hit the water. This gives you the option of a single fin set up or going all out with the tri-fin configuration to really suit your own riding preference.
The toolless fitting means it can be done on the fly and changed as you require. We found the quick-lock system to be solid with no additional movement in the fin boxes giving a good stable performance. 
Inflate/Deflate
Thurso Surf recommends an optimal pressure of 12-15 PSI in practice using the dual-action pump included takes about 6 minutes to pump up the board to this pressure. At 15 PSI we found the board to feel very rigid and secure. From experience, we would recommend using 12-13 PSI on hotter days. This allows for air expansion inside the board. Then on cooler days use a maximum 15 PSI.
Another trade secret that we can definitely recommend. If you are using multiple boards or heading out with friends it is certainly worth investing in an electric pump as it's a much easier way to start the day.
Overall Performance
Having tried and tested hundreds of different (inflatable) standup paddleboards we can still pick out our favorites.
The Thurso Surf Waterwalker is one of the best and most fun boards we have managed to get our hands-on. It paddles similarly to many of the other all-around boards but holds its own characteristics which make it a little bit special. At 32" wide the board is stable enough to host a picnic yet nimble enough to dance around the water with the ease found on many shorter river specific boards.
This all-around board is great if you want to travel a bit. It might not be the fastest through the water, but the lifted shaped bow allows it to cut through the water with ease and grace found on many longer touring or expedition boards.
As all-around SUP boards go they have always been difficult to differentiate. That was until the Waterwalker hit the market.
The Tri fin setup has given plenty of food for thought, allowing us to test and try many different fin configurations so you can really take it anywhere in any condition. The option for a single large fin for straight-line tracking or add all three for ultimate grip in windy conditions.
We love the feeling and feedback that the board allows. This is due to the super stiff core transferring the feel of the water right to your feet.
With no excess flex of softness, the board can be quickly mistaken for a solid board. At 6" in-depth, the board is perfect for even the largest of riders offering maximum and buoyancy. For cruising around your favorite lake or river the Thurso Surf Waterwalker will give you endless hours of fun.
Accessories
Paddle
Equipped with a carbon fiber shafted 3 piece paddle the team at Thurso Surf knows what it is like to have a little luxury in life.
The carbon shaft is lightweight (an amazing difference with an aluminum paddle!) and offers a better touch than many other standard aluminum paddles.
The 3 piece design is very adjustable and packs neatly into the storage bag for transport.
Leash
Again the people have asked and the team has listened, a design change from the earlier model, which included a straight leash. Thurso Surf has switched this since 2018 over to a coiled leash the compact design with no trailing leash in the water is a smarter option for many users. The new coiled leash is essential for both security and safety. It cleverly features a handy pocket as part of the leg cuff. Perfect for storing keys or loose change so whenever you want to stop for ice cream or drink you will be covered.
Pump
The dual action air pump found standard now on so many models, is one of the most underrated accessories. The difference between a good pump and a bad can be precious extra minutes of pumping and exertion before you even set foot on the water.
Luckily Thurso Surf has got it right. The dual action pump is easy to use, with a simple switch to change between high volume to get initial air into the board, and then switch it over to high pressure to make the effort easier. But still pushing plenty of air to top it up to your optimal pressure.
Bag
So the main reason you want to buy an inflatable stand up paddleboard is for its amazing portability. The option to roll up all your troubles and head off into the wild.
The Thurso Surf bag is built to take the rigors of your transportation options. Whether on the top of a bus in India, a bullet train in Japan, or on a snow sled in the Arctic. Your SUP needs to be as portable as you are.
That's why the heavy-duty zip means your bag can open fully for easy packing of all of your accessories. The four large handles make loading and handling the bag easy and the large shoulder straps and waist belt make the bag easy to carry wherever you are headed.
Repair Kit
A standard repair kit is included with the board package. It fits neatly into the bag so it is always on hand. The repair kit features a small brush to apply adhesive as well as a couple of patches and a valve wrench.
Be aware the glue is not actually included as it can't always be shipped depending on location so be sure to buy some so you have it in case of an accident.
Handles
One of the big differences between other standup paddleboards and this popular 11-foot Thurso Surf Waterwalker is the inclusion of a front hand grab. This is something many people had asked for as it certainly aids handling and moving the board especially when launching and recovering from the water.
The center handle is also very special. The neoprene overcover opens up and is large enough to velcro your paddle into. This keeps it safe whether you are just carrying the board or heading for lunch even if you decide to take a swim. You needn't worry about your paddle heading off in the wrong direction, leaving you really up the creek.
Lunch Bag
Yes, you read the title correctly, we said lunch bag. The team at Thurso Surf has included a really nice insulated cooler bag that can be attached to your board by clips or suction cups. So you can head out with your lunch, drinks, or anything else you fancy taking with you on your grand adventure.
Pros
Beautiful wood grain effect deck design
Traction pad is deep and grippy
Coiled board leash is strong and comfortable
Cooler bag is a really nice addition
Center hand cover doubling up as a paddle holder is an ingenious addition
Great value for the price
Cons
Traction pad does not include a kick pad
The bag is really nicely designed and lighter weight but less padded than other brands
Conclusion
So you've read all the details and looked at all of the images. What else can we mention to tell you this is one of the best looking and well-equipped boards currently available on the market.
The team at Thurso Surf trust it that much to offer a no qualms 24-month warranty on manufacturing defects?
The beautifully wood influenced top deck design is eye-catching and brightly printed onto the tough and durable double layered PVC fabric.
These guys have brought a high-quality product that is both unbelievable stable whilst offering unprecedented comfort and control. With a superb tri-fin set up totally customizable for any day on the water
This superb package is equipped with a really nice carbon shaft break-down paddle and a large easy to use travel bag.
This package really is perfect for the beginner rider to get going but still holds enough performance and extra accessories that the intermediate rider will feel right at home for years to come.
Last but not least we do have the deal-breaker! Remember the insulated cooler bag we earlier mentioned. Well, it is included as part of the package with every board! It's the perfect way to take your lunch and cool drinks out on the water with you. Well there you go, that's the deal sealed.
Get out, pump up, and enjoy!