As an Amazon Associate, I earn from qualifying purchases. This is without any additional costs for the buyer but does support me in maintaining my website.
Kayak Overview
(Sevylor have partnered up with Coleman in the USA and release their products under both names)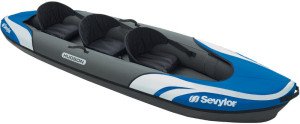 The Sevylor Big Basin is a tandem inflatable kayak that's proven to be an affordable yet high-quality product. With its tough nylon and PVC exterior, it's made to take all kinds of adventures.
The Big Basin is a 12 feet long inflatable kayak. It will hold up to 463 pounds of weight, or two adults and one kid (or dog). It weighs 33 pounds making it relatively lightweight compared to other inflatable tandem kayaks on the market.
The top of the kayak is covered with a tough nylon fabric while the bottom is covered with a heavy-duty PVC, making it both puncture and abrasion-resistant. The nylon and PVC are connected to each other, forming a sort of sheet around the inflatable bladders of the kayak. This kind of design makes it much harder for rocks, sharp sticks, dorsal fins, and any other danger to harm your kayak.
It comes with three adjustable high back seats, these seats can be placed anywhere you want on the kayak thanks to the velcro straps, found on both the bottom of the seats and on the inflatable floor. Thanks to the removable seats this kayak can easily be transformed into a solo kayak.
You'll find spray skirts on both the bow and stern of the Big Basin, making it convenient for protecting your gear from the water. Other notable features are bungee cords, carry handles, removable rear skeg, and welded directional strakes for added handling and steering.
There are three air chambers, one for the floor and one for each side tube. It uses the common Boston valve type, which is very safe and known to be leak-free. The three air chambers improve the safety even further on the Big Basin, if you were to get a puncture on either side of the floor, you still have two chambers left making it easy for you to get back to shore.
Features
3x Adjustable & removable high back seats
An optional rear skeg for better tracking
Three air chamber design for added safety
Specifications
Dimensions: 143 inches long (12 ft) 35 inches wide (3 ft)
Capacity: 4630 pounds
Weight: 33 pounds
Material:  Heavy-duty PVC bottom, tough nylon top
Our Review
Sevylor Big Basin Kayak
Portability -

7/10

Storage -

8/10

Toughness -

8/10

Comfort -

7/10

Tracking -

7/10

Versatility -

7/10
Summary
The Big Basin from Sevylor is a very affordable kayak. It doesn't offer you a lot of features like most higher-end models do, but it doesn't need to as it does its job extremely good. The Hudson isn't the best and it's not the worst, it's in the middle somewhere. This is a great inflatable kayak for people looking for a good entry-level kayak.
It was a long time since we tested a more budget orientated inflatable kayak. We got plenty of tips from you guys telling us to try the Sevylor Big Basin, a kayak that's supposedly way better than what its price suggests. We just have to say that you were right, we expected to get a lot less from the Big Basin for this price.
Hard to get it back into carry bag
A thing that bothered us, and is very common with all kinds of inflatable boats, was the carry bag. When we first opened up the package, the Big Basin was neatly placed inside its PVC carry bag. It was easy to take out the kayak from the bag when we first opened it. Turns out it was quite the opposite when trying to get back in. When you've inflated it once it's almost impossible to get back inside the carry bag. We did finally manage to get it back in, but we couldn't really get it shut. We highly recommend getting a bigger bang for the Big Basin unless you want to have to fight every time you want to pack it away.
Setup and inflation is very easy and quick
Setting everything up and inflating it was a simple process. Took around 5 minutes to inflate all three chambers to their recommended PSI. Strangely enough, Sevylor included adapters for all kinds of valves, Boston valves, military valves, Leafield, and some more. We found it odd because the Big Basin only uses Boston valves. So don't panic if you used a random valve adapter and noticed it didn't inflate properly, chances are you're using the wrong kind of valve.
Longer paddles are recommended to avoid scraping against the sides
We quickly noticed that using short paddles on the Big Basin would result in some bruised knuckles, as it's pretty wide. Using paddles near the 280 lengths is recommended, using anything shorter will scratch your knuckles.
It's by no means a kayak made for speed
The Big Basin is not exactly a speed machine, don't expect to reach ultrasonic speeds in it. A contributing factor to this is the outer hull, unlike other models the hull on the Big Basin isn't stretched over the bladders, causing a "loose-skin" effect. It increases the drag, making you go slower.
Temperatures affect the air pressure inside the bladders, inflate accordingly
We thought that the outer PVC and nylon hull would protect the bladders from temperature changes but quickly found out that's not the case. We inflated it to the max PSI but after 20 minutes or so we noticed there was a loss of air. We paddled to a nearby shore and topped it off, it held the air for the rest of the day just fine.
Tip: With some handyman skills you can install a trolling motor
Not something we personally did, but installing a small electric trolling motor seems to be quite common among Big Basin owners. So if you're a little bit of a handyman and have a trolling motor lying around, you might want to give it a shot! Also, be sure to check out MikeSeddons Flickr where he has shared some close-ups of his motor mount.
http://www.youtube.com/watch?v=1gT47OdcVoE
http://www.youtube.com/watch?v=LdneFg9UDu8
Very stable on the water
While on the water the Big Basin is really stable. I'd say it's so stable that standing up and paddling wouldn't be a problem. It's really easy to get in and out off, and never did it wobble or make us feel unsafe when paddling.
Tracks pretty straight, nothing amazing but not bad either
When it comes to tracking it does a pretty good job, when the skeg is installed of course. If you want to avoid the hassle of doing correct strokes all the time, installing the skeg is a must in our opinion. When installed, it really does make a difference and I think me and my wife wouldn't have such a good time if it weren't for the skeg. We were paddling on our local lake which was very calm that day, with no waves, chop, or wind. It did drift a little bit, but to be honest, this was nothing that affected us, even hard shells tend to drift a little bit. And for the price, you can't really complain!
Long drying times bore us to death
The biggest drawback to the Big Basin is the drying time in our opinion. Mostly it's due to the outer hull, which adds protection but also increases drying time. We recommend reading our guide on how to properly dry your inflatable boat before storing it away.
Pros
Very affordable
Easy to configure the seats to your liking, solo or tandem
Really stable
Cons
Takes a while to dry
"loose skin" on the outer hull increases drag
Carry bag is too small
Conclusion
Other than that, we don't have much more to say. It's a really solid product for the amount of money you're paying. You can get it pretty cheap in some stores, depending on which time of the year you get it. It might not be the most feature-filled kayak, but it sure does deliver a solid experience. Tracking is good, it will hold a lot of gear, it's very stable, the outer hull is durable, what's there not to like about it? If you're looking for a great entry-level inflatable kayak, the Big Basin from Sevylor will make you a happy camper.