As an Amazon Associate, I earn from qualifying purchases. This is without any additional costs for the buyer but does support me in maintaining my website.
Kayak Overview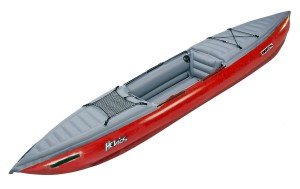 One of the major drawbacks with regular hard shell kayaks is the fact that they're so hard to paddle in open waters, like the ocean for example, waves and wind will render your kayak useless. Now replace that hard shell with an inflatable kayak and what do you get? An even worse experience! Luckily that's all about to change with the latest inflatable kayak from Innova (also known as Gumotex), the Helios 1.
It weighs only 29 pounds, making it part of the elite when it comes to lightweight kayaks. But that's not the reason why people enjoy the Helios so much. The main reason is its ability to be rolled up into a small backpack, making it one of the most portable kayaks out on the market right now. It's ideal for people that don't have a car, it's now possible to transport an inflatable yak with public transportation or your bike. The backpack will hold up to 70 liters, this includes the kayak, paddles, bailer, footpump and throwbag.
It's made from a low stretch polyester material, combined with a heavy duty rubber coated 1,200 Denier Nitrylon. Confused by these big words? It basically means that the kayak is tough and puncture resistant, the materials used are also environment-friendly. It will hold up to 220 pounds of weight, just enough to fit one regular sized man and some additional gear.
It tracks straight and will hold its own against winds and waves, and this is without having installed the optional skeg. To make things even easier, there's a rudder from Innova that is specifically made for the Helios. The rudder will help you keep your line, even in strong ocean swells. The rudder is actually made for the tandem version, but it's possible to install it on the solo version, just make sure to get longer cords.
The Helios features a more closed off designed when compared to a lot of other inflatable kayaks. This protects you from the elements more but also limits the amount of storage you have onboard.
This is the ideal inflatable for someone who is looking for a lightweight, well rounded and versatile kayak. It will handle all kinds of waters with ease, oceans, bay area's, lakes, ponds and class 1 rivers.
Features
70 liter backpack to store the kayak and all the necessary gear
Possible to install an optional skeg and rudder
Specifications
Dimensions: 122 inches in length (10 ft) , 28 inches (2 ft)
Capacity: 220 pounds
Weight: 29 pounds
Material:  Polyester and heavy duty rubber coated 1,200 denier Nitrylon
Our Review
Innova Helios 1 Kayak
Portability -

10/10

Storage -

9/10

Toughness -

8/10

Comfort -

8/10

Tracking -

9/10

Versatility -

8/10
Summary
If you're looking to paddle the ocean or any other rough water (not whitewater though), the Helios 1 from Innova is the way to go. Used by the Canadian Coast Guard you can be sure you're getting something of quality. The major drawback is that you'll have to buy the additional rear skeg and rudder if you want good tracking.
The Helios 1 is a kayak we've been wanting to try for a while, it's used by the Canadian Coast Guard and people say it's one of the best for ocean kayaking. Did it live up to its expectations? Not entirely but almost…
Tracks straight, but only if you buy the skeg and rudder
Sadly we do not have an ocean nearby our home, but we do have a pretty large lake that the wind is fond of. On a windy day, you won't be going very far with it, especially if you paddle it on open water… Unless you install the rear skeg and rudder, both of these are optional purchases but oh so necessary if you want to track straight. We paddled around for an hour without having the skeg and rudder installed, and let us tell you straight away, it was a nightmare. It felt like a leaf on the water, especially when the wind picked up, making us drift all over the place.
Unless you're the type of person that enjoys trying to go straight rather than have a good time, by all means paddle it without the skeg and rudder. If you're like us however, install them as soon as possible. It's really the difference between night and day and let us explain why. The rear skeg is used to keep your boat go straight when paddling, you should know that by now. But here's the part most people get totally wrong, the rudder. The rudder should not be used as a way to steer your kayak, but rather help it go straight when the wind is there. If you find yourself drifting side to side, get the rudder and we'll promise it will make a large difference. Just be sure not to use it as means of steering. This combination is also why it performs a lot better on oceans compared to other inflatable kayaks.
Men beware, your feet will probably be too big
Here's another quirk that I found (my wife didn't have this problem), my feet are too big! I have a size 12, with my shoes on I find it really hard to find a comfortable spot for my feet. I actually had to paddle the Helios 1 barefoot because I was so uncomfortable. Paddling the kayak without shoes doesn't bother me that much, but it does limit how much I can use it. I can forget about paddling it on colder spring and autumn days, unless I want to sit uncomfortably. I'd say that anyone with a size 10 or more will not sit comfortably in this kayak.
Set up and inflation is easy and quick
It was very easy to set up and inflate, like most inflatable kayaks it only took me around 5 minutes or so, add a couple of more if you want to install the optional rudder. It takes about the same time to deflate it and pack it into the backpack. A common issue with inflatable boats is their carry bags, usually they're just big enough to fit the boat. This makes it really challenging trying to put it back in when you've used it. Luckily enough, the Helios doesn't suffer from this issue, it's in fact very easy to put it back into the backpack.
With the skeg and rudder installed, it's quite fast
It's pretty fast in the water too, we actually even managed to paddle faster than a couple of hardshell kayaks. Don't expect to go fast with cheap paddles though, we use carbon fiber paddles from Werner Kalliste, they're expensive but they really do make a difference, both comfort and speed wise
Performs good in rough water, but will sag when going over waves
The Helios 1 performs very well in rough water, not something that is all too common. It responds well to it and takes waves with ease. I wouldn't hesitate to bring it to an ocean and paddle it there. It does however sag a little bit in the middle, which can be unpleasant if you're a beginner. This is also largely dependent on your weight, I can imagine that most men will feel the sagging, but you'll get used to it.
It's possible to carry more weight than what it says on the box
I was slightly worried about the Helios carry capacity being just 220 pounds, but I found myself being able to push it to at least 260 without any problems whatsoever. It didn't feel sluggish, slow or anything like that. It did sag a little but from what I could tell it didn't affect the performance. With that said, the Helios can sure store a lot of gear, I could easily fit all of my camping gear in the storage compartments, even had space left. I can see myself taking this on longer weekend trips where having lot of gear is a must.
Material is durable, does scratch very easy though
As for durability of the material, we didn't have the chance to test it as thoroughly as we wanted. But we didn't manage to create any tears or punctures during our testing, which is a good sign. It did scratch easily though, at the end of the day there where loads of tiny scratches and specks, it doesn't look as attractive now but hey, it's meant to be used and abused!
Pros
Very light and easy to pack down
The carry bag doubles as a backpack, making it easy to carry longer distances
Fast and tracks straight (if you have the skeg and rudder installed)
Performs good in rough water like oceans
Cons
Material scratches easily
Will have the poorest tracking if skeg and rudder is not installed
The foot area is too small, big feet and Helios 1 don't mix
Conclusion
If you want something that is both light, highly portable, versatile and fast, Helios 1 is one of the better choices. It will handle oceans very well if you have everything installed and if you have the right paddles you can even outpace hardshell kayaks.
All in all, we think it's a great inflatable kayak from Innova, or Gumotex as they're called in Europe. It's very light, can be packed down into a nifty backpack, stores a lot of gear and tracks straight. I do think they should include at least the rear skeg for this price, both the skeg and rudder are required if you want to get the most out of it.