As an Amazon Associate, I earn from qualifying purchases. This is without any additional costs for the buyer but does support me in maintaining my website.
The Bestway HydroForce Wave Edge. This mouthful of a name suggests complexity, I conjure images of some spaceship super styling it's way across the face of a wave. However, if we dive back into reality, the Bestway HydroForce Wave Edge 10'2″ standup paddleboard is a simple but efficient beginner SUP.
The Bestway company was founded in 1994. Bestway specializes in inflatable products and the company ensures a sustainable approach to their manufacturing through various recycling systems.
** Extra points! They now have nine overseas branches, products being sold in 110 countries, covering six continents. **
Considering their success, it's a relatively safe presumption that their products are worth what you pay for. In this case, the HydroForce Wave Edge is cheap as chips as far as inflatable SUP's go.
Let's take a look at what the HydroForce 10'2 has to offer. Our review of the HydroForce Wave Edge is as follows.
Specifications
| | |
| --- | --- |
| Length | 10' 2" |
| Thickness | 4" |
| Width | 27" |
| Weight | 16.8lbs |
| Capacity | 220lbs |
What You'll Get When You Purchase The HydroForce WaveEdge 10'2″
The Inflatable Standup Paddleboard
Travel Back Pack
Aluminum Paddle
Inflation Hand Pump
Repair Kit
Review
Bestway HydroForce Wave Edge 10'2" inflatable SUP
Construction -

8.5/10

Stability -

8/10

Tracking -

8.7/10

Accessories -

7.5/10

Versatility -

8/10
Summary
The HydroForce Wave Edge 10'2″ inflatable paddle board is very cheap and therefore affordable iSUP that is ideal for beginners and intermediate SUPers. Constructed out of drop stitch material makes this standup paddleboard quite stable for its width and a great SUP for kids and light adults. Included is an aluminum paddle, carry backpack, leash and hand pump and repair kit that makes this package a great purchase!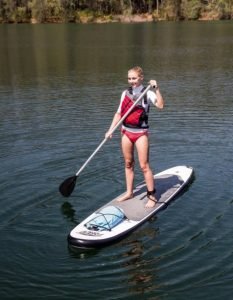 Materials
Much like many of the other inflatable boards we review, the HydroForce iSUP is made with the drop-stitch material process. Many reviewers and readers have a basic understanding of what that means. The short explanation of drop stitching is:
Drop stitching – A form of construction where thousands of robust threads/ fibers are stitched top to bottom inside the inner layer. Using this as the inner layer for an iSUP means that the board can be inflated to high pressures and kept compact all the way through.
The technical explanation you can find here.
What I also know is that it makes inflatables like the HydroForce as sturdy and rigid as most hardboard standup paddleboards.
Non-Slip Traction Deck Pad
The traction pad on the Bestway HydroForce covers about ⅔ of the board. It's perfect for beginners who might be getting used to where they put their feet and makes climbing back on the paddleboard easier after you've fallen off!
Bungee Tie Downs and D-rings
5 D-rings are featured on the board: 4 are placed at the nose of your board with the accompanied tie-down cord to help secure anything you may want to bring with you.
We find this storage particularly helpful for storing things like water, snacks, the paddle, extra clothing such as jackets and hats. All of these items make a leisurely sup experience (wouldn't recommend taking items into the surf, they'll probably stay there, but most likely be saturated!) a significantly more enjoyable time. I particularly love taking some nuts and fruits for extra energy!
Of course the fifth for the attached safety of your leg rope/leash.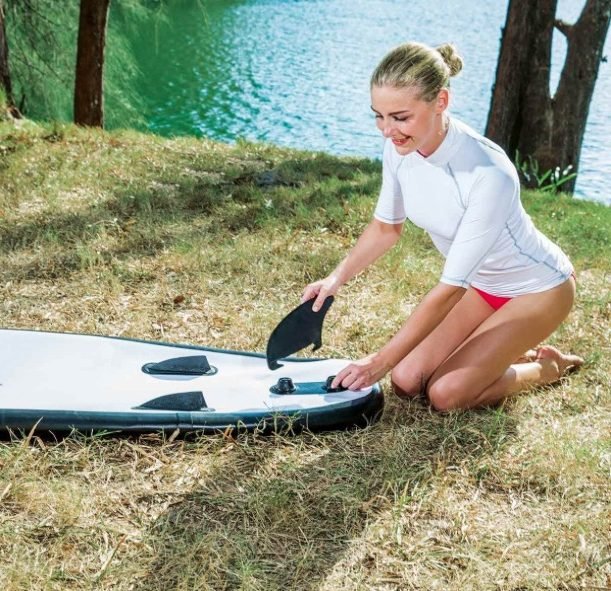 Fins
HydroForce Wave Edge 10'2″ blow up paddle board uses a 3 fin setup. The center fin is detachable, which makes for an easier pack away. However, the two side fines still create some problems for compact storage when rolling your board up.
The 3 fin setup provides extra stability and enough maneuverability for small wave riding. The center fin could be a bit larger to help beginners stay tracking straight.
Portability
Nothing like the ease of portability when it comes to owning a SUP. After you've had to transport your SUP 100 times, you'll be thankful for any little improvements in the portability. That's where a blow-up paddleboard comes in handy!
The HydroForce Wave Edge features a handle in the middle of the board for carrying your board once inflated. As the handle is actually a material handle attached to the board it takes a significant amount of strain off the carrier. Other standup paddle boards feature an indent on the board for the handle, which can be quite strenuous on your hands/arms.
At the end of your paddling, once your board is rolled up, you can place it back into the bag that comes with your purchase. The bag holds enough room for your board but that's about it. The paddle that comes with your purchase also doesn't pack down, so if you're looking to travel with your board, keep this in mind!
Inflate/Deflate
Most users make comments about the inflate process being arduous. The recommended inflation pressure is 12 PSI and it does take a substantial amount of hard work to get there. The optimistic view is that this is all a part of a warm-up!
However, over time you may want to invest in an electric pump to help ease the strain.
Overall Performance
The 3 fin setup does allow for a better than average surf in small waves. We don't recommend taking the board out in anything above 2ft. There isn't much of a rocker on the board so it won't handle steep waves either.
You'll be supplied with a paddle upon purchase, however, it is on the cheaper quality side, so to get the best performance out of your paddling, we recommend making a separate purchase.
The 27" width is slightly on the smaller side, which could cause issues for brand new SUP riders. However, it's perfect for small riders such as kids.
Balance is a bit of an issue for any bigger riders as the pre-mentioned width but also when paired with the thickness, 4", these dimensions don't provide a lot of stability for most adults. There's also a risk with heavy usage of the board sagging in the middle over time.
The great point is that its shape is designed with a streamlined effect, so if the right rider climbs aboard they will love their time out on the water. You will also find it extremely stable if you are the right fit!
The 3 fins while great for maneuverability in chop and small waves, can hinder a flatwater experience by reducing the ability to track straight. So a toss-up with how much and where you'll use this board as well as how experienced you are with paddling before you make a purchase.
Accessories
Repair kit
Perfect for any small punctures or scratches that could cause air leakage over a prolonged period!
Paddle
As pre-mentioned, the aluminum paddle isn't high quality. It's a bit heavy, doesn't packway easily and adjusts to only 2 sizes. It does float though!
Still, as a beginner, you probably won't notice the difference straight away. When you're getting a bit more serious or becoming a more advanced SUP rider, you might want to have a look at better quality SUP paddles.

Pump
The pump also isn't high quality. While it does do its job, it would be smart to invest in an electric pump or a better quality double action hand pump if you are planning to consistently use your HydroForce Wave Edge. You may find the pumping not so arduous though, which in that case, there's a pressure gauge to know you've reached the optimum pressure (12PSI).
Leash
Also included in the purchase is a leg rope/leash, which is a must for safety! Attach it through the D-ring at the end of your board and away you go!
Pros
One of the cheapest on the market
Very suitable for an entry-level stand up paddle board for kids or light adults
Very affordable!
Durable (board materials)
Stable
Big company reassurance and 1-year Warranty
Cons
Not suitable for big/heavy riders
Hard to inflate
Lacks quality materials for accessories (paddle, bag etc)
Conclusion
This Hydro Force blow up paddleboard does have a handful of downfalls but what still makes it popular and appealing is its price tag. You can't get a board for much cheaper than this. If you are just wanting to have a SUP to use a handful of times a year, or you want a board for your kids to have fun, this could be perfect.
Alternatively, it makes a great inexpensive present for your kids. Get's them out being active and doesn't strip your wallet dry!
If you are looking for a fast or performance level standup paddleboard, this is not the board for you. Check out our other inflatable boards for more detailed reviews. Happy SUP shopping!