As an Amazon Associate, I earn from qualifying purchases. This is without any additional costs for the buyer but does support me in maintaining my website.
Kayaking was made much easier and more convenient thanks to the invention of inflatable kayaks. These portable blow-up kayaks can be bought almost anywhere thanks to their ability to be easily folded and stored. When taken out and brought to the shore, most inflatable kayaks can be set up and launched into the water in just a matter of minutes. The question now is which inflatable kayak best suits you?
Compared and contrasted below are six different kayaks. Each one is evaluated based on a number of factors like the price, technology it utilizes like the material of the body frame, and the minimum features that come with it. After going through it, you should have an idea of the best inflatable kayak for your needs.
6 High Quality Inflatable Kayaks in 2021
Each of the inflatable kayak models in this list is described in detail below. All are specially designed to be used for almost any type of adventure in the water.
Sea Eagle Razorlite 473rl Tandem Kayak
With room for up to two people, this inflatable kayak is great ridden solo or in pairs. The strong body and frame use Razorlite's signature all drop stitch material that allows you to inflate the kayak up to 10 PSI. The strong material combines with the rigid bow and stern, thereby allowing the kayak to glide through the water surface effortlessly with much grace.
The Sea Eagle Razorlite 473rl measures more than 15 feet in length and almost three feet wide. The tandem kayak alone weighs about 42 lbs. at least. It can carry two people with a combined maximum weight of 600 pounds and when you include the gear that they carry, a total of about 750 pounds. The detachable seats let you relocate them forwards or backward depending on the location of the D-rings. They are also padded and provide back support.
Among the features included in every Sea Eagle Razorlite 473rl are a couple of adjustable footrests, a removable rear fin to go along with the removable seats, 2 paddle oars, a high-pressure pump with a pressure gauge, a repair kit, and a backpack carry bag.
Sea Eagle TC16 Inflatable Travel Kayak
Extremely portable and easy to pack, the Sea Rage TC16 inflatable canoe expands into a surprisingly excellent size and has enough capacity for up to three people. It measures 16 feet in length by 3 feet wide. The canoe itself weighs 70 pounds. It can handle a 3 person complement at a combined weight of 800 lbs. Including the gear they have with them, the TC16 can handle up to 915 pounds.
The TC16's body uses Sea Eagle's trademark all drop stitch body and it also features a diamond decking for additional stability and sturdiness. The kayak is has a level 4 rapids rating, signifying its proven durability and robustness.
All Sea Eagle TC16's come with 2 inflatable seats, an inflatable canoe repair kit, a hand piston pump, and a carrying bag.
Sea Eagle 465 FastTrack
Light in size but very roomy, the Sea Eagle 465 FastTrack inflatable kayak can accommodate 2 to 3 persons depending on the seating configuration. Its dimensions span about 15 feet in length and 3 feet in width. The kayak itself weighs about 44 pounds and fully loaded, can carry up to 795 pounds.
This inflatable kayak has Sea Eagle's drop-stitch material on its keel which is also referred to as the FastTrack design. The keel's straight form pierces easily through the water while the modular floor is also reinforced with a drop stitch. Finally, the body uses reinforced seams and materials rated at 1000 Denier, giving the Sea Eagle 465 FastTrack excellent durability on the water. This kayak has a Rapids rating of 3.
All 465 kayak models come with standard accessories that include 2 deluxe inflatable kayak seats, two 7 foot paddle oars, a foot pump, an inflatable kayak repair kit, and a carry bag. The Sea Eagle 465 has a 3-year warranty.
Aquaglide Blackfoot HB

Whether riding solo or with a partner, the Aquaglide Blackfoot HB is a great inflatable kayak to use particularly when it comes to fishing. This slender, highly maneuverable kayak uses a very sleek frame coupled with a removable tracking fin to glide through the water surface with much grace and elegance. Also enhancing the kayak's movement is a piercing bow design and a longer waterline.
The frame and the hull make use of commercial grade smooth-skin Duratex which is not only very durable but also dries up immediately, working well with the front/rear spray guards. The kayak's inflation rating rates up to 12 PSI on its floor, giving it much rigidity and stability which you can use to your advantage like when you need to stand up while casting.
The Aquaglide Blackfoot measures more than 12 feet in length and 39 inches in width. The weight of the Aquaglide Blackfoot HB kayak when fully inflated is at 38 pounds, with a maximum load capacity of 600 pounds. Every Blackfoot model comes with the following accessories – core seat with platform, a foot brace, a removable fin, fishing cooler, carrying bag, and repair kit.
BIC Sport Nomad HP3 Tandem Kayak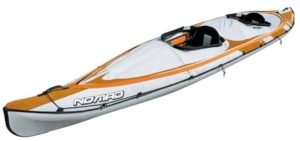 A pretty large and solid inflatable kayak, the BIC Sport Nomad HP3 is an excellent choice for kayak adventurers wishing to take out on the water on a long trip. It has enough room for 2 adults and 2 children. You can make the kayak fit three adult paddlers by removing the deck, thereby converting it into a canoe.
The Nomad HP3 kayak measures more than 16 feet in length almost 3 feet in width. By itself, the kayak displaces 55 pounds and has a maximum load capacity of 617 pounds. A higher bow, stronger keel design gives it additional storage room, perfect for a trip or expedition that will last a couple of days.
The BIC Sport kayak body uses a material made of Cordura Polyester top deck fabric while the hull uses drop-stitch PVC. It has polyurethane bladders that are covered with Dacron. The floor of the BIC Sport Nomad HP3 can withstand higher than normal inflation pressures, giving it extra durability for water obstacles.
Accessories included are 2 adjustable footrests, 2 adjustable seats with comfortable backrests, safety grab line, paddle holder, storage/transport backpack, air pump with pressure gauge, and repair kit.
Sea Tiger Inflatable Kayak
Designed and built to be used in almost any body of water or environment, the Aire Sea Tiger is said to be one of the most durable inflatable kayaks offered, one proof of which is its amazing 10-year warranty.
The Sea Tiger kayak's body uses a reinforced combination of urethane tubes housed inside a covering made of PVC which is rated at 1100 denier. Finally, it has radio frequency welded seams and bladder zippers capable of withstanding 10X the normal PSI, thereby giving this kayak amazing durability.
The Aire Sea Tiger has room for 2 kayakers. It measures 18 feet in length and almost 3 feet wide and can hold a maximum load of up to 700 pounds. Standard features include a rudder with adjustable foot pedals, deluxe Cheetah seats, carrying a duffle bag, and repair kit.
High Quality Inflatable Kayaks Comparison
Numbers alone, the lowest price of these group of high quality kayaks is the Aquaglide Blackfoot HB. You will also take note that this model is the smallest of the six, though it still has enough room to comfortably seat two paddlers. Take note also of the smooth, sleek design of this kayak which translates into specific bodies of water where it is most ideal to be used.
The Aire Sea Tiger is the most expensive of the group. The Sea Tiger is also the kayak that can be used in almost any water type, be it calm and clear waters, warm or icy cold temperatures, or high-speed white water rapids. It is also very suitable as a fishing kayak and it has the longest warranty period which says a lot about the kayak's durability. You could say that this is what you are paying for when you get this model.
Technology and Added Features
Kayak material is crucial as this determines the overall durability of the boat, how much strain it can withstand especially coming from the outside, and how long the kayak will last and can be used before it is ultimately considered as not seaworthy.
Kayak materials vary between models also as to how much air pressure can be pumped into them, measured in PSI. The amount of PSI determines rigidity, which can affect the stability of the kayak as it floats in the water.
Sea Eagle kayaks generally utilize an all-drop stitch material throughout the body frame, which is very much the case for the 473rl, the TC16, and the 465 kayak models. These kayaks are also rated at 1100 Denier material strength, giving them nice durability. The TC16 in particular has interior sides that are 3-inch thick can be inflated at high pressure. This is very much needed as the kayak is used for whitewater rapid kayaking.
The Aquaglide Blackfoot HB is inflated at a minimum of 6 PSI but can go all the way up to 12 PSI, resulting in a kayak that is rigid and very stable on the water. This allows the user to stand tall and straight inside the kayak, very useful during fishing trips where you need to cast your line long distance.
Almost all of the inflatable kayak models here are recommended to be used for open water travel and paddling. Open water paddling on your own can be difficult if there is wind as the water gets choppy, making it difficult for you to move forward. Together with another kayaker, the ordeal is much easier.
The Sea Eagle TC16 and the Sea Tiger are the two kayaks that are said to be able to handle more difficult bodies of water. The Sea Tiger, although larger and not so agile, is a tough kayak that can handle waters of varying temperatures and speeds. The Sea Eagle TC16 has a level 4 rapids rating and has been proven capable of handling fast-moving water like that on rapids, with some obstacles along the way.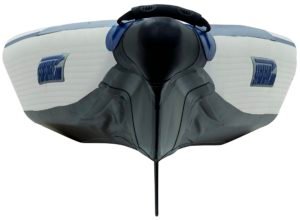 Much of a kayak's overall performance goes into the design and shape of its frame. Manufacturers would naturally select lightweight materials. What determines which kayak performs better on the water is the design and shape of the body.
Make the kayak wide so as to give better interior room and capacity and it becomes bulky and encumbered by the water. Make the kayak too sleek and narrow and you have less space to place gear and equipment.
The Aquaglide Blackfoot HB is one of the agilest kayaks of the group, sporting an open cockpit design that encourages dual-sided paddling, excellent for solo kayakers. Its sharp bow cuts through the water easily and also allows the kayak to scoot through narrow openings, making it a great watercraft to get into those narrow waterholes.
Sea Eagle pays close attention to kayak performance, focusing on bow/keel design as this influences how the kayak behaves as it cuts through the water. The TC16's patented plastic bow and stern push even through opposing currents.
Meanwhile, the 473rl has a stern and bow that has a double-concave shape that slices through the water, hence called the speed entry system. Finally, the 465ft has a keel which takes advantage of the all drop-stitch material to cut through the water.
Weight and Passenger Capacities
The Sea Eagle TC16, although not the longest kayak among the group, has the biggest load capacity at 915 pounds. thanks to a 20-inch deep interior. That combined with the strong and robust drop stitch material used on the frame lets you load a lot of gear and equipment whenever you go out.
With its small size, the Aquaglide Blackfoot HB understandably has a small load capacity of only 600 pounds. The BIC Sport Nomad HP3 kayak which is quite larger than the Blackfoot surprisingly has a load capacity of only 615 pounds despite offering more room.
Size plays a role in a kayak's overall water movement as smaller kayaks are generally agiler while larger kayaks tend to be more cumbersome to maneuver. Everything depends on whether the kayak will be used merely for water transport or for more adventurous ventures like fishing and white water rafting.
The Aquaglide Blackfoot HB is the smallest of the inflatable kayaks at 12 feet in length while the Sea Tiger is the longest with a length of 18 feet. The BIC HP3 and the Sea Eagle TC16 are the second-longest at 16 feet.
Take note that the Aquaglide Blackfoot has also one of the sleekest body frames. The Sea Tiger, although able to handle any water condition, does not thrive that well if used on whitewater rapids.
Air chambers are very important as they ensure that in case of leaks, the kayak will just gradually let the air out instead of popping immediately. More air chambers mean it takes more time to set-up the kayak, with the nice catch that you can most certainly still make it to shore with the boat retaining just enough air.
With that said, all of these inflatable kayaks offer 3 air chambers except for one. The Sea Eagle 465 offers 4 air chambers. Two are located on its port and starboard side while two more are located on its floor and the keel.                  
Accessories
All of the inflatable kayaks here are very similar in the basic accessories that are packaged with every model (inflatable padded seats, air pump, kayak repair kit). One accessory you might want to observe is most of the inflatable kayaks here do not include oar paddles. Only the Sea Eagle 473rl and the Sea Eagle TC16 clearly include paddle oars as their basic accessories.
An inflatable kayak, no matter how excellent the design and technology, is only as good as the one who paddles it. Ultimately, it is you who will determine how wonderful and meaningful the kayaking experience will be. Pick carefully the inflatable kayak that fits your taste, the body of water you will frequent most of the time, and of course your budget.