As an Amazon Associate, I earn from qualifying purchases. This is without any additional costs for the buyer but does support me in maintaining my website.
Kayaking is one of the best ways to explore the sea and almost any accessible body of water around you. However, genuine kayaks are not exactly the easiest to handle, especially when it comes to transporting their typically fixed build. Thankfully, there is an alternative to such equipment, which is the inflatable kayak.
Inflatable kayaks are much easier to carry around due to their portable setup, which mostly involves unfolding the device and pumping air into it. But, this type of gear requires more precise construction because of its fickleness on water. So, to help you avoid run-of-the-mill models, ten of the best inflatable kayaks will be listed and compared below.
10 Best Inflatable Kayaks in 2021
Before you begin reading through all ten entries, do note that none of them are listed in any particular order. They are simply ten of the best products of its class, and that any of them can be of the match to your personal criteria.
Therefore, it would be best if you first identify what you are truly looking for; whether you want the cheapest model, the unit that has the most weight capacity, or the one with the best durability, among other things.
Sea Eagle Razorlite 393rl Pro
Although measuring 12'10" long by 27 inches wide, this Sea Eagle kayak can seat 1 person. But, it can support up to 500 lbs. of weight, which is perfect for solo kayaking with heavy gears. Plus, the kayak only weighs about 33.5 pounds, so you can carry it with ease. You also will not have to worry about water flooding in, because the 2 self-bailing drain valves can take care of such an issue.
For guaranteed robustness, the Sea Eagle Razorlite 393rl has been manufactured using 1000-denier reinforced PVC material. It has a total of 3 air partitions, which can be accessed through 3 recessed one-way valves. This unit is also claimed to be the world's first inflatable kayak that is fully constructed with drop stitch technology, which offers unrivaled rigidity and strength.
Since this is the Pro package version of Sea Eagle, you are duly rewarded with many great accessories, inclusive of an AB40 four-part performance paddle, tall backseats with wraparound side and contoured pads, removable skeg, and an adjustable footrest. Additionally, you will also get an all-purpose backpack, repair kit, and a high-pressure pump with an inline pressure gauge, which seems to be a first on this list, thus far.
Sea Eagle 385FT FastTrack Deluxe
Just like the Saturn inflatable kayak, the Sea Eagle 385FT Fast Track can also hold 3 people, thanks to its 635-lbs. max weight capacity. It has a length of 10'6" and a 36-inch width, which are smaller than the aforementioned item. But, it does carry less heft, at only 32 pounds.
The construction of the entire Sea Eagle kayak is completed using a mix of 1000 denier woven base cloth and PVC coating on both sides, all adding up to a solid build an optimal seal. As for the number of air chambers, this one has 4 in total. More notably, the NeedleKnife keel of the device eases your effort when paddling, while its tapered bow makes short work of waves and wind.
Coupled with the 385FT FastTrack Deluxe package are a repair kit, skeg, a storage bag, and four-part AB30 paddle. To pack your tools, you can take advantage of either the external elastic rope or the front and rear spray skirts for a more concealed stow. There are also 2 open and close drain valves, so in-deck fluid pooling is abated.
AIRE Tributary Tomcat Tandem
This easy-to-inflate kayak can be occupied by 1 or 2 individuals. It has dimensions of 12'9" by 38.5 inches and carries a total heft of 42 pounds. Although AIRE does not indicate a total passenger capacity for this model, the first-hand experience suggests that it can withstand more or less 450 pounds., as with other users' claims.
It has a total of 3 air chambers, which use high-quality Summit II valves. In terms of construction, this item is mostly made from a combination of tear-resistant PVC outer shell, welded double-stitched seams, and 20-gauge vinyl bladders. In addition, the unit has splash-preventing covers at its bow and stern, but if water does manage to get in, the mesh drain holes will get rid of it promptly.
Accessory-wise, this product only comes with a repair kit and inflatable thwart seats. But, it is quite capable of accommodating your extra gears, thanks to its 18 cargo loops and D-rings at its bow and stern.
Advanced Elements AE1012-R AdvancedFrame Convertible
The AE1012-R inflatable kayak of Advanced Elements is quite similar to the AE1007-R, but this one is meant for 1 paddler only and has a weight capacity of 300 pounds. It is only 10'5" long, 32 inches wide, and 36 pounds lighter. The unit is also factory pre-assembled, which combines the rigidity of a typical folding frame kayak and the flexibility of the inflatable kind.
Although it is smaller than the AE1007-R, this item still has built-in aluminum ribs that give the bow and stern a more refined outline. For the build, this unit is constructed using 3 layers of pierce-resistant materials, which are complemented by reinforced bow and stern seam and a durable double-coated rip-stop fabric.
A total of 7 air chambers are found on this model, which can be accessed via spring valves. Speaking of valves, there is also another one found on the floor of the kayak that relieves pressure. Aside from D-ring tie-downs, there is also bungee lacing available for your storage needs. Some of the accessories that come with this product are a duffel bag, folding seat, and repair kit.
Advanced Elements AE1009-XE AdvancedFrame Expedition Elite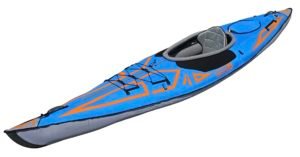 The AdvancedFrame Expedition is a closed deck inflatable kayak that can seat 1 person. It has a total bulk of 42 pounds but it can endure up to 450 pounds of combined weight (paddler and equipment). When fully bloated, the entire kayak can measure as long as 13 feet and as wide as 32 inches.
This Advanced Elements inflatable kayak has 9 air compartments, which are safeguarded by a combination of spring valves and Twistlok Valves™. It also sports a triple-layer polyurethane construction with double PVC-coated polyester. Moreover, a solid aluminum frame fortifies the bow of the boat.
The seat of the AE1009-XE Expedition Elite is removable and has inflatable back support. Along with the main unit comes a repair kit, duffel carry bag, and a tracking fin for added maneuverability. Your storage needs are also taken care of by the integrated bungee deck lacing and D-ring tie-downs.
Aquaglide Columbia XP Two

Thanks to a mix of duratex, 600D polyester, and PVC, materials, the Aquaglide Columbia XP two persons inflatable kayak guarantees quality durability. You can choose to ride it alone or invite another person for a tandem experience. Just make sure not to exceed far beyond its 400-lbs. weight limit.
For the overall length and width of the device, it measures about 13'5" by x 36 inches, respectively. Its heaviness is approximately 40 pounds. All in all, it has 3 air chambers, and are sealed by Boston valves. For loading your gears, you have mesh pockets and bungee deck rigging at your disposal.
The only accessories that come bundled with the Aquaglide Columbia XP are its well-padded carry bag, skeg, and repair kit. However, it does provide a dedicated fishing rod holder, integrated splash guards, and neoprene rail pads. More importantly, it features a unique X-Beam technology, which contributes to the stiffness and stability of the unit.
13′ Saturn Inflatable Self Bailing Whitewater Kayak
This self-bailing inflatable kayak of Saturn is perfect if you are a family of three since it can accommodate 2 adults and still have room for one small child, for a total of 700-pounds weight capacity. It stretches up to 13 feet long and can expand 36 inches wide. Surprisingly, it only weighs about 50 pounds, which is quite impressive for its size.
The kayak also comes with 2 removable inflatable thwart seats, but you can also get an optional high-back foam seat. You will also receive 2 double-bladed paddles, a repair kit, 2 detachable directional fins (front and back), and a carry bag. You can use this 13′ Saturn kayak for either Class IV whitewater rafting or a more leisurely experience.
It has 3 air chambers, 2 of which are on the exterior, and 1 on the floor. For the material construction, the 13′ Saturn kayak uses a heavy-duty 1100 Dtex PVC component. Apart from its 10 pre-installed D-ring and 2 towing securing D-rings at the front and rear, it also comes with 4 self-bailing floor openings for that seamless water escape.
Innova Sunny Inflatable Kayak
For a 1 to 2-person inflatable kayak, the Innova Sunny is surprisingly light, weighing at only 33 pounds. However, with it comes a lower weight limit, at only around 396 pounds, so you might have to manage your cargo more carefully. Dimensions-wise, this watercraft is 12'8" in length and 31 inches in width.
You can inflate the Innova kayak via 3 air chambers. For its material assembly, 1200-denier nitrylon rubber is used. To accommodate different air pumps, the Innova Sunny comes with a valve adaptor, along with other accessories such as a repair kit, a dry backpack with adjustable padded shoulder straps, and inflatable seats with modifiable back support.
There is also a quick-install fin you can use for better tracking performance and an adjustable footrest for comfortable paddling. Albeit no mesh nets are included, there are multiple D-rings you can utilize to load up your other gears.
Advanced Elements AE1007-R AdvancedFrame Convertible
This, one of the best multifunctional inflatable kayaks, can fit 1 or 2 people, depending on your setup of the seats. It also has an optional advance conversion deck, so you can easily swap between open and close decks. For its general build, it has a length of 15 feet and a width of 32 inches. Its weight amounts to a total of 52 pounds and it can withstand up to 550 pounds (persons and equipment).
The Advanced Elements AE1007-R has 6 air chambers, most of which are secured with a spring valve system. For the construction, it is built with 3-layer material for that impressive resistance to puncture. It also features built-in aluminum ribs that define the bow and stern for improved tracking. There is also an integrated pressure relief valve in its floor area.
There is a paddle holder, but the AE1007-R AdvancedFrame Convertible kayak does not come packaged with any paddle. However, it does come with 2 folding seats, a carry duffel bag, a repair kit, and a skeg tracking fin. For storage, you can utilize its deck lacing and D-ring tie-downs.
Advanced Elements AE1006-Y StraitEdge
The Advanced Elements StraitEdge is available as a 1 and 2 person model. The StraitEdge AE1006-Y is the 1 person and the StraitEdge2 AE1014-Y is the 2 person model. We have tested the Advanced Elements AE1006-Y StraitEdge and this one has a maximum weight limit of 300-lbs, uses 5 air chambers, and is also guarded by spring valves. It measures 9.8 feet long and 35 inches wide and weighs around 34 pounds.
Its bow and stern are fully reinforced by built-in aluminum ribs construction. As far as materials are concerned, this model is built with heavy-duty PVC tarpaulin, which improves puncture resistance. It also has welded seams for that added rigidity. Moreover, its floor has an integrated pressure relief valve.
For effortless paddling on rougher waters, the self-bailing ports of the Advanced Elements StraitEdge can help get rid of any water that occasionally splashes in the deck. For accessories, you get folding seats, a carry bag, and a repair kit. Storing your gears is also made easier, thanks to the bungee deck lacing and mesh pockets.
Best Inflatable Kayaks Comparison
So how do you go on to decide which of these kayaks will make it to your shortlist? Below are some of the most important factors that you should take into account when you want to buy the best inflatable kayak.
Generally, the 2-person inflatable kayaks are more expensive than the 1-person variety. And since this list includes a varying number of each type, comparing them per category would yield a more unbiased result. Hopefully, this will make your decision much easier, especially if you are in the market for only one type of passenger capacity.
For the solo passenger kayaks, the cheapest unit is the AE1012-R AdvancedFrame Convertible, followed by the Advancedframe Expedition. On the other side of the spectrum, the Razorlite 393rl Pro takes the spot as the most expensive model in this category.
Among the multiple passenger models, the least expensive watercraft is the Aquaglide Columbia XP Two. The most expensive price tag belongs to the 385FT FastTrack Deluxe, with the Saturn inflatable kayak and StraitEdge following behind, both retailed at about the same cost.
In continuation, the AE1007-R AdvancedFrame Convertible, along with the AIRE Tributary Tomcat Tandem and Innova Sunny inflatable kayak, all fall under the mid-price range. Are all these high-quality kayaks too expensive, check out our comparison article of cheap inflatable kayaks.
Listing all technologies and specific functions that these 10 inflatable kayaks provide might take a lot of time. With that said, we will only mention those innovative features that truly stands out, not only for your convenience but also to make way for other aspects to be compared.
First on the list is the optional advance conversion deck technology of the Advanced Elements AE1007-R AdvancedFrame Convertible, which is a unique feature that allows you to transform the unit from an open deck to a closed deck, and vice versa. Although the Aquaglide Columbia XP Two claims to have infinite deck adjustments, none of it turns the unit into a closed deck setup.
Both of Advanced Elements' AE1012-R AdvancedFrame Convertible and the AdvancedFrame Expedition also feature closed decks by default. The rest of the entries come with exposed decks.
If your kayaking destination is colder, the close setting will keep you warmer, but it might prove difficult to get out of if you accidentally capsize. The open setup, on the other hand, is more beginner-friendly but is more likely to be filled by splashes of water. Either way, just choose what you think will suit your needs best.
Fancy some fishing? Well, the Aquaglide Columbia XP's dedicated fishing rod holder might appeal to you. Such feature is also possible on some of the other models, but it might require a bit of improvisation. You can check out the Advanced Elements StraitEdge Angler kayak, which is a specifically made inflatable fishing kayak.
Open deck kayaks are more vulnerable to water splashing in. But a self-bailing system can significantly reduce the accumulation of water in your vessel by automatic draining. The StraitEdge, AIRE Tributary Tomcat Tandem, Saturn inflatable kayak, and the two Sea Eagle models all have a self-bailing function.
Open deck kayaks are more forgiving to novice kayakers. So if you are still not that confident with your boating skills, you can limit your choices among the open deck models.
Furthermore, the number of air chambers and type of valves on a kayak might also affect its ease of use. Typically, the less inflatable chambers there are the faster you will be able to fully set up the device. In all the entries listed here, three is the lowest accounted number of air compartments.
These are the following models with only three air chambers: AIRE Tributary Tomcat Tandem, Aquaglide Columbia XP Two, Saturn inflatable Kayak, Innova Sunny inflatable kayak, and the Razorlite 393rl Pro. Aside from the setup, there is also portability for you to consider.
As you would normally expect, the lighter the kayak the more effortless it is to transport. That being said, the model with the least heft among the 10 entries is the Sea Eagle 385FT FastTrack Deluxe, amounting to only a total of 32 pounds and the Innova Sunny inflatable kayak trailing close behind at 33 pounds. However, the former has four air chambers, whereas the latter has only three, therefore the Innova Sunny may be easier to handle in general.
The lightest models have already mentioned above. But, for the sake of comparison, the heaviest on this list is the Advanced Elements AE1007-R AdvancedFrame Convertible, weighing a total of 52 pounds. It may not be the most comfortable to stow and transport, but the added weight will feel more stable on the water.
Nevertheless, this model does take the lead for having the highest dimension ratio, measuring at around 15 feet long and 32 inches wide. And although the AIRE Tributary Tomcat Tandem is wider at 38.5 inches in width, it is only about 12 ft. 9 in. long.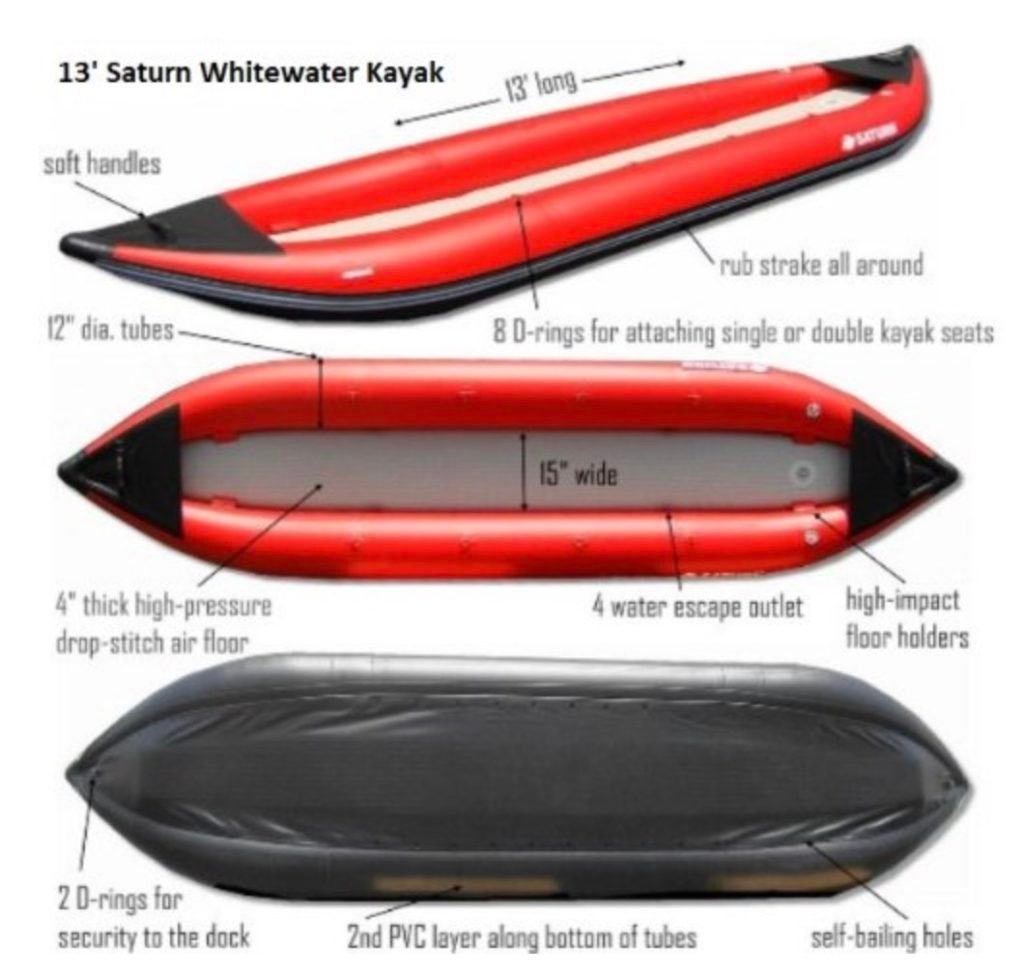 For the material construction, all four Advance Elements models offer built-in aluminum ribs to reinforce their bow and stern, resulting in improved tracking. They also use triple-layer materials to resist preformation, except for the StraitEdge, which uses heavy-duty PVC tarpaulin material.
Speaking of PVC, other models that use such component includes the Aquaglide Columbia XP Two, AIRE Tributary Tomcat Tandem, and the Saturn inflatable kayak. Furthermore, the former uses a mix of Duratex and 600D polyester, while the latter is manufactured using 1100 Dtex.
The Razorlite 393rl Pro uses PVC as well, which has 1000-denier property. The other Sea Eagle on the list also has the same 1000-denier rating and utilizes a woven base cloth. The Innova Sunny inflatable kayak, on the other hand, sports nitrylon rubber that is 1200-denier rated.
Out of all the products enumerated above, the Saturn inflatable kayak can hold the most weight, which is up to 700 pounds. Its complete opposite is the AE1012-R AdvancedFrame Convertible with a max weight limit of only 300 pounds.
However, the latter model is meant for only one passenger, whereas the former can hold multiple persons, hence a higher capacity is expected. Therefore, it is not exactly fair to put these two in the same group for comparison in terms of the weight limit. But, you can take it as a general contrast to the entire product list.
To be more specific, the multi-passenger kayak that has the lowest passenger capacity is the Innova Sunny inflatable kayak, which can withstand only 396 pounds. For the single-passenger units, the Sea Eagle Razorlite 393rl Pro takes the lead as the model with the highest load capacity, at a whopping 500 pounds, which is perfect if you like to ride solo with lots of heavy equipment.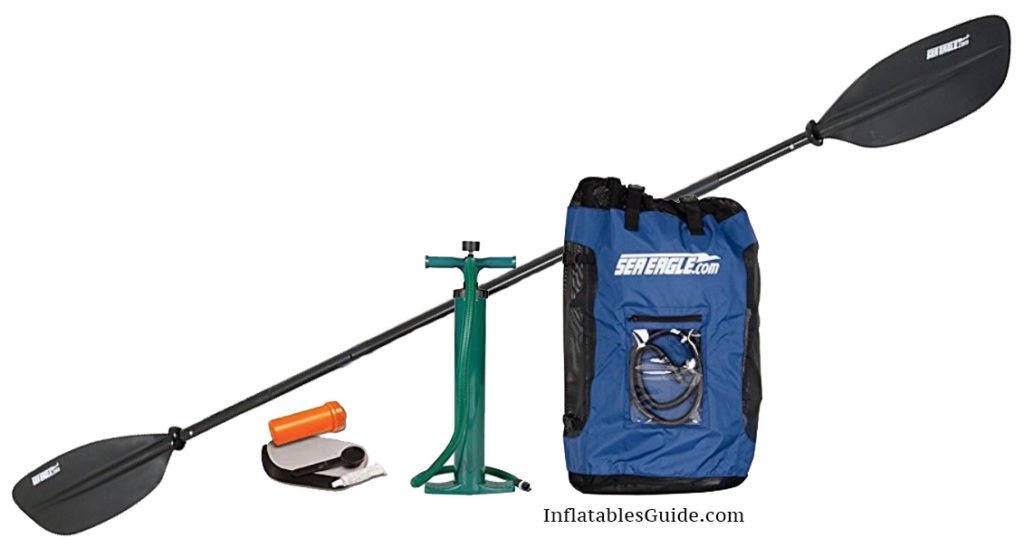 If you go over each item, you will notice that there are certain accessories that remain constant in every model. These add-ons are the following: carry bag, seat, and repair kit. Unfortunately for oars and paddles, there are only a number of products in the list that are bundled with such extras.
The inflatable kayaks that come with their own paddle(s) are as follows: the Saturn inflatable kayak with two double-bladed paddles, the Sea Eagle Razorlite 393rl Pro with AB40 four-part performance paddle, and the Sea Eagle 385FT FastTrack Deluxe with a four-part packable AB30 paddle. As for the rest of the entries, paddles need to be bought separately or you can just use your old ones.
Another accessory that is not present in all the kayaks here is the air pump, which is somewhat regrettable, considering that these portable watercrafts need to be inflated. Among the group, only the Sea Eagle Razorlite 393rl Pro clearly indicates that an air pump is included.
Fins can improve the overall maneuverability of the kayak, which is why some kayakers prefer having them, or at least the option to attach one than nothing at all. Luckily for you, almost all the models mentioned here have such attachments, except for the Advanced Elements StraitEdge and AIRE Tributary Tomcat Tandem, which did not specify having any.
For the ones with this accessory, most only come with a single skeg or fin, which can be affixed either to the front or rear of the boat. The Saturn inflatable kayak has the upper hand in this particular feature since it comes with two removable fins at the front and back.
Storage is really just a matter of preference. If you simply want to sail for leisure with as many people as possible, you do not have to bother with this particular factor. Normally, going for the model with the highest weight capacity seems to be the best move if you often sail with plenty of gears.
However, cargo management should also be considered, which is usually influenced by the lacing system and the number of cargo loops or D-rings the water vessel has. Surprisingly, the AIRE Tributary Tomcat Tandem is the frontrunner in this regard, with up to 18 pairs of cargo loops.
However, it is also one of the models with no lacing, along with the Saturn inflatable kayak and Innova Sunny. The rest of the models vary from deck lacings to spray skirts, for more secure storage.
After buying your new kayak, make sure to make yourself completely familiar with it. Try the roll exercises (read our kayak tips here) and how to use them properly.
All this information is probably hard to process all at once. But, if you have a clear picture of what you need and want, be it preferring the very best inflatable kayak, or the unit that can manage the most weight, among other considerations, then you will be able to narrow down your list much easier. And hopefully, the comparisons above can help you out in such regard.