As an Amazon Associate, I earn from qualifying purchases. This is without any additional costs for the buyer but does support me in maintaining my website.
When you want to go on a fishing trip, having an inflatable kayak on hand is such a great thing. These days more and more people have discovered the advantages of using an inflatable kayak over the traditionally rigid and wooden ones.
Not only are inflatable kayaks less expensive than wooden and rigid ones, but they are also more convenient to transport, use and store after your fishing trip. Although it is flexible enough to be tucked, folded, and stored, it doesn't mean that there is going to be a problem with its durability. Most of the inflatable kayaks available in the market today are made from hard-wearing PVC materials.
This article is going to help you decide on which inflatable kayak is best for your next fishing trips. You will surely get a good idea about which inflatable kayak to buy in case you are planning to get one soon.
7 Best Inflatable Fishing Kayaks in 2021
The following are the top 7 inflatable fishing kayaks available in the market today with the corresponding features that make them stand out among other inflatable kayaks out there:
Sevylor Coleman Colorado 2-Person Fishing Kayak
The Sevylor Coleman Colorado 2-person fishing kayak is a popular choice for people who live in an apartment or accommodation that does not really have enough space. It is just the right size when deflated, making it easy to transport and store.
It is made of 18-gauge PVC, a thick tarpaulin bottom, and a very tough nylon cover. These make the Coleman Colorado so durable. It also has multiple air chambers to help make your fishing trip safer and more convenient. You can also add the optional trolling motor if you would like to navigate faster or travel long distances.
This inflatable kayak has an airtight system which means that it is guaranteed not to leak when you are in the water, thus making it safe and secure. It also has paddle holders on the side to keep your paddles in place and keep them out of the way.
It is equipped with the Boston valve which is double-threaded, allowing easy inflation and deflation. It also has mesh storage pockets so you can keep your gears and snacks close at hand. The D-rings let you attach other equipment easily. The great thing about it is that it fits two persons so you don't really have to make your fishing trip always on your own.
It measures 10'9" long by 3'3" wide, with NMMA certified maximum weight capacity of 470 pounds.
Saturn 13′ Pro-Angler FK396
The Saturn 13' Pro-Angler FK396 is made of a heavy-duty PVC material that makes it very durable and, at the same time, light and easy to carry. The boat floor is made of a high-pressure inflatable deck that becomes very rigid when filled with air but is flexible enough to be rolled up when not in use. It is specifically designed to have rigid high buoyancy tubes for enough stability that you can even stand up on it while fishing.
The Pro-Angler FK396 of Saturn is portable and very handy. It is surely a must-have when you go on a fishing or camping trip and you would like to enjoy the waters. When you buy this inflatable kayak, you will also get two removable benches made of aluminum that you can use in a variety of ways such as for mounting your rods, gadgets and etc.
Because of its durability and stability, the Saturn Pro-Angler FK396 can be used in many ways. You can use the free aluminum benches and paddle your way through the waters and you can also attach an optional electric motor by adding a vertical plate.
As it is not designed to be self-bailing, this kayak is best for lakes, slow rivers, oceans, and bays. However, there are ways that will allow you to use it for whitewater river rafting adventures like cutting self-bailing holes in the bottom of the kayak or using an absorbent device that works as a pump.
It has an overall length of 13', a width of 3', and weighs 43 pounds. It has a maximum weight capacity of 700 pounds.
NRS Pike Angler IK Inflatable Fishing Kayak
The Northwest River Supplies NRS Angler IK inflatable fishing kayak is a compact and convenient package. It is so easy to assemble and very convenient to use as well. It has a rigid and self-bailing floor and comes with bells and whistles that serious anglers often use.
The body is made of a heavy-duty PVC material that is resistant to abrasion, making it durable and allowing it to last longer than other inflatable kayaks. The floor of the Pike Angler IK has a 4-inch drop stitch PVC floor insert that inflates to a rock hard 8-10 psi making the kayak stable enough for sight fishing. It is also removable so cleaning it will not be that much of a problem.
It comes with an NRS super pump which allows the low-pressure mode to inflate the tubes and high-pressure mode for the drop-stitch floor insert. The NRS Pike Angler IK also has two removable fins which you can alternately use depending on your tracking needs.
The collapsible seat is comfortable and adjustable so you can place it anywhere in the kayak. The 32 stainless steel D-rings will allow you to rig the kayak in any way that you want it. The bungee lacing in the bow gives enough space so you can place a small cooler, a tackle box, or a dry bag.
There are also two nylon webbing daisy chains in the stem which provide attachment points so you can clip items you might need from time to time. Since it has two carry handles, it can be carried or dragged to and from the water easily.
The NRS Pike Angler IK measures 12'8" in length by 3'3" in width, weighing only a mere 35 pounds but can accommodate up to 400 pounds.
Coleman Sevylor 24-Gauge K5
Like the rest of the best inflatable fishing kayaks, the Coleman Sevylor 24-Gauge K5 is very convenient to transport, use, and store. No need to strap a heavy load on top of your truck. It is a single-seater inflatable fishing kayak that is portable and durable.
The K5 of Coleman Sevylor is made of 24-gauge PVC making it strong enough for the wild outdoors. It comes with a 600D polyester cover which will protect it against puncture and normal wear and tear. It also has 2 fishing rod holders, zippered storage compartments and D-rings for equipment making it really easy and so convenient to use.
The Coleman Sevylor K5 can carry up to 250 pounds of weight which is good enough considering its size and durability. It measures 10' by 3', and weighs only a mere 26 pounds.
Advanced Elements Straitedge Angler AE1006-AEG Kayak
The Advanced Elements Straitedge Angler Kayak is designed to provide maximum functionality, satisfaction, and convenience to anglers. The structure and the materials used help in producing the great stability necessary when you go on a fishing trip. It is made of a multi-layer material that has abrasion pads that prevent puncture and makes the inflatable kayak more durable.
The Straitedge Angler AE1006-AEG of Advanced Elements also has multiple air chambers that allow great stability and maximum durability even in extreme conditions. The removable accessory frame allows different ways of accessing the kayak. There is the option to add aftermarket 1-foot rail mounts for rod holders, fishfinder, and other equipment.
The high back seat is very comfortable, while the rod holders and inflatable lumbar support are very accessible from there. It is also equipped with stainless steel D-rings and bungee deck lacing so you have more space for gear storage and paddle holders.
Another revolutionary feature of this Advanced Elements inflatable kayak is its aluminum rib-frame technology that helps allow superior tracking and better performance.
The Straitedge Angler is 9'8" in length, 2'11" in width, weighs 41 pounds, and has a maximum weight capacity of 300 pounds.
BIC Sport YAKKAIR HP2 Inflatable fishing Kayak
The BIC Sport YAKKAIR HP2 Inflatable fishing kayak is so convenient that it is built to fit in a wheeled backpack that allows ease of transportation. It can be set up just as easily as well. The keel and floor are inflated with high-pressure air making them very rigid and tough. It is made of heavy-duty PVC material that makes it very durable. In addition, you can use a protective canvass cover to prevent abrasion and puncture.
This fishing kayak is good for two paddlers. It has two fishing backrests with rod holders as well as two footrests that make it comfortable to navigate. It is built with safety grab lines, abrasion protector as well as bow protector.
It has carry handles so you can carry or drag it to and from the water with much ease. The mesh storage in front and in the rear provides enough storage space for all your fishing gears.
It comes with a carry bag, a pump, and a repair kit. It is 13 feet long and 3.7 feet wide and weighs 33 pounds. It can carry up to 550 pounds of weight.
Norestar 11′ Inflatable Fishing Kayak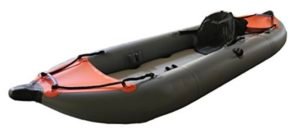 The Norestar 11' Inflatable Fishing Kayak is a great choice for your regular fishing trips. It is built to be very durable when inflated and in use. It is also designed to be very compact, easy to deflate, and easier transportation and storage.
The Norestart has an adjustable seat that is padded for your convenient use, especially for long fishing trips. While seating, the two deluxe locking fishing rod holders are accessible allowing you to paddle and manage the gear at the same time.
It has three inflation chambers made of heavy-duty PVC fabric that makes it really tough and durable. You will not have to worry about scrapes or punctures while you are using it. It can accommodate up to 330 pounds, and measures 11'6" long by 3' wide. It comes with a foot pump and paddle.
Which Is The Best Inflatable Fishing Kayak?
Now that you have an idea about the best inflatable fishing kayaks in the market, let us compare them with each other so that we may know which stands out from the rest.
When compared based on the price, Coleman Colorado, Coleman Sevylor, and the Norestar inflatable fishing kayaks stand out for being in the low-price range, making them the most affordable. Even with the reasonable price tag, you are not shortchanged with the quality and the features of these models. They are sturdy, easy to transport and store, and perfect for your regular fishing trips.
The Saturn 13′ Pro-Angler FK396 and the Advanced Elements Straitedge Angler Kayak are in the midrange price category. You are paying extra for the versatility of these inflatable fishing kayaks since you can adjust the seats as you see fit.
And finally, the NRS Pike Angler and the BIC Sport YAKKAIR HP2 are the most expensive of the bunch. You are also paying extra for the added features. The NRS Pike Angler with a super pump for faster inflation while the BIC Sport YAKKAIR HP2 is a two-paddler.
Most, if not, all of the top seven inflatable fishing kayaks are made of heavy-duty PVC materials so they'd be pretty equal if you have to compare them when it comes to durability. Not only are they durable but also lightweight and portable. The Coleman Sevylor K5 is very light (only 26 pounds) and so portable, you can fold it up like a backpack!
Additionally, the Straitedge Angler Kayak of Advanced Elements has a specialized framing technology, and both the NRS Pike Angler and the Coleman Colorado have reinforced material that makes them even more durable. The BIC Sport YAKKAIR HP2 is also interesting, knowing that you can actually put a cover over the body of the kayak to protect it from regular wear and tear.
Whereas the Coleman Colorado and the BIC Sport YAKKAIR HP2 are really built for two passengers so you can bring someone along on your fishing trip, the rest is comfortably built for a single person.
When it comes to the dimensions, the Coleman Colorado is remarkably one of the biggest, measuring 30' in length, 11' in width, and 19" in height. The NRS Pike Angler is one of the smallest with dimensions of about 12' in length and 39" in width and interior of 17 inches.
Whether it's a one-seater or two-seater kayak, you will still have just enough space to store your fishing gear and equipment.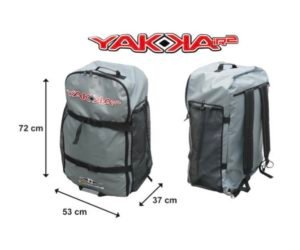 For most people, fishing trips are opportunities to relax, unwind, and escape all the hustles and bustles of the hustles and bustles of their life at work. Naturally, when one has to decide which inflatable fishing kayak to get, it is important to consider ease of use.
Although, all the seven top inflatable fishing kayaks mentioned are built for maximum convenience and satisfaction of their users these two need a special mention because of the features that make them better when it comes to ease of use. Besides all the kayak features and specifications, make sure to read our kayak tips.
The BIC Sport YAKKAIR HP2 can be tucked and carried in a wheeled backpack deserve a commendation. Imagine the amount of energy you can save when you use it. You no longer have to worry about the hassles of transporting it from your storage to wherever you decide to go fishing. A wheeled backpack will definitely do the trick.
The Straitedge Angler Kayak also deserves a special mention when it comes to ease of use. If the multi-access features do not give you enough satisfaction and convenience, the special rib-frame technology which makes the Advanced Elements inflatable kayak easier to control and navigate should do it.
Since these are inflatable kayaks specifically designed for fishing trips, it is necessary that we take a look at the different features in each of the top seven brands that will make your fishing trips easier, better, and more efficient.
First of all, you may want to consider where you would use the inflatable fishing kayak before deciding which one to buy. There are ones that you can use in lakes, gentle rivers, and calm sea waters like the Saturn Pro-Angler FK396. There are also those that are designed and built for maximum stability even when used in more challenging bodies of water. The NRS Angler allows you to do sight fishing with the help of its special drop-stitch PVC floor feature.
When fishing, it is necessary that the kayak will allow steady and stable buoyancy so you can maximize your fishing area and get a good catch at the end of the day.
Fishing is also about finding the right spot. You can only do this when you are able to navigate your inflatable fishing kayak well. This is where the removable fin of the NRS Pike Angler is an advantage. Those inflatable kayaks that have motor propellers like the Pro-Angler FK396 and the Coleman Colorado will also have an edge over those that only allow manual paddling.
When it comes to choosing the best inflatable fishing kayak, it important to remember the purpose of selecting or buying one. Make sure that you select depending on the type of water where you are most likely to use it.
Although the price is an important factor, you should first check what has made the inflatable fishing kayak that expensive or that cheap. There are budget friendly (cheap) inflatable kayaks on the market that could be perfect for you. It could be that it has plenty of extra features and accessories that you actually would like to use as you go on fishing. At the end of the day, it's always better if you check your options before deciding what's best for you.